2013-04-16 03:28 GMT
Portugal unveils new austerity measures to appease the Troika
Troika inspectors arrived in Lisbon on Monday in order to carry out the seventh review of the country's bailout program, since it had received 78 billion euros of aid in 2011. Portugal had to come up with new austerity measures to meet the budget gap of about 1.3 billion euros, which emerged after the Portuguese Constitutional court ruled that four of the measures proposed by the PM Pedro Passos Coelho's government were illegal.
Currently the 2 billion euro bailout tranche is blocked. If the Troika's review has a positive conclusion, the money will be released and Portugal will also have a better chance of obtaining the 7 year loan repayment extension, approved on Friday by Ecofin. Passos Coelho said today that the additional 600 million euros would come from cuts in healthcare, education , social security and public services and another 600 million euros from reductions of administrative costs. These new austerity measures have been heavily criticized by the left-wing opposition and labor unions.-FXstreet.com
2013-04-16 09:00 GMT
Germany. ZEW Survey – Economic Sentiment (Apr)
2013-04-16 12:30 GMT
USA. Consumer Price Index (YoY) (Mar)
2013-04-16 13:00 GMT
EMU. ECB President Draghi's Speech
2013-04-16 22:45 GMT
New Zeland. Consumer Price Index (YoY)
2013-04-16 03:38 GMT
Kiwi retreats as macro risks weigh on sentiment
2013-04-16 03:32 GMT
EUR/USD holds above 1.3035
2013-04-16 02:13 GMT
Gold has peaked, beginnings of a new chapter – RBS
2013-04-16 01:57 GMT
EUR/AUD rockets higher as China Data spurs Aussie weakness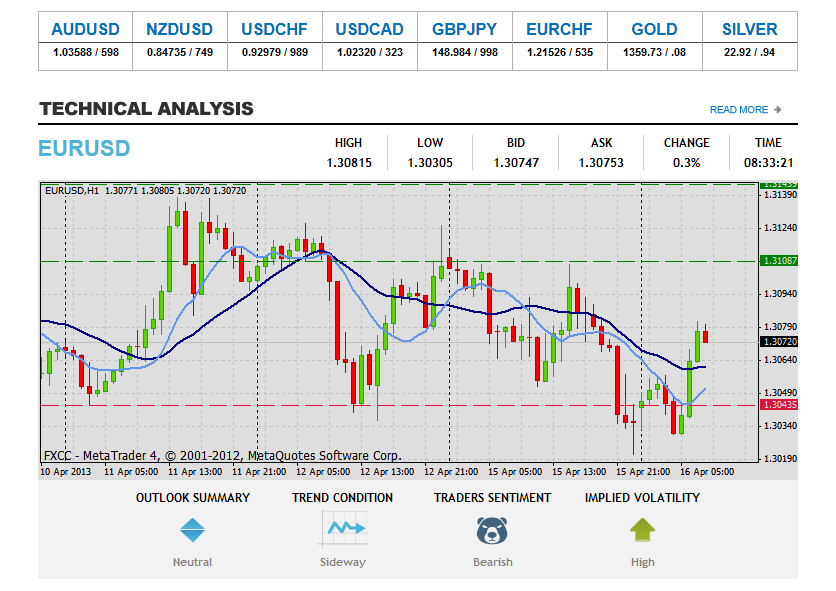 MARKET ANALYSIS – Intraday Analysis
Upwards scenario: A bullish tone dominates during the Asian session and further buying interest might arise above the next resistance at 1.3108 (R1). Clearance here would suggest next intraday target at 1.3143 (R2) and if the price holds its momentum we can expect an increase towards to 1.3179 (R3). Downwards scenario: Key support level lies at 1.3043 (S1). Penetration below it might change near-term tone to the negative side and expose our initial targets at 1.3008 (S2) and 1.2969 (S3) later on today.
Resistance Levels: 1.3108, 1.3143, 1.3179
Support Levels: 1.3043, 1.3008, 1.2969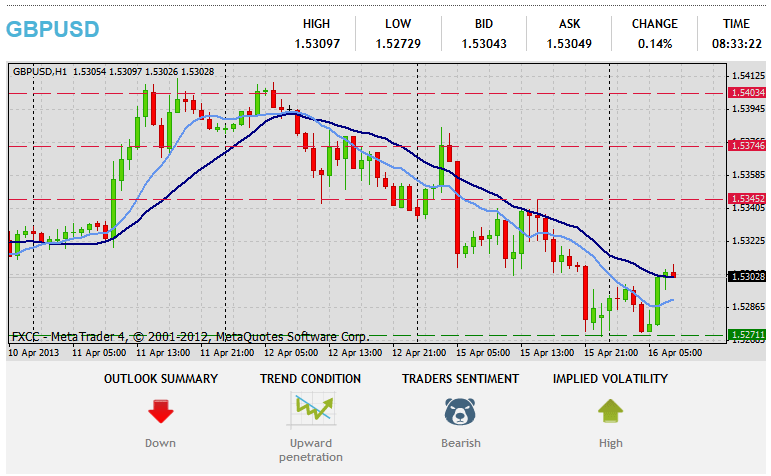 Upwards scenario: Next hurdle that limit uptrend development lies above the fractal level at 1.5345 (R1). If the break occurs here, next attractive level could be exposed at 1.5374 (R2) and any further rise would then be limited to 1.5403 (R3). Downwards scenario: However our both moving averages are pointing down and if the price manages to break our key support level at 1.5271 (S1) we would expect further depreciation towards to our next targets, located at 1.5242 (S2) and 1.5212 (S3).
Resistance Levels: 1.5345, 1.5374, 1.5403
Support Levels: 1.5271, 1.5242, 1.5212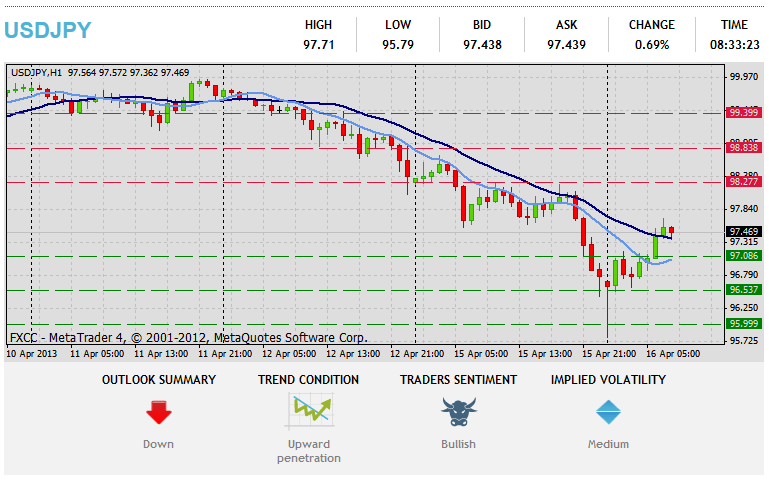 Upwards scenario: Possibility of market strengthening is seen above the resistance level at 98.27 (R1). Clearance here is required to validate next interim target at 98.83 (R2) and any further rise would then be targeting mark at 99.39 (R3). Downwards scenario: Possible depreciation below the technically important support level at 97.08 (S1) would allow further market decline on the medium-term perspective. Possible targets lies at 96.53 (S2) and 95.99 (S3).
Resistance Levels: 98.27, 98.83, 99.39
Support Levels: 97.08, 96.53, 95.99
« Forex Technical & Market Analysis: April 15 2013 Forex Technical & Market Analysis: April 17 2013 »