2013-04-08 04:20 GMT
Portugal to slash spending after court ruling setback
Following the Portuguese constitutional court decision last Friday, in which certain austerity measures from the 2013 budget were rejected, Portugal's Prime Minister Pedro Passos Coelho said on Sunday the government will implement further cuts to compensate the unexpected budgetary setback, so that it can meet targets set by the Troika. Passos Coelho said in a televised address to the country that the court ruling was, cited by Reuters, "a serious obstacle for and risk" this year and next, but showed commitment to comply with the EU/IMF rescue program.
The Prime Minister ruled out an increase in taxes but one of the measures being explored was to cut on more spending, as mentioned above. The government is also seeking more flexible conditions from international lenders, so that they can successfully complete the bailout programme in 2014. According to Reuters: "Analysts expect Portugal to be able to agree replacement measures with the European Union and International Monetary Fund to make up for the court ruling, which could cost it between 900 million and 1.3 billion euros."-FXstreet.com
2013-04-08 10:00 GMT
Germany. Industrial Production s.a. w.d.a. (YoY)
2013-04-08 14:30 GMT
Canada. Bank of Canada Business Outlook Survey
2013-04-08 23:15 GMT
USA. US Fed's Bernanke Speech
2013-04-08 23:50 GMT
Japan. BoJ Monetary Policy Meeting Minutes
2013-04-08 04:26 GMT
GBP/JPY moves above 151 first time in 3 years
2013-04-08 03:41 GMT
EUR/USD next upside target near 1.3115 – BBH
2013-04-08 03:22 GMT
USD/JPY to remain bid; 100.00/101.50 eyed – RBS
2013-04-08 02:47 GMT
AUD/USD to stay above parity for the remainder of 2013 – NAB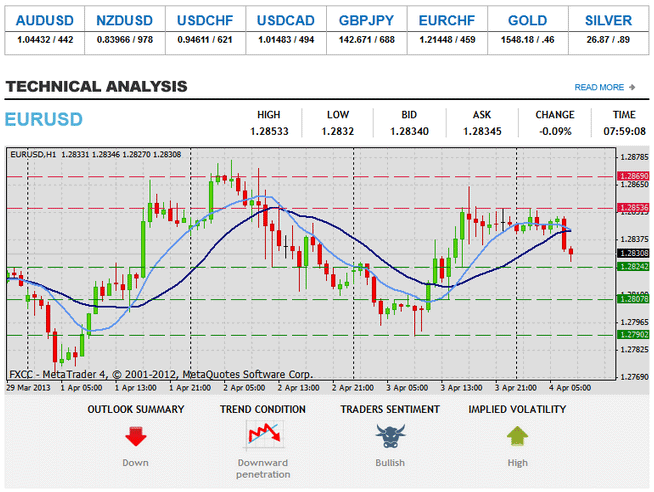 MARKET ANALYSIS – Intraday Analysis

Upwards scenario: Upside formation is limited now to the next resistive barrier at 1.3040 (R1). Clearance here is required to provide a space for a move towards to next target at 1.3063 (R2) and then final aim would be 1.3087 (R3). Downwards scenario: Our key support level locates below the session low at 1.2972 (S1) mark. Break here is required to prolong bearish extension and validate our intraday targets at 1.2949 (S2) and 1.2926 (S3).
Resistance Levels: 1.3040, 1.3063, 1.3087
Support Levels: 1.2972, 1.2949, 1.2926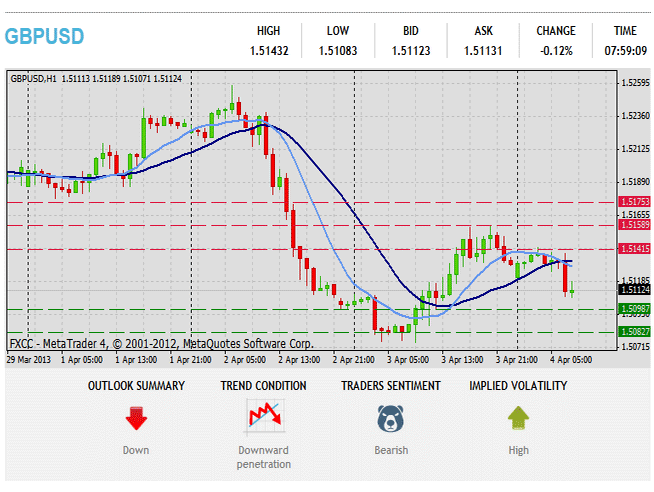 Upwards scenario: Measures of resistance might be activating when the pair approaches the 1.5363 (R1) mark. Break here would suggest next interim target at 1.5388 (R2) and If the price keeps its momentum we expect an exposure of 1.5413 (R3). Downwards scenario: Any downside extension is limited now to the next support level at 1.5301 (S1). Below here we see potential for the price acceleration towards to next initial targets at 1.5276 (S2) and 1.5251 (S3).
Resistance Levels: 1.5363, 1.5388, 1.5413
Support Levels: 1.5301, 1.5276, 1.5251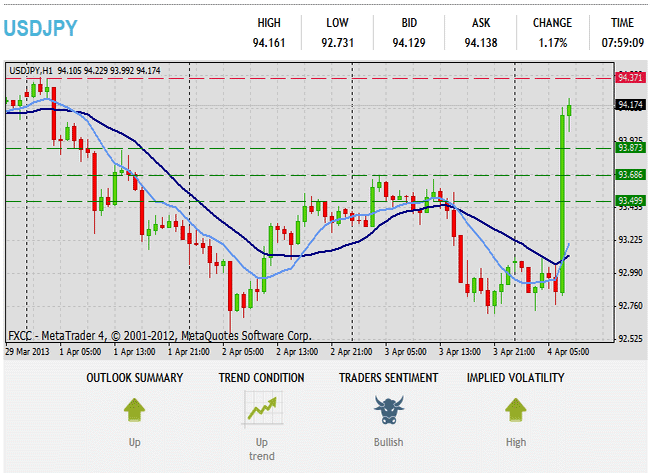 Upwards scenario: We are not expecting significant volatility increase today however appreciation above the resistive structure at 98.85 (R1) might trigger bullish pressure and drive market price towards to next targets at 99.23 (R2) and 99.60 (R3). Downwards scenario: Possible bull back on the hourly chart might face next hurdle at 98.07 (S1). Break here is required to open road towards to our next retracement target at 97.66 (S2) en route to final aim at 97.25 (S3).
Resistance Levels: 98.85, 99.23, 99.60
Support Levels: 98.07, 97.66, 97.25
« Forex: EUR/USD consolidating above 1.3000 Best ECN Forex Broker: Key "Qualities" to Keep in Mind »