2013-04-03 06:00 GMT
Cyprus FinMin steps down after finalizing bailout deal
Cypriot finance minister Michael Sarris submitted his resignation on Tuesday, just after concluding bailout negotiations with Troika officials. Labor minister Haris Georgiadis has been nominated to the post shortly after. According to the Greek newspaper Kathimerini, other changes in the Cypriot government might follow today. It also suggests that Michael Sarris was replaced due to the Cyprus president Nicos Anastasiades's dissatisfaction with the way he handled the crisis. As for the bailout deal, it was agreed that Cyprus would receive the first tranche of the aid in May. The fiscal adjustment period has been extended until 2018. The bailout loans will carry interest of 2.5% and repayment, spread over 12 years, is to begin in 10 years time. Michael Sarris also said that it was uncertain when the capital controls could be lifted completely.
Popular opinion in Brussels is that the worst outcome for the euro currency union would be if one of the member-states were forced out. On this pretext, the ECB has so far bailed out the banking systems of Portugal, Ireland, Greece, and Spain. When Cyprus faced a run on its banks two weeks ago, the eurocrats stepped in with a new proposal to shore up reserves: forfeiture of 9.9% on deposits over €100K and 6.7% below that level. This has come to be known as a "bail in." The reaction was immediate and intense. Cypriots took to the streets to protest the anticipated losses and breach of the government's deposit insurance guarantees for amounts under €100K; riot police were deployed. The Russian government was upset it was not consulted and that its citizens' deposits would face even steeper losses. The talking heads lamented the grave precedent that this move would set.-FXstreet.com
2013-04-03 08:30 GMT
UK. PMI Construction (Mar)
2013-04-03 09:00 GMT
EMU. Consumer Price Index (YoY) (Mar)
2013-04-03 13:15 GMT
USA. US ADP Employment Change (Mar)
2013-04-03 14:00 GMT
USA. ISM Non-Manufacturing PMI (Mar)
2013-04-03 05:54 GMT
EUR/USD regains 1.2800
2013-04-03 03:44 GMT
Precious metals resume the selling off
2013-04-03 03:24 GMT
GBP/JPY barely above 141.00 dragged on Pound weakness
2013-04-03 01:27 GMT
GBP/USD breaks into 2-week low; no significant demand until 1.4950/1.50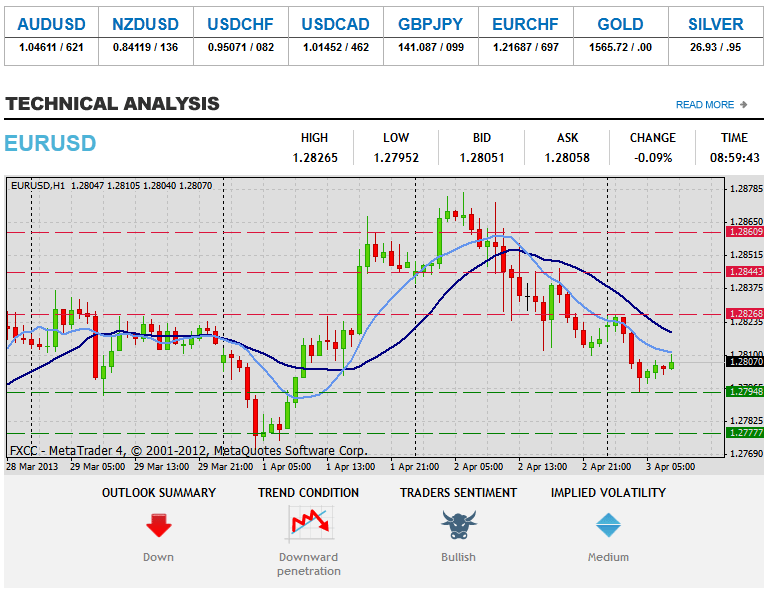 MARKET ANALYSIS – Intraday Analysis
Upwards scenario: market sentiment is shifted to the negative side after the losses provided yesterday however market appreciation is possible above the next resistance at 1.2826 (R1). Loss here would suggest next intraday targets at 1.2844 (R2) and 1.2860 (R3). Downwards scenario: Fresh low at 1.2794 (S1) offers a key resistive measure on the downside. Break here is required to enable bearish pressure and validate next target at 1.2777 (S2). Final support for today locates at 1.2761 (S3).
Resistance Levels: 1.2826, 1.2844, 1.2860
Support Levels: 1.2794, 1.2777, 1.2761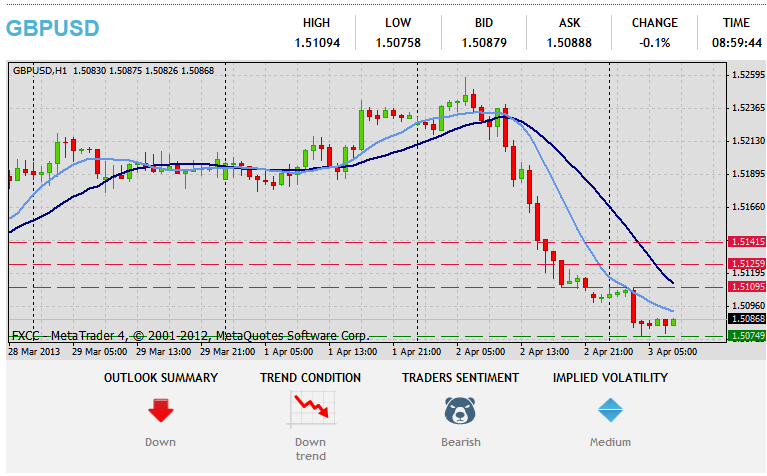 Upwards scenario: GBPUSD broke all supportive means yesterday and determined clear negative bias on the medium-term timeframe. Possibility of market appreciation is seen above the resistance level at 1.5109 (R1). Break here is required to validate next targets at 1.5125 (R2) and 1.5141 (R3). Downwards scenario: Risk of the further downtrend formation is seen below the support at 1.5074 (S1). With penetration here opens a route towards to our immediate support level at 1.5059 (S2) and any further price cut would then be limited to final target at 1.5043 (S3).
Resistance Levels: 1.5109, 1.5125, 1.5141
Support Levels: 1.5074, 1.5059, 1.5043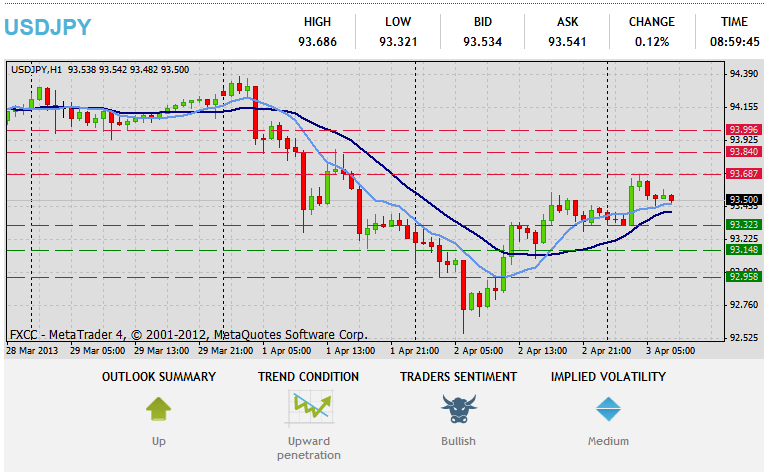 Upwards scenario: Price deviates from its initial downtrend formation on the hourly chart. Local high at 93.67 (R1) is a key technical point on the upside. Penetration above would suggest higher targets at 93.84 (R2) and 93.99 (R3). Downwards scenario: Our next support level is seen at 93.32 (S1). Any penetration below this level would increase likelihood of the downtrend development and suggest bearish priority in direction. Intraday support levels are placed at the 93.14 (S2) and 92.95 (S3) price levels.
Resistance Levels: 93.67, 93.84, 93.99
Support Levels: 93.32, 93.14, 92.95
« Forex Technical & Market Analysis: April 02 2013 Forex Technical & Market Analysis: April 04 2013 »