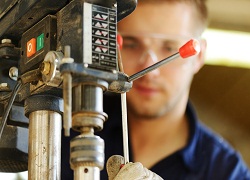 The markets have been dominated by the raft of PMIs published by Markit this morning and overnight. The Eurozone PMI composite index has continued its bullish end to 2013 with 52.7 registered for the month of January, which is still very close to the 30 month high. Despite this the markets in Europe have sold off, partly due to the overall poor PMI prints, where a fall in manufacturing is the key concern for many analysts and investors as the PMI for Europe's manufacturing came in at 53, from expectations of 54.2.
This overall positive number was hit by France's PMIs coming in down to 47.6, down from 48.9, with service sector falling but manufacturing increasing throughout the month of January. Similarly Germany's number missed expectations for manufacturing by some distance; down to 54.7 from 56.5 previously and against expectations of 56.4.
There was more evidence of a slowdown in the world's second-largest economy and it caused a ripple effect across Asia-Pacific markets and a sell off across the main indices. A "flash" reading of HSBC's closely watched PMI (purchasing managers' index) revealed that activity in China's manufacturing sector has now reached a seven-month low in February, with an index reading of 48.3 missing expectations that were already subdued.
In other news Japan's trade deficit widened to an unprecedented Y2.79tn ($27.4bn) in January, more than Y1tn larger than the previous record, underscoring a painful structural shift for an economy that for decades has relied on exports as the main engine of economic growth.
Eurozone PMI signals on-going robust recovery as new orders show largest rise since mid – 2011
The euro area economy continued to expand at a robust pace in February, enjoying its strongest run of growth since the first half of 2011. The flash estimate of the Markit Eurozone PMI Composite Output Index fell slightly to 52.7 in February, but remained close to January's 31 – month high of 52.9. The PMI has now held above the 50.0 no change level for eight successive months, signalling a continuous expansion of business activity since last July. New orders rose for a seventh successive month, and the rate of growth accelerated marginally to reach the highest since June 2011.
France: Sharper fall in services activity but manufacturing output rises
French private sector output continued to fall in February. This was highlighted by the Markit Flash France Composite Output Index, based on around 85% of normal monthly survey replies, registering 47.6. Down from 48.9 in January, the latest index reading signalled a slight acceleration in the rate of decline. Driving the fall in overall output was a further reduction of activity in the service sector, with the latest drop the sharpest in nine months. In contrast, manufacturers signalled an increase in output for the first time since last July, albeit marginal.
HSBC Flash China Manufacturing PMI
Business conditions deteriorate at moderate pace in February Key points. Flash China Manufacturing PMI at 48.3 in February (49.5 in January). Seven-month low. Flash China Manufacturing Output Index at 49.2 in February (50.8 in January). Seven-month low. Data collected 12–18 February 2014. February's flash reading of the HSBC China Manufacturing PMI moderated further as new orders and production contracted, reflecting the renewed destocking activities. The building-up of disinflationary pressures implies that the underlying momentum for manufacturing growth could be weakening.
Market snapshot at 9:30 am UK time
The ASX 200 closed up 0.07%, the CSI 300 down 0.92%, the Hang Seng down 1.-9%, with the Nikkei down 2.15%. European indices have fallen sharply upon open; euro STOXX down 1.13%, CAC down 1.08%, DAX down 1.40%, FTSE down 0.66%.
Looking towards the New York open the DJIA equity index future is currently down 0.26%, SPX down 0.27% and the NASDAQ future down 0.24%. NYMEX WTI oil is down 0.3% at $103.28 per barrel, nat gas on NYMEX at $5.96 is down 3.22%. COMEX gold is down 0.49% at $1313.90 per ounce, with silver down 1.34% at $21.60 per ounce.
Forex focus
The yen rose 0.5 percent to 101.83 per dollar early in London. It gained 0.5 percent to 139.86 per euro. The greenback was little changed at $1.3736 versus Europe's shared currency. The Aussie tumbled 0.4 percent to 89.60 U.S. cents, set for the longest stretch of losses since the four days through Jan. 17th. The yen strengthened versus all its 16 major counterparts as investors sought the perceived safe haven status of the Japanese currency after Asian stocks fell following private data that signalled weaker Chinese manufacturing.
The pound declined 0.2 percent to $1.6652 early morning London time after falling 0.4 percent in the previous three days. The U.K. currency traded at 82.24 pence per euro, from 82.34 pence yesterday. The pound has gained 13 percent in the past 12 months, the best performer of 10 developed-nation currencies tracked by Bloomberg Correlation-Weighted Indexes. The euro appreciated 5.8 percent, while the dollar rose 2.2 percent.
Bonds briefing
The UK 10-year debt gilt yielded 2.72 percent after the rate fell to 2.70 percent yesterday, the lowest level since Feb. 7th. The price of the 2.25 percent bond due in September 2023 was 96.075.
U.S.A 10-year yields fell four basis points, or 0.04 percentage point, to 2.70 percent early London time. The 2.75 percent note due in February 2024 climbed 11/32, or $3.44 per $1,000 face amount, to 100 13/32. Treasuries rose, rebounding from yesterday's biggest decline in a week, after an industry report indicated manufacturing in China is slowing.
« Manual or automated trading, which one is better for you and when should you make the change? USA indices defy some poor data prints to finish up during Thursday's sessions »