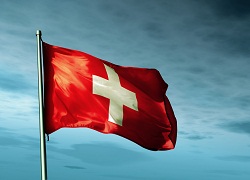 Asian markets were calmer in the overnight-early morning trading session as Australian equities have been buoyed by strong economic data, but the overall mood has improved from a  cautious start in Europe and in the futures markets as traders await monetary policy updates out of Europe today as well as Friday's US NFP jobs report.
The Australian dollar jumped to a two-week high after retail sales matched forecasts and the country produced an unexpected trade surplus. The nation's overseas shipments exceeded imports by A$468 million ($420 million) in December, the statistics bureau said today.
In Europe retail sales have returned to growth with the latest data courtesy of Markit illustrating that a 33 month high has been reached and as a consequence the index has just crawled over the median 50 line – indicating the barrier between contraction and expansion in a diffusion index.
In Switzerland the consumer confidence index is up at +5, significantly above its long term average reading of -9. Consumers appear to be far more confident regarding their own personal financial position and the low levels of unemployment are creating a nationwide feel good factor.
In the UK house prices have risen by circa 1.9% in the 3 months to January 2014 with prices rising by 1.1% in January. Even more interesting is the fact that the UK economy in 2013 witnessed over 1 million property related transactions (in all their various guises) for the first time since 2013.
Eurozone retail sales return to growth at start of 2014
January Eurozone retail PMI data from Markit showed the first rise in sales for five months. And although only slight, the increase was the fastest since April 2011. Germany was the driver of growth, posting its most marked improvement in trade since August. France's drag on the currency union's overall performance meanwhile diminished as sales there fell at a much slower pace than in December, whereas Italy saw another solid decrease. The Markit Eurozone Retail PMI – which tracks month-on-month changes in the value of retail sales – registered at a 33-month high of 50.5 in January.
Halifax House Price Index – January 2014
House prices in the latest three months (November 2013-January 2014) were 1.9% higher than in the preceding three months (August 2013-October 2013). This is within the range of 1.8 – 2.1% recorded for this measure throughout the preceding eight months to June 2013. Prices in the three months to January were 7.3% higher than in the same three months a year earlier. This was marginally lower than in December (7.5%) House prices increased by 1.1% in January. This followed a small fall in December (-0.5%). Activity is on an upward trend with housing transactions in 2013 exceeding one million for the first time since 2007.
Increasing Swiss consumer confidence
Consumer confidence in Switzerland improved between October 2013 and January 2014.1 The overall index rose from -5 in October to +2 points in January and thus continues to evolve above the historical average of -9 points. Households are clearly more confident about the general economic outlook in particular. In addition, they are slightly more positive about the prospects for their personal financial situation and for a gradual fall in unemployment than they were in the last survey.
Australia trade balance hits surplus as exports jump
A strong rise in exports has pushed Australia's trade balance into a surplus for the first time in two years, as the retail sector continued to strengthen during the Christmas season, new official figures show. Exports rose 4 per cent in December as imports lifted by 2 per cent to take the trade balance to $468 million, figures released by the Bureau of Statistics on Thursday showed. November's trade balance was revised from a deficit of $118 million to a surplus of $83 million. Economists had said Australia's trade balance was on track to reach a surplus as resources exports ramp up and imports decline on a weakening currency.
Market snapshot at 10:00 am UK time
In the overnight-early morning trading session the ASX 200 closed up 1.20% due to the unpredicted trade surplus figures, the Hang Seng up 0.72%, with the Nikkei closing down marginally by 0.18%.
In Europe the main bourses are positive; Euro STOXX up 0.87%, CAC up 0.92%, DAX up 1.03% and the UK FTSE is up 0.60%.
Looking towards the USA bourses' open the DJIA equity index future is currently up 0.44%, SPX future is up 0.59%, NASDAQ future up 0.58%.
NYMEX WTI oil is up 0.14% at $97.52 per barrel, NYMEX nat gas is up 3.70% at $5.22 per therm. COMEX gold is 0.14% at $1258.70 per ounce with silver up 0.88% at $19.98 per ounce.
Forex focus
The euro traded at $1.3519 early in London from $1.3533 yesterday. It touched $1.3477 on Feb. 3rd, the lowest since Nov. 22nd. The yen was little changed at 101.47 per dollar and 137.18 per euro. The euro was near an 11-week low amid speculation that slowing inflation will prompt the European Central Bank to reinforce its dovish stance when announcing an interest-rate decision today. Premiums on overnight options for the euro against the dollar jumped to 17.2 percent, poised to close at the highest level since in August 2012.
The Aussie climbed 0.7 percent to 89.70 U.S. cents after reaching 89.81, the highest since Jan. 14. The nation's overseas shipments exceeded imports by A$468 million ($420 million) in December, the statistics bureau said today. Economists had forecast a shortfall of A$200 million. Australia's exports to China jumped to A$94.5 billion in 2013, the most on record.
Bonds briefing
The USA benchmark 10-year debt yield was little changed at 2.67 percent early in London, according to Bloomberg Bond Trader data. The price of the 2.75 percent note maturing in November 2023 was 100 21/32. Treasuries are the world's worst-performing bonds this week, starting February with a reversal of January's rally before a report tomorrow economists said will show job growth rebounded from a slowdown.
Germany's 10-year debt yield was at 1.65 percent early London time after slipping to 1.60 percent yesterday, the lowest since Aug. 1st. The price of the 1.75 percent bund maturing in February 2024 was 100.955. German government bonds were little changed as European Central Bank policy makers meet in Frankfurt amid speculation they will boost stimulus after euro-area inflation matched a four-year low last month.
« Recording the results of our trades and why it's so important to keep records Bank of England and ECB avoid base rate decreases, whilst USA productivity improves markedly sending USA indices into minor recovery »