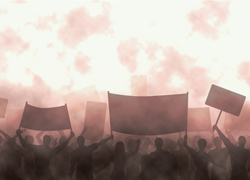 The eurozone private sector maintained its fragile and modest economic recovery at the start of the final quarter of 2013. October PMI data from Markit signalled that business activity in the currency union expanded for the fourth successive month. Although a slight dip in the final Markit Eurozone PMI Composite Output Index to 51.9 in October, from a 27-month high of 52.2 in September, was a disappointment in itself, the index was above the flash estimate (51.5). This suggested that the slowdown was less marked than originally thought.
Spain moves closer to a form of stabilization
The Spanish service sector moved closer to stabilisation in October as activity fell only marginally over the month. Meanwhile, new business increased for the third month running. However, companies continued to lower their staffing levels and the rate of job cuts quickened to the fastest since June. The headline seasonally adjusted Business Activity Index, which is based on a single question asking respondents to report on the actual change in business activity at their companies compared to one month ago remained below the 50.0 no change mark in October, but rose to 49.6 from 49.0.
Italy: Business activity rises at slower pace
Growth in service sector business activity in October failed to match the solid pace observed in September, instead cooling to a marginal rate in accordance with the trend in new business. Job shedding among services firms meanwhile picked up slightly, as future expectations weakened from September's recent peak and rising input costs placed pressure on margins. Service providers registered a second consecutive monthly increase in business activity in October, following 27 successive months of contraction. However, the rate of growth slowed, as signalled by the headline Markit/ADACI Business Activity Index, which is based on a single question asking respondents to report on the actual change in business activity at their companies compared to one month ago, falling from September's 30 month high of 52.7 to 50.5.
UK manufacturing remains stable whilst industrial production rises by 0.9%.
Production output rose by 0.6% between Q2 2013 and Q3 2013. By far the largest contribution to the quarterly growth in production came from manufacturing, which increased by 0.9%. This industry showed similar growth in Q2 2013. Looking at the broader picture, production output was 2.2% higher in September 2013 compared with September 2012; reflecting an 11.5% rise in mining & quarrying; 0.8% rise in manufacturing; 7.1% rise in water supply, sewerage & waste management; and 3.4% fall in electricity, gas, steam & air conditioning. Production and manufacturing rose by 0.9% and 1.2%.
Greece hit by another anti-austerity general strike
Greek schools are shut today, hospitals are running with fewer staff, and flights are being disrupted as the general strike gets underway. The 24-hour walkout by Greece's largest public and private sector unions has brought much of the crisis-hit country to a standstill a day after officials from the "troika" of European Commission, European Central Bank and the International Monetary Fund resumed their latest bailout review.
Labour unions fear Greece will have to impose further wage and pension cuts in order to meet its bailout targets in the coming years, union officials said. Greece and its lenders are at odds over the size of a projected budget hole next year, which has spurred speculation of a new round of unpopular cuts.
The unions are also protesting against planned public sector job cuts and privatisations. School teachers, doctors, municipal workers, train workers and bus drivers are among the groups that have joined the strike today. Air traffic controllers said they would stop working between 1000 and 1300 GMT, disrupting flights.
Market snapshot at 10:00 am UK time
The Nikkei closed up 0.79% in the early morning/overnight trading session, the Hang Seng down 0.01%.cthe CSI 300 closed down 1.27% as Chinese official are scheduled to meet as their Communist Party plenum begins to set a course for China's next decade of economic growth.
European markets are mostly positive in the early part of the European trading session. STOXX is up 0.66%, UK FTSE up 0.25%, CAC up 0.65%, DAX up 0.34%, whilst the Athens exchange  has recovered from its earlier negative position due to the troika visit and the general strike taking place affecting confidence, to now be up 0.95%.
Commodities are up, WTI oil on ICE up 0.90% at $94.21 per barrel on expectations that the USA inventory figures will show a fall in the current stocks held. NYMEX natural is down 0.09% at $3.46 per therm. COMEX gold is up 0.72% at $1317.50 per ounce, with silver up 1.34% at $21.92 per ounce.
Forex focus
The euro gained 0.2 percent to $1.3497 early in London after declining to $1.3442 on Nov. 4th, the weakest since Sept 18th. The common 17 nation shared currency rose 0.2 percent to 132.99 yen after sliding to 132.37 yesterday, the weakest since Oct. 10th. The yen was little changed at 98.53 per dollar. The euro strengthened versus the dollar and the yen as most economists predict that the European Central Bank will refrain from cutting interest rates at a policy meeting tomorrow as it awaits further economic data to justify such a decision.
The New Zealand currency rose by 0.4 percent to 83.94 U.S. cents after advancing to 84.03 cents, the highest level since Oct. 24th. The kiwi strengthened for a fourth day versus the dollar after Statistics New Zealand said employment in the nation rose 1.2 percent in the third quarter, compared with a 0.4 percent gain in the previous three months.
Sterling has gained 0.4 percent to $1.6105 early London time after climbing 0.8 percent over the previous two days. The U.K. currency was little changed at 83.87 pence per euro after appreciating to 83.85 pence, the strongest since Oct. 3rd. Bank of England policy makers will keep their key interest rate at a record-low 0.5 percent and the asset-purchase stimulus target at 375 billion pounds, according to surveys of economists before tomorrow's announcement. Governor Mark Carney presents new quarterly forecasts on Nov. 13th to include his forward guidance narrative.
The pound has gained 4.2 percent in the past six months, the most amongst the 10 developed-nation currencies tracked by Bloomberg's Correlation-Weighted Indices. The dollar has risen 0.1 percent, whilst the euro has climbed 3.8 percent.
« Why we must keep a trading journal in our early trading years The DJIA closes at record high on Wednesday due to speculation over Fed monetary easing policy as Global output reaches its fastest pace since February 2011. »