2013-05-07 07:00 GMT
A quiet week of economic data could keep EUR/USD range bound
The EUR/USD closed the day down 41 pips at 1.3072. The pair is still searching for direction and given the upcoming week is much more quiet as far as economic releases are concerned the trading range nature of the pair could continue. There were a couple of economic reports released during the previous European session worth mentioning including Retail Sales which came in at -2.4% actual vs. -1.9% estimate, and number of Market Services PMI figures.
According to Marc Chandler, Head of Currency Strategy at BBH, "The EUR service PMI came in at 47.0, it was an improvement over the 46.6 flash reading, but remains well below the 50 boom/bust level and is still consistent with continued contraction in Q2. German and French reports improved from the flash readings and Italy surprised on the upside (47.0 from 45.5)." Economic data in the coming European session will mainly be focused on German Factory Orders due out at 10:00 GMT. Given the recent disappoint in German data (PMI/IFO reports both missed estimates), it will be worth keeping an eye on the pair to see how it reacts should the trend of missing estimates continue. It will also be important to keep an eye out for any ECB rhetoric regarding additional easing which seems to be influencing the pair on an intra-day basis since Draghi mentioned the possibility of negative interest rates on bank deposits last week. – FXstreet.com
2013-05-07 10:00 GMT
DE.Factory Orders n.s.a. (YoY) (Mar)
2013-05-07 19:00 GMT
USA.Consumer Credit Change (Mar)
2013-05-07 20:00 GMT
USA.Treasury Sec Lew Speech
2013-05-07 21:00 GMT
NZ.RBNZ Financial Stability Report
2013-05-07 02:22 GMT
GBP/JPY edges lower during Asia trade, approaching support at 153.50
2013-05-07 01:44 GMT
AUD/USD remains in narrow range after Trade Balance data
2013-05-07 01:44 GMT
USD/JPY dips below 99 on Aso's comments
2013-05-07 01:02 GMT
AUD/JPY closes lower as resistance at 102.50 continues to hold firm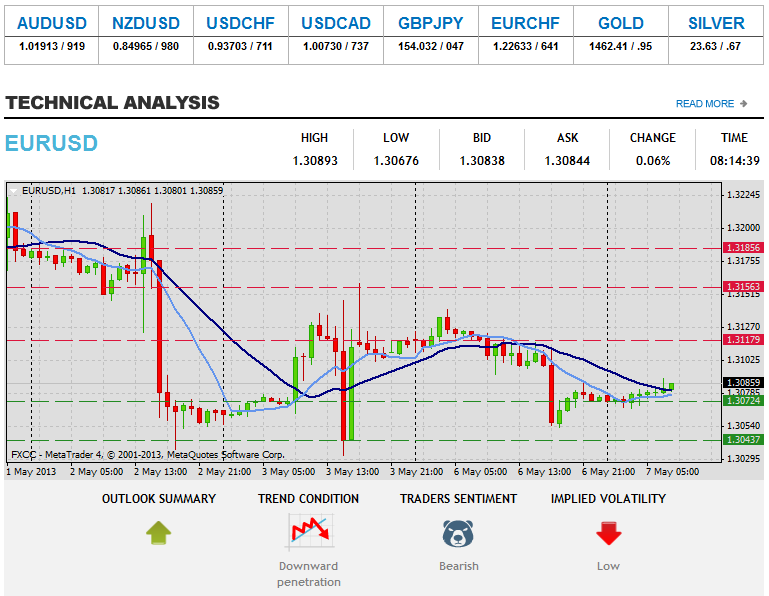 MARKET ANALYSIS – Intraday Analysis
Upwards scenario: We are not expecting significant volatility increase today however upside risk aversion is seen above the next resistance level at 1.3117 (R1). Price evaluation above this level would suggest next targets at 1.3156 (R2) and 1.3185 (R3). Downwards scenario: Further correction development is limited now to the session low – 1.3072 (S1). If the price manages to surpass it we would suggest next intraday targets at 1.3043 (S2) and 1.3010 (S3).
Resistance Levels: 1.3117, 1.3156, 1.3185
Support Levels: 1.3072, 1.3043, 1.3010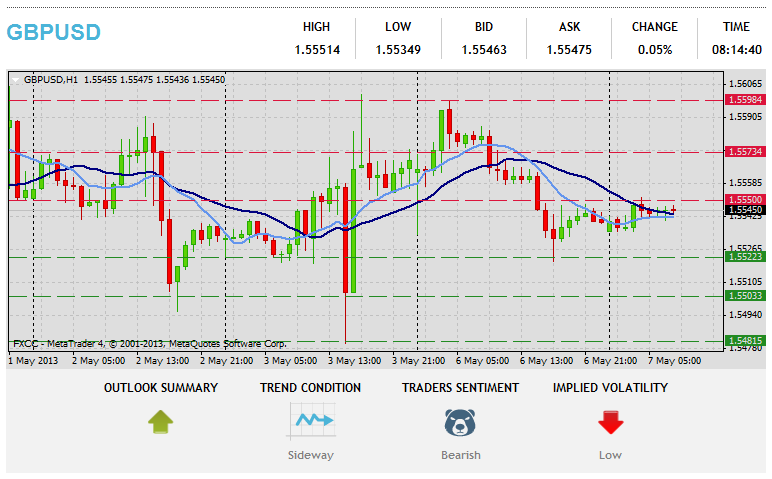 Upwards scenario: Neutral channel formation remains in play on the hourly chart. Our next resistance level is placed above the local peak at 1.5550 (R1). Strengthening above it would point to resistive structure at 1.5573 (R2) onto 1.5598 (R3). Downwards scenario: Market decline below the support level at 1.5522 (S1) might change short-term technical picture and shift market sentiment to the bearish side. In such scenario we expect next targets to be exposed at 1.5503 (S2) and 1.5481 (S3).
Resistance Levels: 1.5550, 1.5573, 1.5598
Support Levels: 1.5522, 1.5503, 1.5481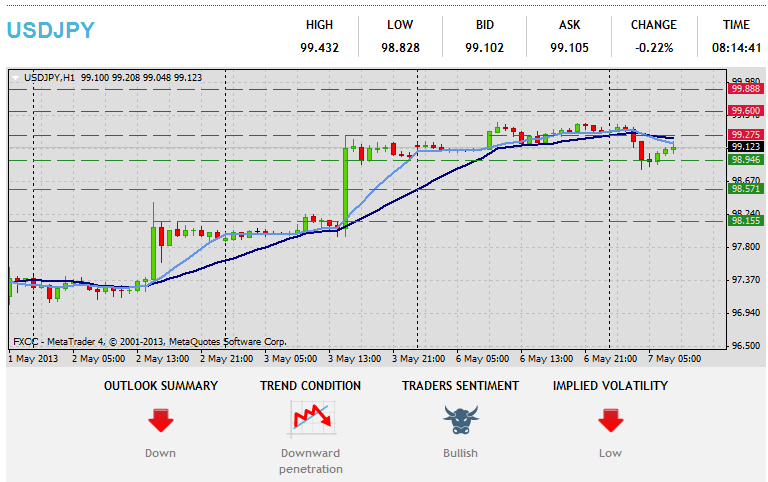 Upwards scenario: After dipping lower today we see potential of market recovery in near-term perspective. Next on tap is seen resistance level at 99.27 (R1). Break here would suggest next intraday targets at 99.60 (R2) and 99.88 (R3). Downwards scenario: Next challenge on the downside is seen at 98.94 (S1). Breakthrough of this mark would open way for a downside expansion and could possibly trigger our initial targets at 98.57 (S2) and 98.15 (R3) later on today.
Resistance Levels: 99.27, 99.60, 99.88
Support Levels: 98.94, 98.57, 98.15
« Forex: EUR/USD toying with 1.3100 Forex Technical & Market Analysis: May 08 2013 »