2013-06-13 04:25 GMT
IMF approves €657 million bailout tranche for Portugal
The International Monetary Fund (IMF) approved the seventh tranche of Portugal's bailout Wednesday and gave the country more time to meet its budget-cutting goals. The IMF will disburse the next tranche worth €657 million after the successful review of a bailout program that started in 2011. Meanwhile, the fund eased conditions, allowing Portugal to lower its budget deficit to 3% of GDP by 2015 from 6.4% in 2012, instead of by 2014. "The Portuguese authorities have put forward a program that is economically well-balanced and has growth and job creation at its center", IMF acting Managing Director John Lipsky wrote in a statement.
With Chinese markets back in business after a 5 day weekend closed over holidays, local share markets were dumped with Nikkei index leading the way lower losing at one point more than -6%. USD posted fresh 4-month lows at 80.66 DXY with USD/JPY printing fresh 2-month lows at 94.36, and EUR/USD 3-month highs above 1.3360. Gold and Oil showed little changes on the move. Australian job market surprised to the upside adding 1.1k more jobs to the economy when -10k were expected, making AUD/USD dip below the 0.9450 level. RBNZ left interest rates unchanged at 2.5%, with NZD/USD hanging around the 0.79 figure.-FXstreet.com
Open a FREE Forex Trading Demo Account Now To Practice
Forex Trading In A Real-live Trading & No-risk Environment!
2013-06-13 08:00 GMT
EMU. ECB Monthly Report
2013-06-13 12:30 GMT
USA. Retail Sales (MoM) (May)
2013-06-13 14:00 GMT
USA. Business Inventories (Apr)
2013-06-13 23:50 GMT
Japan. BoJ Monetary Policy Meeting Minutes
2013-06-13 04:55 GMT
USD/JPY technical set up continues to deteriorate as bears maintain control
2013-06-13 04:27 GMT
GBP/USD resting below 1.57 figure
2013-06-13 03:49 GMT
EUR/JPY cracks 127.00, further selling pressure revealed
2013-06-13 03:15 GMT
USD/CAD, sustained weakness below 1.0170/75 needed – TDS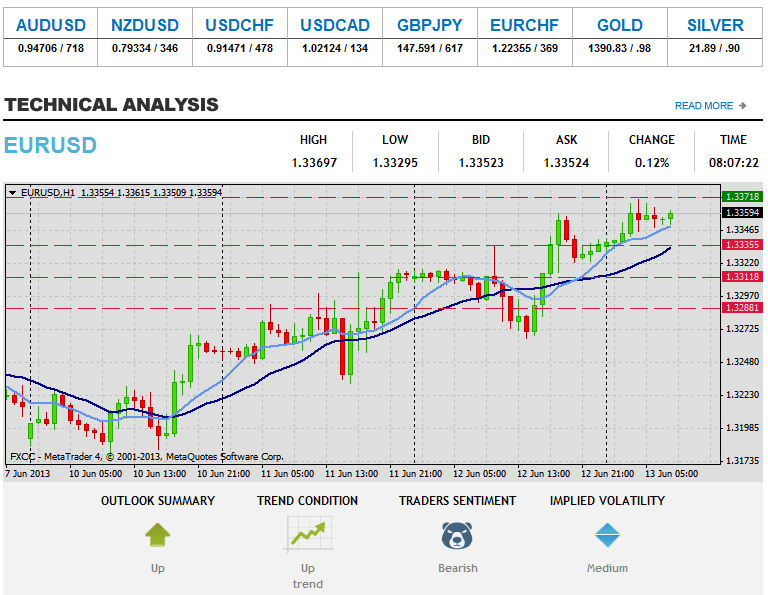 MARKET ANALYSIS – Intraday Analysis

Upwards scenario: Uptrend evolvement remains in power. Further appreciation above the resistive barrier at 1.3371 (R1) is compulsory to commence positive market structure and validate next intraday targets at 1.3395 (R2) and 1.3418 (R3). Downwards scenario: Any downside fluctuations remains for now limited to the key support barrier at 1.3335 (S1). Only clear break here would be a signal of possible market easing towards to our targets at 1.3311 (S2) and 1.3288 (S3) in potential.
Resistance Levels: 1.3371, 1.3395, 1.3418
Support Levels: 1.3335, 1.3311, 1.3288

Discover Your Potential With a FREE Forex Practice Account & No Risk
Click To Claim Your Forex Practice Account Now!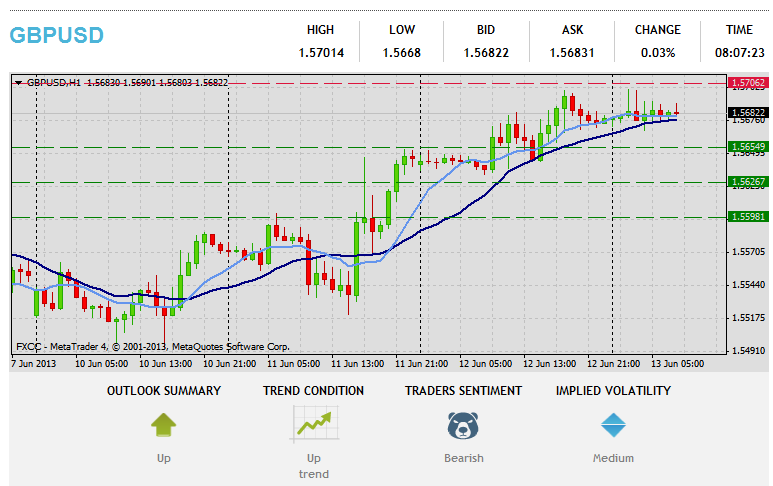 Upwards scenario: market looks overbought and possibility of retracement is high. Though loss of the next resistive barrier at 1.5706 (R1) might push the price towards to our targets at 1.5733 (R2) and 1.5761 (R3) later on today. Downwards scenario: We placed our support level right above the Monday high at 1.5654 (S1). Clearance here is required to open way towards to our interim target at 1.5626 (S2) and then final aim locates at 1.5598 (S3).
Resistance Levels: 1.5706, 1.5733, 1.5761
Support Levels: 1.5654, 1.5626, 1.5598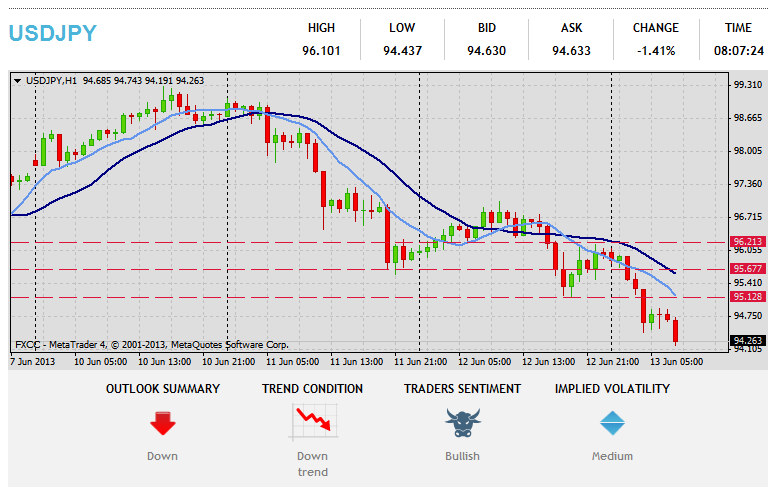 Upwards scenario: Medium term bias is clearly negative on USDJPY however we expect see some recovery action later on today. Key resistive bastion lies at 95.12 (R1). If the price manages to break it, we would suggest next targets at 95.67 (R2) and 96.21 (R3). Downwards scenario: Risk of price depreciation is seen below the support level at 93.90 (S1). A fall below it might prolong the weakness towards to next target at 93.40 (S2) and any further market decline would then be limited to final support at 92.91 (S3).
Resistance Levels: 95.12, 95.67, 96.21
Support Levels: 93.90, 93.40, 92.91
« Between The Lines; Morning Roll Call Between The Lines; Morning Roll Call »