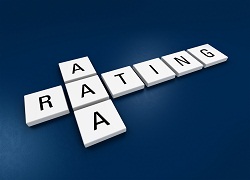 The US Federal Reserve published some encouraging news as it stated yesterday evening that nearly all major US banks can survive a market crash; 29 out of 30. All of the big banks with the exception of Zions Bancorp stayed above the 5% requirement for top-tier capital in the latest round of stress tests.
Russian sanctions may be starting to bite. Russia's Bank Rossiya, targeted by US government sanctions, has said this morning that Visa and MasterCard have stopped providing services for payment transactions for its clients, without notifying the bank. The US claims Bank Rossiya is the personal bank for senior Russian officials. Russia has threatened a "mirror response" to the west's sanctions over the Crimea crisis. Russia's state-run RIA news agency quoted deputy foreign minister Grigory Karasin as saying:
There is such a thing as 'reciprocity' in English and in Russian it is a 'mirror response'. It should be comparable, and I will not deny that we are thinking about it.
Euro area balance of payments
The seasonally adjusted current account of the euro area recorded a surplus of €25.3 billion in January 2014. This reflected surpluses for goods (€15.9 billion), services (€11.8 billion) and income (€6.8 billion), which were partly offset by a deficit for current transfers (€9.3 billion). The seasonally adjusted 12-month cumulated current account for the period ending in January 2014 recorded a surplus of €227.9 billion (2.4% of euro area GDP), compared with one of €135.4 billion (1.4% of euro area GDP) for the 12 months to January 2013.
UK Public Sector Finances, February 2014
For the financial year to date 2013/14, public sector net borrowing excluding temporary effects of financial interventions and also excluding the effects of the transfer of the Royal Mail Pension Plan and the transfers from the Bank of England Asset Purchase Facility Fund was £99.3 billion. This was £4.4 billion lower than the same period in 2012/13, when it was £103.8 billion. So far during the financial year 2013/14, £31.1 billion has been transferred from the Bank of England Asset Purchase Facility Fund to HM Treasury. Of this amount, £12.2 billion has had an impact on net borrowing.
Fitch Affirms United States at 'AAA'; Outlook Stable, as dollar set for biggest weekly advance for two months
Fitch Ratings has affirmed the United States of America's Long-term foreign and local currency Issuer Default Ratings (IDR) at 'AAA' with Stable Outlooks. The ratings on senior unsecured foreign and local currency bonds have also been affirmed at 'AAA'. The Country Ceiling has been affirmed at 'AAA' and the Short-term foreign currency IDR at 'F1+'. This rating action resolves the Rating Watch Negative (RWN) on which the ratings were placed on 15 October 2013, in line with Fitch's previous guidance that this would take place by end-March.
Market snapshot at 10:00 am UK time
The ASX 200 closed up 0.81%, the CSI 300 up 3.44%, the Hang Seng up 1.20% and the Nikkei up 1.65%. Euro STOXX is up 0.26%, CAC up 0.20%, DAX up 0.31% and the UK FTSE up 0.24%. The DJIA equity index future is up 0.22%, SPX future up 0.21%, NASDAQ future up 0.24%.
NYMEX WTI oil is down 0.20% at $98.70 per barrel with NYMEX nat gas down 0.98% at $4.33 per therm. COMEX gold is down 0.83% at $1330.20 per ounce with silver down 2.55% at $20.30 per ounce.
Forex focus
The Bloomberg Dollar Spot Index, which monitors the U.S. currency against its 10 major counterparts, was at 1,020.99 early in London from 1,021.54 yesterday. It has climbed 0.8 percent since March 14th, poised for the steepest weekly advance since Jan. 17th.
The U.S. currency was little changed at $1.3788 per euro after touching $1.3749 yesterday, the strongest since March 6th. It bought 102.38 yen from 102.39. Europe's shared currency traded at 141.15 yen from 141.07. The dollar was set for its biggest weekly advance in two months versus major peers before Dallas Federal Reserve President Richard Fisher speaks today amid prospects the central bank will pare stimulus.
The Aussie rose 0.3 percent to 90.63 U.S. cents today, extending its weekly advance to 0.4 percent. Citigroup Inc.'s Economic Surprise Index for the nation was at 50.10 yesterday after reaching 50.60 on March 13th, the highest since May 23rd. A positive reading signals data releases exceed economist estimates.
Bonds briefing
Benchmark German 10-year yields fell one basis point, or 0.01 percentage point, to 1.64 percent early London time, having risen nine basis points this week, the biggest increase since the period ended Dec. 6th. The 1.75 percent bund maturing February 2024 rose 0.07, or 70 euro cents per 1,000-euro ($1,377) face amount, to 101.01.
French 10-year yields fell one basis point to 2.18 percent, paring this week's increase to five basis points. Dutch 10-year yields have gained eight basis points since March 14th, to 1.86 percent, while those of Austria have climbed seven basis points to 1.90 percent.
German government bonds were set for their biggest weekly decline since December after Federal Reserve Chair Janet Yellen brought forward forecasts for higher U.S. interest rates, damping demand for fixed-income assets.

« So we've developed a winning trading method and strategy, after we've back tested it, what do we do next? Trend analysis for the week beginning March 23rd »