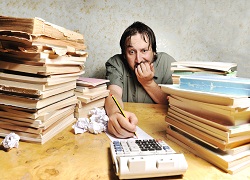 The UK's unemployment count was published earlier this morning and it revealed that the unemployment rate remained the same at 7.2%, this despite more persons being employed although there was a marked drop in the amount of full time employees, versus an increase in self-employment. The ONS is claiming that there are in fact an extra 459K employed in the UK over the past year.
It may be a relatively small economy but New Zealand appears to be leading the way for many of its bigger brother members of the G30. The latest current account deficit came in at $0.8 bn, some $1.8 bn lower than the previous quarter, mainly due to increasing dairy produce exports to Asia. However, there are worrying signs that the Australian economy may have peaked according to the latest survey from Westpac. The six month annualised deviation from trend growth rate of the Westpac Melbourne Institute Leading Index, which indicates the likely pace of economic growth three to nine months into the future, fell from 0.53% in January to –0.19% in February.
Gains on Wall Street on Tuesday did little to inspire markets in Asia-Pacific in the overnight early morning trading session, where investors were cautious ahead of Janet Yellen's first monetary policy meeting as chairwoman of the US Federal Reserve. US stocks rose in spite of Russia's annexing of Crimea. Investors were relieved that Russian officials said gas transit through Ukraine would flow as usual.
The Russian President completed on Tuesday absorbing Ukraine's Crimean peninsula into the Russian Federation less than three weeks after Russian soldiers took over Crimea's parliament. Mr Putin signed a treaty with the region's new Moscow-installed premier on joining Russia.
The renminbi breached the 6.20 exchange rate on Wednesday morning, a level considered a "red line" that could cause losses on billions of dollars' worth of derivative products. The onshore renminbi depreciated 0.1 per cent to 6.20, its weakest since April 9, 2013.
Record dairy exports shrink New Zealand's current account deficit
An increase in the value of dairy product exports has seen New Zealand record its smallest seasonally adjusted current account deficit since the March 2010 quarter, Statistics New Zealand said today. The current account deficit was $0.8 billion in the December 2013 quarter, $1.7 billion smaller than in the September 2013 quarter. "New Zealand exported record levels of dairy products this quarter, which drove the balance on goods and services to its highest-ever surplus" balance of payments manager Jason Attewell said.
Australia Westpac- Leading Index tanks
The six month annualised deviation from trend growth rate of the Westpac Melbourne Institute Leading Index which indicates the likely pace of economic growth three to nine months into the future fell from 0.53% in January to –0.19% in February. The Index is showing a sharp loss of momentum since late 2013 with February marking the first sub-trend reading since December 2012. That earlier period was part of a two year stretch in which the Leading Index registered below trend growth rates in 22 out of 24 months. The economy struggled to sustain momentum in 2012 and early 2013 and although conditions have improved since June.
UK Labour Market Statistics, March 2014
Latest estimates show that the number of people in employment continued to increase. Unemployment continued to fall, as did the number of economically inactive people aged from 16 to 64. These changes continue the general direction of movement over the past two years. Employment was up 105,000 from August to October 2013 and up 459,000 on the year to 30.19 million for November 2013 to January 2014. The increase in employment between August to October 2013 and November 2013 to January 2014 was due to more self-employed people; the number of employees fell over this period. Employment rate was 72.3% (for people aged from 16 to 64).
Market snapshot at 10:00 am UK time
The ASX 200 closed up 0.22%, the CSI 300 down 0.81%, the Hang Seng down 0.07%, with the Nikkei closing up 0.36%. European bourses have mainly opened in the red; euro STOXX down 0.14%, CAC down 0.24%, DAX up 0.22%, FTSE down 0.22%.
The DJIA equity index future is up 0.01%, SPX future up 0.01%, NASDAQ future up 0.12%. NYMEX WTI oil is down 0.03% at $99.67 per barrel, NYMEX nat gas is up 0.07% at $4.47 per therm. COMEX gold is down 0.31% at $1353 per ounce with silver down 2.14% at $20.82 per ounce.
Forex focus
Australia's dollar slipped 0.2 percent to 91.13 U.S. cents late in Sydney from yesterday, after earlier touching 91.38, the highest since Dec. 11th. New Zealand's dollar fell 0.2 percent to 86.06 U.S. cents after reaching 86.40 yesterday, a level unseen since April 12th. Australia's dollar snapped a two-day gain after the collapse of a private developer pushed down China's stocks and the yuan, affecting the outlook for the nation's largest export market.
The greenback traded at 101.54 yen after depreciating 0.3 percent to 101.44 yesterday. It was at $1.3926 per euro following a 0.1 percent decline to $1.3934. Europe's common currency was little changed at 141.40 yen. The dollar was near a four-month low against its peers amid bets the Federal Reserve will drop its jobless-rate threshold today and adopt qualitative guidance for signalling when it will raise interest rates.
Bonds briefing
Benchmark 10-year USA debt yields were little changed at 2.67 percent early in London after yesterday falling two basis points, or 0.02 percentage point. The price of the 2.75 percent note due in February 2024 was at 100 23/32. Japan's 10-year bond yield was little changed at 0.61 percent. Similar yields for Australia declined two basis points to 4.07 percent. Treasuries held a gain from yesterday, after yields moved in the tightest range in a week, as traders weighed prospects for Federal Reserve bond tapering against concerns over rising tensions between the U.S.A. and Russia.

« So you're a new trader and losing money, here's what we can do to help you turn that around and quickly FOMC tapers quantitative easing stimulus and hints at rate rises in 2015 »