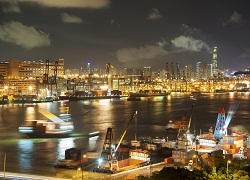 As predicted by many analysts the UK's GDP figure for the last quarter available came in at 0.7% taking annual growth up to 2.7%. One interesting stat from the print concerns the UK saving ratio which is now at 5.1% for 2013, versus 7.3% in 2012. The UK's balance of payments came in way below expectations at -£22.4 bn and this after the revised figure of -£22.8 bn in the previous quarter. In other news the UK business investment rose marginally only by £1 bn on the quarter. Overall the latest UK data will have many analysts and investors concerned that the UK's recent growth has reached a high water mark.
In the UK a consumer sentiment index was released which showed that the UK consumer is more upbeat regarding the state of the UK economy since 2007. The GFK reading came in at -5, some distance from the readings of -30 seen in previous years recently. Germany is still crushing its import suppliers with prices down by 2.7% year on year, as to where this will end in terms of the battle between inflation and deflation is too early to say. French households' consumption increased last month, up to 0.1% from the previous month's fall of 2.1%.
In the overnight-early morning trading session Asian equity markets ended the week upbeat despite US equities slipping for a second session on Thursday. Japan CPI still suggests a lingering deflation fear. Core inflation in Japan was unchanged in February from a month earlier, suggesting the government's campaign to drag the country out of deflation remains doubtful. Data on Friday from the Statistics Bureau, just days before the first consumption tax increase in from April in 17 years, showed that the core measure of CPI stood still at 1.3 per cent for the third successive month.
UK Quarterly National Accounts, Q4 2013
UK gross domestic product (GDP) in volume terms was estimated to have increased by 0.7% between Q3 2013 and Q4 2013, unrevised from the Second Estimate of GDP published 26 February 2014. GDP is estimated to have increased by 1.7% in 2013, compared with 2012, revised down 0.1 percentage points from the previously estimated 1.8% increase. Between Q4 2012 and Q4 2013 GDP in volume terms increased by 2.7%, unrevised from the previous estimate. The households' saving ratio was estimated to be 5.1% in 2013 compared with 7.3% in 2012. GDP in current prices was estimated to have increased by 1.6% between Q3 2013 and Q4 2013.
UK Balance of Payments, Q4 2013
The United Kingdom's (UK) current account deficit was £22.4 billion in Quarter 4 2013, down from a revised deficit of £22.8 billion in Quarter 3 2013. The deficit in Quarter 4 2013 equated to 5.4% of GDP at current market prices, down from 5.6% in Quarter 3 2013. The trade deficit narrowed to £5.7 billion in Quarter 4 2013, from £10.0 billion in Quarter 3 2013. The income deficit increased to £10.3 billion in Quarter 4 2013, from £5.9 billion in Quarter 3 2013. The financial account recorded net inward investment of £23.6 billion during Quarter 4 2013. The international investment position recorded UK net liabilities of £21.2.
UK March consumer sentiment hits highest since mid-2007 – GfK
British consumer sentiment rose in March to its highest level since around the start of the financial crisis in 2007, a survey from researchers GfK showed on Friday. GfK's headline consumer confidence index rose to -5 this month, its highest reading since August 2007, from -7 in February. Economists polled by Reuters expected a rise to -6. The index has risen over the last year by 22 points – the largest increase since November 2008 to October 2009.
The current long-term trend is very strongly positive.
said Nick Moon, managing director of social research at GfK.
German Import prices in February 2014: –2.7% on February 2013
As reported by the Federal Statistical Office (Destatis), the index of import prices decreased by 2.7% in February 2014 from the corresponding month of the preceding year. In January 2014 and in December 2013 the annual rates of change were –2.3%, each. From January 2014 to February 2014 the index decreased by 0.1%. The index of import prices, excluding crude oil and mineral oil products, was 1.8% below the level of a year earlier. The index of export prices decreased by 0.7% in February 2014 from the corresponding month of the preceding year. In January 2014 and in December 2013 the annual rates of change were –0.8% and –1.0%.
In February 2014, French household consumption of goods was almost stable (+0.1%)
In February, household consumption expenditure on goods increased by 0.1% in volume, after a 2.1% decrease in January. The rebound in car purchases was globally offset by a decline in most of the other items, notably the consumption of food products. After an increase in December (+3.2%) and a decrease in January (–4.5%), household expenditure on durable goods bounced in February (+2.4%). That profile was mainly attributable to car purchases (+5.1% after 3.9% in December and –7.6% in January), which was affected by the strenghtening of penalties on the purchase of polluting cars from January 1st, 2014.
Spain's Consumer Prices Fall For First Time In 5 Months
Spain's consumer prices declined for the first time in five months in March, flash estimates from the statistical office INE showed Friday. Consumer prices dropped 0.2 percent year-on-year in March, after staying flat in the prior month. Prices were forecast to remain unchanged as seen in February. The harmonized index of consumer prices also fell 0.2 percent annually in March, following a 0.1 percent rise in February. Month-on-month, consumer prices gained 0.2 percent in February, data showed.
Market overview at 10:00 am UK time
The ASX closed up 0.31%, the CSI 300 down 0.17%, the Hang Seng up 1.06%, and the Nikkei up 0.50%. In Europe the euro STOXX is up 0.60%, CAC up 0.36%, DAX up 0.86% and the FTSE up 0.48%. Looking towards New York's open the DJIA equity index future is up 0.15%, SPX future is up 0.24%, NASDAQ future up 0.29%. NYMEX WTI oil is up 0.21% at $101.49 per barrel, with NYMEX nat gas up 0.53% at $4.54 per therm. COMEX gold is up 0.32% at $1298.90 per ounce, with silver up 1.08% at $19.92 per ounce.
Forex focus
The Australian dollar traded at 92.62 U.S. cents early in London trading, after rising over over five days to 92.59 yesterday, the longest winning streak since the eight sessions ended Oct. 18th. New Zealand's kiwi climbed 0.1 percent to 86.84 U.S. cents after touching 86.97, the strongest since August 2011. The Aussie's 3.8 percent gain and the kiwi's 3.5 percent advance this month are the most among developed-economy currencies.
The euro was little changed at $1.3746 from yesterday, when it touched $1.3729, the lowest since March 6th. Europe's common currency bought 140.46 yen, poised for a 0.4 percent slide this week. For the month, it is down 0.4 percent versus the greenback and is little changed against the yen. Japan's currency was little changed at 102.17 per dollar, poised for a monthly slide of 0.4 percent. It has strengthened 3.1 percent since Dec. 31st.
Australia and New Zealand's dollars led gains this month among the Group of 10 major developed currencies amid optimism over the two nations' economies ahead of central bank meetings next month. The Aussie has gained 3.9 percent in March, and 7 percent since touching a 3 1/2-year low of 86.60 U.S. cents on Jan. 24th.
Bonds briefing
Treasuries were little changed, with the benchmark 10-year yield at 2.68 percent early in London. The average over the past decade is 3.46 percent. The price of the 2.75 percent security due in February 2024 was 100 19/32.
Treasuries have fallen 0.1 percent this month, set for their first decline since December. Treasuries headed for their first monthly loss this year before a government report forecast to show consumer spending, which accounts for about 70 percent of the U.S. economy, is increasing.

« How copy trading can provide an excellent interim learning method for traders suffering from a crisis of confidence, or profitability, or both Swing/trend analysis for the week beginning March 31st »