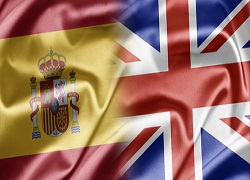 The main high impact news events of this morning and overnight concerns Markit Economics' PMIs. The UK's services PMI fell unexpectedly in December, the reading fell from 60 to 58.8, a six month low. Now whilst the accompanying narrative from Markit continued to bolster and cheer-lead the UK's performance, the fact is that the data print represented a six month low and as analysts we're only too aware of how highly the UK relies on its service sector for its economic performance.
In other UK news focus is on the meeting the BoE will be holding this week and the narrative that it'll publish later this week. The governor of the BoE, Mark Carney, suggested that the UK's base interest rate may be increased should the UK's unemployment rate fall to circa 7%. As that figure now looks to be breached (in the next few months) we can expect him to move his own goalposts and suggest that 6.5% will become the new target.
In other PMIs published this morning there was a welcome boost for Spain's economy with Markit publishing data showing that Spain's service activity had increased by more than at any time since 2007. More widely the Eurozone Composite PMI came in at a near two and a half year high. Finally China's services PMI fell unexpectedly to 50.9, the lowest level since August 2011 and at 50.9 just above the median line representing expansion versus contraction.
UK services activity slows unexpectedly in December – PMI
The UK service sector continued to expand strongly as 2013 came to an end, with activity, new business and employment all again rising at marked rates. These positive trends helped bolster business expectations, with confidence amongst service providers at its highest in nearly four years. After accounting for seasonal factors, the headline Business Activity Index registered a level of 58.8. That was down from 60.0 in November and a six-month low, but nonetheless signalled a historically strong rate of expansion.
Eurozone economic recovery accelerates at end of 2013
The upturn in the Eurozone private sector economy gained momentum in December. Although the recovery remained modest and fragile overall, growth of output was nonetheless recorded throughout the second half of 2013. At a three-month high of 52.1 in December, up from 51.7 in November, the final Markit Eurozone PMI Composite Output Index rose to its second highest level during the past two-and-a-half years. Moreover, the average reading for the final quarter of the year was above that for the prior quarter. Manufacturing continued to lead the recovery in December.
Sharpest rise in Spanish services activity since July 2007
The recovery in the Spanish service sector strengthened in December as both new orders and business activity increased at sharper rates. That said, there were signs that the rise in new business was at least partly supported by on-going discounting. Meanwhile, the rate of job cuts eased, and was only marginal. The headline seasonally adjusted Business Activity Index – which is based on a single question asking respondents to report on the actual change in business activity at their companies compared to one month ago – increased to 54.2 in December from 51.5 in November.
Euro country can start the year with its crisis behind it- Sentix Index
The total Sentix index for the Eurozone rises in January significantly by 3.9 points to 11.9, its highest level since April 2011. At present the situation component has in particular greatly improved. Now listed in neutral territory. The overall index for Germany, which as an index is now celebrating its fifth birthday this month, rising slightly in January from 32.1 to 32.4 points.
China's services PMI for December 2013 falls unexpectedly from 52.5 to 50.9 causing Hang Seng to near a two month low
HSBC's monthly survey of China's service sector fell to its lowest level of growth since August 2011 last month, revealing the growth challenges facing the Chinese government as it begins its far-reaching reforms. The survey declined from 52.5 in November to 50.9 last month, indicating marginal growth – with the 50 level separating growth from contraction.
Market overview at 10:30 am UK time
Trading in Asia revealed declines across the region's equity markets. In Tokyo's first session of the year after an extended holiday, the Nikkei 225 average dropped 2.2 per cent from a six-year high. In China, the Shanghai Composite fell for a third straight day, losing 1.7 per cent to a five-month low. Hong Kong's Hang Seng index declined by 0.8 per cent, after Friday's 2.2 per cent fall, reaching a near a two-month low.
In Europe the STOXX index is down 0.06% shortly after opening, the CAC is up down 0.12%, DAX is flat, with the UK FTSE down 0.14%. Looking towards the New York open the DJIA equity index future is up 0.05%, the SPX future is flat with the NASDAQ future up 0.07% all three indices suggesting that the USA bourses will open flat, or up marginally.
NYMEX WTI oil is up 0.54% at $94.47 per barrel with NYMEX nat gas up 0.79% at $4.34 per therm. COMEX gold is down 0.05%% at $1238.00 per ounce with silver on COMEX down 0.85% at $20.04 per ounce.
Forex focus
The dollar was up by 0.15% at $1.3620 per euro early in London after earlier reaching the strongest level seen since Dec. 5th. The yen rose 0.4 percent to 104.40 per dollar. Europe's shared currency lost 0.5 percent to 141.84 yen after touching 141.50, the weakest since Dec. 18th. The Dollar Spot Index, tracking the greenback versus its 10 major peers, was at 1,025.59 after closing at 1,026.23 last week, the highest since Sept. 10th. The pound dropped 0.4 percent to $1.6352 during the art part of the London session after climbing to $1.6603 on Jan. 2nd, the highest level since August 2011. The U.K. currency weakened 0.4 percent to 83.06 pence per euro.
The pound weakened for a third day versus the dollar as a Treasury statement showed Chancellor of the Exchequer George Osborne believes spending cuts are needed in order to fund tax reductions, damping demand for the U.K. currency.
The Australian dollar bought 89.46 U.S. cents in Sydney from 89.45 on Jan. 3rd, and gained 0.2 percent to NZ$1.0838. It fell by 0.5 percent to 93.29 yen. New Zealand's currency slipped 0.2 percent to 82.56 U.S. cents and sank 0.7 percent to 86.11 yen.
Bonds
Germany's 10-year yield fell two basis points, or 0.02 percentage point, to 1.92 percent early London time, the lowest since Dec. 27th. The 2 percent bund due in August 2023 rose 0.17, or 1.70 euros per 1,000-euro face amount, to 100.675. German 10-year bonds advanced for the first time in three days as signs of slowing growth in China boosted demand for the safety of Europe's benchmark government debt before regional manufacturing and services output data.

« Swing/trend analysis for week beginning Sunday January 5th 2014 USA markets experience moderate sell off due to poor data prints as gold futures experienced a temporary flash crash »