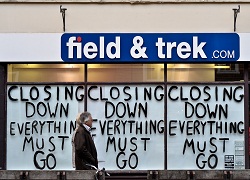 There has been frenetic activity in the UK retail sector this morning with several famous high street names announcing their Xmas period performance. As always some of them suggested that they'd had the "best ever Xmas in the history of the universe" but then, as we peel back the skin of the announcements, we find that there's very little substance behind the claim as the "best ever Xmas" claims are riddled with holes.
As an example Sainsburys, a leading UK supermarket, has released data and an accompanying public relations statement this morning illustrating that their figures are only up 1% on a like for like basis. Their CEO Justin King said October and November had been pretty tough for supermarkets, as UK shoppers saved up to give their families a treat over Christmas.
However, we saw strong sales in the key period over Christmas, helping record numbers of customers to Live Well for Less. Like-for-like sales excluding fuel of 0.2 per cent, coupled with a strong contribution from new space, led to our best Christmas ever. As with last year, we expect customers to spend cautiously in the few months following Christmas, in an attempt to rebalance the household finances. The general economic backdrop remains uncertain for many families.
Another giant of the high street Mothercare, which sells baby 'stuff' had a dreadful Xmas causing their shares to fall by up to 30% in the morning trading session. The mother and baby retailer warns that its profits will miss markets expectations again. Like-for-like sales at Mothercare stores (stripping out the impact of its store closure programme) have tumbled 4.0% in the last 12 weeks – a crucial time for the retail sector. Total UK sales have slumped almost 10%. Simon Calver, Mothercare CEO, blamed difficult trading conditions in the UK:
In the UK, our stores suffered similar Christmas trading pressures to those reported elsewhere. Customer service scores continue to improve year on year but weaker footfall and higher promotional activity led to lower sales and margins.
Whilst still on the subject of the UK and its high street a survey published overnight suggested that all is not 'well' in the UK 'shop until your drop culture' as price deflation has hit a seven year high, or price inflation a seven year low, as desperate retailers cut their prices until shoppers empty their pockets. One analyst suggesting that it was the worst situation since their records began. Why are we focusing on UK retail this morning? Well despite the hype, due to its over reliance on services and retail, the UK 'recovery' is built on sand. And whilst the UK govt. are desperately attempting to whip up house price rise hysteria the reality is that the UK consumer is all spent up, despite record low interest rates. Oh and whilst on the subject of UK house prices one of the major lenders, Halifax, reported that UK house prices actually fell in December by 0.6% when analysts were expecting a rise of 0.7%, another indication (if needed) of the overall fragility of the UK economic recovery.
In other news Italian unemployment data has been published and it's not good news, unemployment has reached a recorded high at 12.7% with the participation rate at a dismal 55%. It's difficult to take on board that one of the globe's major economies has just over half of its working population in employment. Good news from Europe concerned German exports which rose by 1% in November, whilst the trade balance for the month came in at a positive €18 bn.
Over in Australia construction data came in below expectations; the construction index fell by 4.4 points to a recent low of 50.8, but as with all diffusion indices above 50 indicates expansion.
Italian unemployment rate hits record high
Italy's jobless crisis has deepened; the jobless rate has reached a new record high. The youth unemployment rate hit new record levels. ISTAT reports that the headline Italian jobless rate has hit 12.7% in November, up from 12.5% in October. It's the highest reading since records began in 1977. The unemployment rate among young people climbed to 41.6%, from 41.4% the previous month. ISTAT also reported that the proportion of Italians in work slipped to 55.4%, with 36.4% of Italian adults classed as 'inactive'.
Australian PCI: Construction grows at slower pace in December
The Australian Industry Group/Housing Industry Association Australian Performance of Construction Index remained in growth territory by a nose in December – down 4.4 points to 50.8 (readings above 50 indicate an expansion in activity). After two months of strong growth, December signalled a slower pace of expansion but was well ahead of the average for the year (43.9). New orders (54.3), activity (50.7) and deliveries from suppliers (48.3) were all lower in the month.
BRC-Nielsen Shop Price Index December 2013: Shop prices fall at fastest rate for at least seven years
Helen Dickinson BRC Director General Overall shop prices reported deflation for the eighth consecutive month in December, slowing to 0.8% from 0.3% in November. This is the deepest level of deflation since the series began in December 2006. Food inflation slowed to 1.7% from 2.3% in November. Non-food reported annual deflation of 2.3% in December from 2.0% in November. Helen Dickinson, British Retail Consortium Director General, said:
This is the deepest deflation rate since we started compiling the index in 2006, and the eighth consecutive month of falling shop prices.
German exports in November 2013: +1.0% on November 2012
Germany exported goods to the value of 94.6 billion euros and imported goods to the value of 76.5 billion euros in November 2013. Based on provisional data, the Federal Statistical Office (Destatis) also reports that German exports increased by 1.0% and imports decreased by 0.4% in November 2013 on November 2012. The month-on-month comparison showed opposite developments of exports and imports upon calendar and seasonal adjustment. While exports increased by 0.3% on October 2013, imports decreased by 1.1%. The foreign trade balance showed a surplus of 18.1 billion euros in November 2013.
Halifax House Price Index – December 2013
Halifax has reported that the price of the average UK house fell by 0.6% in December, surprising economists who had expected a rise of 0.7%. It's the first month-on-month fall since last January. However, prices were still up by 1.9% in the last three months 2013, compared to the third quarter of the year, so the rally probably isn't over.

Market snapshot at 10:00 am UK time
In the overnight/early morning trading sessions the majority of Asian bourses moved higher, fuelled by gains on Wall Street and improved prospects for the global economy. The CSI closed up 0.17%, the Hang Seng up 1.25%, the Nikkei up 1.94%. In Europe the main bourses have opened down marginally or are flat at the time of writing (9am UK time); Euro STOXX up 0.07%, CAC down 0.02%, DAX down 0.12%, UK FTSE down 0.26%. Looking towards New York's open the DJIA equity index future is up marginally by 0.04%, the SPX future is flat, with the NASDAQ future up 0.01%.
NYMEX WTI oil is up 0.03% at $93.95 per barrel, with NYMEX nat gas up 0.70% at $4.33 per therm. COMEX gold is down 0.31% at $1225.80 per ounce, with silver on COMEX down 1.05% at $19.58 per ounce. 

Forex focus

The dollar has added 0.3 percent to 104.92 yen early London time. It reached 105.44 on Jan. 2nd, the strongest since October 2008. Japan's currency dropped 0.4 percent to 142.97 per euro. Europe's common currency advanced 0.1 percent to $1.3628. The dollar rose toward a five-year high versus the yen before the Federal Reserve releases minutes today of its policy meeting last month as investors weigh the pace of stimulus tapering by the central bank.
Australia's dollar was little changed at 89.24 U.S. cents late in Sydney from yesterday, when it declined 0.5 percent. It dropped 0.1 percent to NZ$1.0770, extending a 0.4 percent drop from yesterday. It touched NZ$1.0733 on Dec. 18th, a level not seen since October 2008. New Zealand's currency traded at 82.87 U.S. cents from 82.83.
The Aussie gained 0.3 percent to 93.66 yen and the kiwi strengthened 0.4 percent to 86.95 yen. The Australian dollar fell versus most of its major peers amid speculation the U.S. Federal Reserve will continue to reduce stimulus that has buoyed asset prices around the world.
Bonds
The German benchmark 10-year bund yield was one basis point from the lowest level in two weeks. Germany's 10-year yield was little changed at 1.89 percent early London time after dropping to 1.88 percent yesterday, the lowest since Dec. 23rd. The price of the 2 percent bund maturing in August 2023 was 100.92. Germany's 10-year government bonds snapped a two-day advance before a report economists said will show unemployment in the euro area held near a record high in November.
U.S. 10-year yields were little changed at 2.95 percent as of the afternoon in Tokyo. The price of the 2.75 percent note due in November 2023 was 98 10/32. The yield climbed to 3.05 percent on Jan. 2, the highest level since July 2011. Securities in the Bloomberg U.S. Treasury Bond Index returned 0.4 percent in the first week of 2014. Treasuries posted a gain for the first week of 2014 as 10-year yields at the highest level in more than two years attracted investors.

« The Fibonacci Retracement and its relevance in FX trading, does it offer more than simply 'mapping' the market? Dollar rises to four month high after latest FOMC minutes are released Wednesday evening »