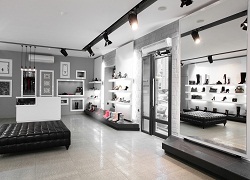 Many Asia-Pacific equities recovered overnight due to a US manufacturing report showing that factories are increasing production in the world's biggest economy. Japanese and South Korean were the leading bourses in both nations with the Nikkei closing up 2.88%. A volatile week is on pace to conclude with five-day gains for most indices across the region.
In the UK cable experienced a jolt down to S1 to then recover after the UK's ONS announced the latest retail sales figures for the UK. Once analysts had waded through the first few paragraphs of a strange sales pitch for the UK, the meat and bones revealed that retail sales fell sharply and by far more than predicted. Although this is to be expected post Xmas the print missed analysts' expectations by half a percentage point.
What'll be of more interest is just how much sales have been obtained at the expense of profit for the major stores; the old adage of "profit being reality with turnover being vanity" may loom large during UK retailers' reporting their data. Moreover the poor weather in the UK over recent weeks will have no doubt dampened (please excuse the pun) retailer's appeal, what analysts will now be focusing on is a smoothed first quarter versus a direct comparison with 2013. I have a hunch that it'll show similar figures to 2013's first Q.
The other major news this morning from the UK was regarding the UK's public sector net borrowing. The level has fallen by £4 billion to £90.7 billion for the year to date. However, that figure would be far worse without taking into consideration the one off infusion of £12.2 billion due to a transfer of interest by way of the BoE's asset purchase scheme's previous accounting error, which is now in favour of HMTreasury.
UK Retail Sales, January 2014
Looking at the short term picture, the quantity bought in the retail industry fell by 1.5% compared with December 2013. The amount spent decreased by 1.8% in the same period. It must be remembered that month-on-month growth in December 2013 was particularly strong at 2.5%. The amount spent online showed a similar pattern to the amount spent in store. Compared with January 2013 the amount spent online increased by 8.9% but fell by 3.3% compared with December 2013. Year on year estimates of the quantity bought in the retail industry showed strong growth for the second consecutive month in January 2014, increasing by 4.3%. With store price inflation growth, as measured by the implied price deflator, slowing to 0.2% (the lowest since September 2009), the amount spent in January 2014 increased by 4.4% compared with January 2013. Year-on-year there was notable growth in non-food stores (8.0%), where; stores selling household goods increased by 9.8%, the largest year-on-year increase in these stores since July 2007 and other goods stores increased by 14.8%.
UK Public Sector Finances, January 2014
For the financial year to date 2013/14, public sector net borrowing excluding temporary effects of financial interventions and also excluding the effects of the transfer of the Royal Mail Pension Plan and the transfers from the Bank of England Asset Purchase Facility Fund was £90.7 billion. This was £4.0 billion lower than the same period in 2012/13, when it was £94.6 billion. So far during the financial year 2013/14, £31.1 billion has been transferred from the Bank of England Asset Purchase Facility Fund to HM Treasury. Of this amount, £12.2 billion has had an impact on net borrowing.
Market snapshot at 10:15 am UK time
The ASX 200 closed up 0.49% CSI down 1.01%, Hang Seng up 0.78% and the Nikkei up 2.88%. Euro STOXX down 0.05 CAC up 0.06%, DAX up 0.09 and FTSE up 0.44%.
The DJIA equity index future is  up 0.17, the SPX future is up 0.13, with the NASDAQ future up 0.07%. WTI oil on NYMEX is down 0.09% at $103.67 per barrel, with NYMEX nat gas down 3.05% at 6.25 per therm. COMEX gold is down 0.39% at $1322, silver is up 0.21% at $21.73.
Forex focus
The dollar added 0.3 percent to 102.59 yen early in London, extending its gain this week to 0.8 percent, the biggest since the five days through Dec. 27th. It was little changed at $1.3722 per euro and is set for a 0.2 percent weekly drop. Europe's shared currency advanced 0.3 percent to 140.77 yen and has risen 1 percent since Feb. 14th.
The dollar has risen versus most of its major counterparts this week on bets that the Federal Reserve will press on with reducing stimulus, despite weaker U.S. economic data that may have been caused by winter storms.
The Aussie lost 0.2 percent to 89.93 U.S. cents from yesterday. It's poised for a 0.5 percent decline this week, the first since the period ended Jan. 24th. Australia's dollar weakened after prices for iron ore, its biggest export, dropped 1.2 percent over two days to $122.90 a metric ton yesterday. Total iron-ore inventory at Chinese ports monitored by Shanghai Steelhome Information Technology Co. climbed to 100.3 million tons in the week ended Feb. 14th, the highest in figures going back to March 2010.
The pound was little changed at $1.6656 early London time, having dropped 0.5 percent this week, the most since the period ended Nov. 1st. Sterling traded at 82.33 pence per euro, from 82.38 pence yesterday. It has weakened 0.7 percent versus the common currency since Feb. 14th. The pound headed for its biggest weekly decline since November versus the dollar before a government report that economists said will show U.K. retail sales fell in January.
The pound has gained 12 percent in the past 12 months, the best performer of 10 developed-nation currencies tracked by Bloomberg Correlation-Weighted Indexes. The euro appreciated 6.3 percent, while the dollar rose 1.8 percent.
Bonds briefing
U.S. 10-year treasury yields were little changed at 2.75 percent early in London. The price of the 2.75 percent note due in February 2024 was 100. The 10-year rate has climbed from this year's low of 2.57 percent set on Feb. 3rd. Treasuries headed for a third weekly loss on speculation the economy will pick up when winter ends.
« The strength of trading with the relative strength index – the RSI and how to use it to gauge overbought and oversold conditions Swing/trend trading analysis for week beginning February 24th »