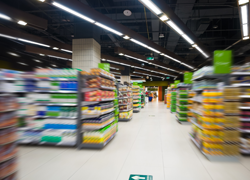 With a cost of living crisis evident in the UK it wasn't completely unexpected that the UK's retail figures might slip, we mentioned as much in our morning roll call section. Many retailers are suggesting anecdotally that their customers are "keeping their hands in their pockets" month to month, payday to payday and with Xmas on the horizon that behaviour is amplified.
On the subject of payday it's becoming apparent why so many in the UK are turning to payday loans in order to scrape by an existence. HSBC recently published a report suggesting that 34% of households in the UK have less than £250 savings/safety net, enough to last a few days in the event they lose their work. This is the lowest recorded figure HSBC have published.
UK retail sales fall 0.7% in October.
Year-on-year estimates of the quantity bought in the retail industry continue to show growth. In October 2013, the quantity bought increased by 1.8% compared with October 2012. On the month the quantity bought decreased by 0.7%. Despite this fall, the underlying pattern in the data as suggested by the three month on three month movement is flat, following a sustained seven month period of growth. Of the four main retail sectors non-food stores and non-store retailing provided the upwards contributions to the year-on-year growth increasing by 2.7% and 16.3% respectively.
Japan's GDP figure disappoints
Japanese GDP growth halved in third quarter as weaker consumption and exports offset a big rise in property investment. The economy grew at an annual rate of 1.9 per cent between July and September compared to the stimulus-boosted first half, when all three engines of growth; consumption, investment and exports increased to produce quarter-on-quarter growth of 4.3 per cent in the first three months and 3.8 per cent in the second.
European countries' GDP figures
Germany's economy grew by 0.3% in the third quarter of 2013. That's in line with expectations, but slower than the 0.7% growth achieved in the second quarter of this year. On an annual basis, the German economy is 1.1% bigger than a year ago.
France's economy shrank by 0.1% in the three months to September, according to provisional data from its statistics body. That's worse than expected, following the 0.5% growth reported in Q2. The small drop in GDP was due to a sharper decline in trade, French exports falling by 1.5%. Business investment dropped by 0.6%.
Italy's recession continues for a ninth quarter. Italian GDP fell by 0.1% in the three months to September, in line with expectations. That means the pace of contraction slowed, following a 0.3% drop in GDP between April and June. It's the smallest quarterly drop in Italian GDP since its recession began in the third quarter of 201. Italian GDP is down by 1.9% over the last year, INSEE reported. It also revised down its data for the second quarter, to show a 2.2% annual decline (from a first estimate of 2.1%).
France: Ongoing decrease of employment in Q3 2013
In Q3 2013, payroll employment in principally market sectors decreased q-o-q (–17,000 jobs), after a stronger drop in the previous quarter (-34,600). Excluding temporary work, employment fell again in Q3 2013 (-21,800 jobs). Stabilization in temporary employment since one year Temporary employment has stabilized since one year (+3,300 jobs), in spite of a decrease in Q2 2013.
ECB Monthly Bulletin
At its meeting on 7 November, the Governing Council took a number of decisions on key ECB interest rates, forward guidance and liquidity provision. First, based on its regular economic and monetary analyses, the Governing Council decided to lower the interest rate on the main refinancing operations of the Eurosystem by 25 basis points to 0.25% and the rate on the marginal lending facility by 25 basis points to 0.75%. The rate on the deposit facility will remain unchanged at 0.00%. These decisions are in line with the Governing Council's forward guidance of July 2013.
Market snapshot at 10:00 am UK time
In the overnight/early morning session the ASX 200 closed up 0.68%, the CSI 300 closed up 0.72%, the Hang Seng closed up 0.82%, the Nikkei closed up 2.12% reacting well to the poor overnight Japanese GDP data. The MSCI Asia Pacific Index of shares climbed as much as 1.3 percent, damping demand for lower-yielding haven assets.
The DJIA equity index future is up 0.22%, the SPX future is up 0.27% whilst the NASDAQ is down 0.10%. European indices are positive in the morning session; STOXX up 1.09%, CAC up 1.-9%, DAX up 0.89%, FTSE up 0.97%.
NYMEX WTI is up 0.03% at $93.92 per barrel, NYMEX nat gas is down 0.48% at $3.55 per therm, COMEX gold is up 1.25% per ounce.
Forex focus
The yen dropped 0.4 percent to 99.69 per dollar early in the London session. It touched 99.80 this week, the lowest level seen since Sept. 13th. Japan's currency declined 0.3 percent to 134.23 per euro. Europe's 17-nation currency fell 0.2 percent to $1.3464. The yen weakened versus all of its major peers as Asian stocks gained after data showed Japan's growth slowed in the third quarter, adding to the case for the central bank to boost stimulus.
The pound fell 0.2 percent to $1.6032 early in London after climbing 1 percent yesterday, the biggest increase since Oct. 17th. Sterling was at 83.94 pence per euro. The pound fell versus the dollar before a report that economists said will show U.K. retail sales stagnated in October.
Bonds
The 10-year yield was little changed at 2.72 percent early in London. The 2.75 percent note due in November 2023 was at 100 7/32. The benchmark yield slid seven basis points yesterday, the biggest one-day drop since Oct. 22nd. Treasury 10-year yields held a drop from yesterday, the biggest in three weeks, as investors weighed the timing of a cut in Federal Reserve stimulus before Janet Yellen faces a confirmation hearing to lead the central bank.
« What is a high probability set up? And how to develop one… Janet Yellen states the Q.E. won't go on forever whilst Ireland comes in for praise for its austerity handling »