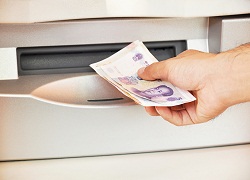 Despite some extremely positive data from the USA, in the form of services PMI rising to a level not seen since September 2011, the USA markets refused to turn bullish and stayed on a downward trajectory, albeit the selloff was not as severe as experienced in the latter part of last week. The Markit flans services PMI came in at 56.6.
Sales of new homes dropped quite sharply in December, down by 7% to an annual 414,000 number, which in turn is down on the 445,000 rate in November that was also adjusted downward. However, for all of 2013 demand increased by 16.4%, the best full year result for five years. And given the horrific weather in parts of the USA in December buying houses was probably not top of many potential buyers 'to do' list.
From the UK we had some quite bizarre news concerning RBS, the bank that's approximately 82% owned by the UK government and taxpayers, but is still prepared to pay bonuses of up to 200% for certain employees. Its total losses since 2008 may now reach circa £40 billion and this year's loss could come in at £8 billion.
This is a bank that the previous CEO insisted it would be back in profit in 2012, then 2013…As is its habit it's blaming its poor performance on previous misconduct charges were it's having to set aside certain sums to compensate customers for miss-selling practices. The only benefit is that the billions (both it and other banks are paying out) are providing a one off fillip to the retail sector, anecdotally many victims of the miss-selling scandals have been rewarding themselves by buying holidays, or putting down deposits on cars.
What is fascinating to note is that here we are, five years after the banking crises broke and yet one of the UK's leading banks is still haemorrhaging money and losses, once again bringing into question just how solid the UK's recovery foundations actually are.
Sharpest rise in US services business activity since September 2011
At 56.6 in January, up from 55.7 in December, the Markit Flash U.S. Services PMI Business Activity Index signal led a further robust expansion of service sector output at the start of 2014. The latest 'flash' PMI reading, which is based on approximately 85% of usual monthly replies, pointed to the steepest rate of service sector growth for four months. PMI readings above 50.0 signal an increase or improvement on the prior month, while readings below 50.0 indicate a decrease. In January, the index was comfortably above the average seen for 2013 as a whole (54.8).
Sales of New U.S. Homes Dropped More Than Forecast in December
Purchases of new homes in the U.S. fell more than forecast in December, ending the industry's best year since 2008. Sales decreased by 7 percent to a 414,000 annualized pace after a 445,000 rate in November that was weaker than previously calculated, the Commerce Department reported Monday in Washington. For all of 2013, demand jumped 16.4 percent to 428,000, the most in five years.
RBS losses since 2008 could reach £40 billion
The latest unexpected losses mean Royal Bank of Scotland (still majority-owned by the taxpayer) could suffer a loss of up to £8bn for this financial year. Andrew Tyrie, chairman of the Treasury Committee, says that the latest trouble at RBS shows the importance of being able to claw back bonuses from errant bankers:
RBS is still paying a heavy price for past misconduct. So too are its customers and taxpayers. It is crucial for the recovery that lending, particularly to SMEs, is not constrained as a result. There is little prospect that the money needed to pay these fines can covered by claw-back, of either vested remuneration or deferred bonuses, from those responsible. There should be in future. The Banking Commission set out how to accomplish this.
French unemployment reaches record high
French unemployment has jumped to a fresh record high, François Hollande has not delivered on his plans to get France's jobless rate falling by the end of 2013. The French labour ministry reported that French jobless claims rose a further 10,200 in December to hit a new record high, with 3,303,200 people now out of work, the biggest figure on record, the jobless total has risen by 5.7% over the last 12 months.
Bundesbank: A wealth tax could make sense
Germany's Bundesbank has opined on the issue of a wealth tax, suggesting it could make sense for a country facing bankruptcy to tax citizens' assets before seeking help from abroad. In its latest monthly report, Germany's central bank suggested that a country in financial trouble should impose a capital levy on its own citizens, alongside other fiscal measures. The Bundesbank said:
The question arises whether in extraordinary national emergencies in addition to privatization and conventional consolidation efforts, private wealth can also contribute to avert a government insolvency.
Market overview at 10:00 PM UK time
The DJIA closed down 0.26% at 15837, the SPX closed down 0.49%, the NASDAQ closed down 1.08%. Euro STOXX closed down 0.45%, CAC down 0.41%, DAX down 0.46% and the FTSE closed down 1.70%.
The DJIA equity index future is, at the time of writing 10:00 PM UK time, down 0.18%, SPX future is down 0.36%, NASDAQ future is down 0.83%. Euro STOXX future is down 0.20%, DAX future down 0.15%, CAC down 0.48%, whilst the UK FTSE equity index future is down 1.88%.
NYMEX WTI oil finished the day down 0.91% at $95.75 per barrel, NYMEX nat gas closed the day down 4.81% at $4.93 per therm. COMEX gold finished the day down 0.70% at $1255.60 per ounce, whilst silver closed the day down 0.76%, at $19.62 per ounce.
Forex focus
Japan's currency weakened 0.3 percent to 102.62 per U.S. dollar late afternoon New York time, after touching 101.77, the strongest level since Dec. 6th. The euro appreciated 0.2 percent to 140.31 yen after touching 139.20 yen, the weakest level since Dec. 6th. The 18-nation shared currency traded at $1.3673 after rising to $1.3717 and falling to $1.3653. Australia's dollar rose for the first time in three days, advancing 0.8 percent to 87.51 U.S. cents after reaching 86.60 cents on Jan. 24th, the weakest since July 2010.
The yen weakened after a Japanese Finance Ministry report showed the nation's trade shortfall widened in 2013 to a record 11.5 trillion yen ($112 billion), double the previous year's gap as energy shipments and weakness in the currency pumped up the import bill. The yen declined for the first time in three days as demand for the safest assets eased and a gain in a gauge of business confidence in Germany.
The pound gained 0.6 percent to $1.6577 late afternoon London time after rising to $1.6668 on Jan. 24th, the highest since May 2011. Sterling strengthened 0.6 percent to 82.49 pence per euro after depreciating 1.5 percent in the previous two days. The pound approached a 2 1/2-year high versus the dollar before data Tuesday analysts said will mark the first full year the U.K. economy expanded in every quarter since the financial crisis began in 2007.
Bonds briefing
The UK 10-year debt gilt yield rose one basis point, or 0.01 percentage point, to 2.79 percent after dropping to 2.73 percent on Jan. 24th, the lowest since Nov. 27th. The 2.25 percent bond due in September 2023 fell 0.1, or 1 pound per 1,000-pound face amount, to 95.52.
The U.S. 10-year yield climbed four basis points, or 0.04 percentage point, to 2.76 percent as of late afternoon New York time. The 2.75 percent note due November 2023 fell 11/32, or $3.44 per $1,000 face amount, to 99 30/32. The yield was as high as 2.77 percent. It touched 2.70 percent on Jan. 24th, the least since Nov. 26th. Treasuries fell, pushing the 10-year yield up from almost a two-month low, before the Federal Reserve begins a two-day meeting tomorrow and the U.S. sells $111 billion of notes and floating-rate debt this week.
Spain's 10-year bond yield fell four basis points, or 0.04 percentage point, to 3.76 percent late afternoon London time after climbing nine basis points last week, the most since the five-day period ended Nov. 8th. The 4.4 percent bond maturing October 2023 rose 0.325, or 3.25 euros per 1,000-euro ($1,368) face amount, to 105.155.
Portugal's 10-year yield fell 10 basis points to 5.17 percent. Italy's slipped one basis point to 3.90 percent after rising to 3.95 percent, the highest since Jan. 7th. Spain's government bonds rose for the first time in five days as the infection from the rout in emerging-market assets eased.
Portuguese securities rallied after last week's drop, when developing-economy stocks and currencies declined on concern global growth will be threatened by a reduction in Federal Reserve stimulus. Greek bonds extended their losses from last week. German 10-year yields rose from near the lowest level since August as a report showing business confidence climbed damped demand for haven assets.
Fundamental policy events and high impact news events that could affect market sentiment on January 28th
Tuesday we should finally receive the decision regarding OMT from the German Constitutional Court which, if the decision comes in negative, could limit the ECB's ability to engage in forms of monetary easing should the decision come in versus OMT (outright market transactions). Preliminary UK GDP data is published with the expectation that that the figure will come in at 0.8% positive for the quarter. The UK index for services is expected to come in at 0.7% up for the quarter.
The ECOFIN meeting will be taking place on Tuesday. ECOFIN is the Eurozone's broadest financial decision making body. The council coordinates economic policies of the 28 member states, and their initiatives and decisions can have a widespread effect on the Eurozone's economic health.
Attention then turns to the USA from where a raft of data is published. Core durable goods orders are predicted to fall from 1.2% to 0.7% for the month. Durable goods orders are expected to come in at 2.0%, a fall from the previous month's 3.2%. The Case Shiller house price reading is anticipated to come in at 13.7% positive year on year, whilst the Conference Board confidence index is expected in at no change of 78.1. The Richmond manufacturing index is predicted to deliver a reading of 15, no change from the previous month.

« Nikkei sells off due to Japan's balance of payments data as Germany's business climate improves How to cope when the markets conduct a hand brake turn with very little in the way of warning and how to exercise patience »