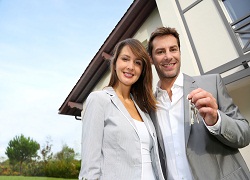 In the UK the news that the property market is beginning to fire on all cylinders was re enforced by two news items, firstly there is a return to what's termed gazumping and secondly prices in the London capital, according to Rightmove, have reached a new recorded high of £555K.
However, it actually gets worse for prospective buyers as the gazumping isn't coming from eager buyers it's actually sellers simply elevating the cost of their property, right before it's contractually sold, in order to extract more cash from desperate buyers. Even more concerning is the rumours that the UK chancellor, George Osborne, is committed to increasing his help to buy scheme in the budget to be announced on Wednesday of this week.
This is a scheme originally intended to help out first time UK home buyers to afford help with their deposits. Now the scheme has been extended to encompass any buyer meaning that seasoned buyers have spotted the flaw and benefit in no time – initial free government money for them to 'spend'. Therefore Mr and Mrs middle class in the UK have gone crazy trying to upgrade by a bedroom or two, whilst the buy to let industry also outbids each other for the same property to rent out to those for whom the property market just became further out of reach.
In New Zealand the Westpac consumer confidence survey was printed overnight and the sings were encouraging. The Index rose to 121.7 in March, up slightly from 120.1 in the December survey. As such the Index was the highest since March 2005, when it was 126.7.
New record asking price as the country gets moving
Average asking prices of property coming to market hit new record high of £255,962 – up 1.6% (+£3,998) on last month and 6.8% (+£16,251) on last year •New all-time high beats the previous peak of £253,658 set in July 2013 by 0.9% (+£2,304) In spite of prime London slowdown, the capital also sets a new record of £552,530 – up 1.5% (+£8,298) on previous high achieved in October 2013. Country gets moving – recovery in property supply to help meet buyer demand as more sellers are enticed to market – total of 114,996 new properties advertised in the last four weeks, up 3.4% on last month and up 8.7% on last year.
NZ Consumer confidence continues to rise
The Westpac McDermott Miller Consumer Confidence Index rose to 121.7 in March, up slightly from 120.1 in the December survey. As such the Index was the highest since March 2005, when it was 126.7. "Economic optimism among New Zealand consumers has risen to levels last seen at brief points during the mid-1990s and mid-2000s," commented Westpac Chief Economist Dominick Stephens. "Clearly there is now a consensus out there that the combination of a construction boom and export prices at multi-decade highs is a sweet spot for the New Zealand economy.
Market snapshot at 9:30 am UK time
The ASX 200 closed down 0.21%, the CSI up 0.95%, the Hang Seng down 0.30% and the Nikkei down 0.35%. In Europe the main bourses have opened up positively; euro STOXX up 0.73%, CAC up 0.71%, DAX up 0.68%, FTSE up 0.45%.
Looking towards the New York open the DJIA equity index future is up 0.60%, SPX up 0.61%, NASDAQ up 0.71%. NYMEX WTI oil is down 0.22% at $98.67 per barrel, NYMEX nat gas up 1.83% at $4.51 per therm. COMEX gold is up 0.22% at $1382.00 per ounce, with silver up 0.22% at $21.46 per ounce.
Forex focus
The yen declined 0.3 percent to 101.64 per dollar as early in London, after climbing 1.9 percent last week in its biggest gain since Jan. 24th. Japan's currency slid 0.2 percent to 141.29 per euro following a 1.6 percent advance in the five days ended March 14th. Europe's shared currency fell 0.1 percent to $1.3902 from the end of last week, after touching $1.3967 on March 13, the highest level since October 2011.
The Swiss franc weakened 0.2 percent to 87.37 centimes per dollar. It reached 86.99 on March 13th, the strongest since October 2011. The Australian dollar rallied 0.3 percent to 90.55 U.S. cents from the New York close on March 14th, when it capped a 0.4 percent weekly decline.
The yen weakened, unwinding some of last week's gains, as a rally in Russian stocks eased concern that Crimea's vote to leave Ukraine will lead to an immediate increase in tensions between Russia and the West. Demand for the Aussie increased after Bill Evans, Westpac's chief economist, wrote in research that he no longer expects the Reserve Bank of Australia to cut rates this year.
Bonds briefing
Benchmark 10-year yields were at 2.66 percent early in London after dropping 13 basis points last week, the most since the period ended Jan. 10th. It touched 2.61 percent on March 14th, the lowest since March 4th. The price of the 2.75 percent note due February 2024 was little changed at 100 3/4.
Treasuries were steady and yields held the biggest weekly drop in two months after the U.S. and the European Union warned Russia it will face sanctions if it annexes Crimea following a referendum there.

« Trend analysis for the week beginning Sunday 16th March Inflation falls in the EU raising concerns of deflation whilst positive USA data and a resolution in Crimea encourages global markets to rise higher »