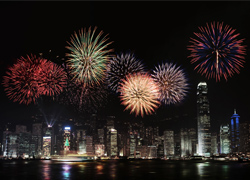 As with many global indices the UK FTSE has benefitted from the loose monetary policies of countries such as the USA and Japan in 2013. The trillions of yen and dollars, pumped into the higher levels of finance at the very top of the food chain by way of monetary easing/asset purchase schemes, caused many indices globally to reach new highs in 2013. The freshly minted QE programme funds found their way into assets and caused significant asset inflation in 2013. And institutions were vigilant to ensure that the growth was 'ring-fenced' and didn't 'bleed' into the food chain, causing rapid deflation of currencies, or increased inflation amongst the general population.
In the USA the main indices of the SPX and the DJIA continually made record highs particularly in the last quarter of 2013. In Japan the Nikkei index rose 57% in 2013. The UK's main index was the laggard, only rising circa 14% and failing to breach the critical psyche level of 7,000, a level that many analysts and market commentators now expect to be breached early in 2014.
Market snapshot at 10:00 am UK time
In the overnight-early morning trading session the Hang Seng closed up 0.26%, the CSI closed up 1.33%, whilst the ASX 200 closed down 0.08%. Euro STOXX is currently up 0.11%, CAC up 0.25%, DAX up 0.39% with the UK FTSE up 0.27%. Looking towards the New York open the DJIA equity index future is currently flat, the SPX future is up 0.03% with the NASDAQ future up 0.03%.
The NYMEX WTI oil price is down 0.09% at $99.20 per barrel, with NYMEX nat has down 0.38% at $4.41 per therm. COMEX gold is down 0.44% at $1198.50 per ounce with silver at $-9.43 per ounce down 0.94%.
Forex focus
The yen gained 0.2 percent to 104.97 per dollar early in the London trading session, cutting its annual drop to 17 percent. It was at 144.77 per euro, falling 21 percent since Dec. 31st 2012. Europe's shared currency bought $1.3791 after touching a two-year high of $1.3893 on Dec. 27th. It's on course for a 4.5 percent advance in 2013, the biggest in six years. The yen is set for its biggest annual drop against the dollar since 1979 amid speculation the Bank of Japan will maintain unprecedented stimulus to support Prime Minister Shinzo Abe's economic strategy. The yen has fallen 16 percent in 2013 against a basket of nine other developed-nation currencies, the biggest slide within the gauge.
The pound rose 0.2 percent to $1.6529 early London time after gaining 0.9 percent in the previous three days. It climbed to $1.6578 on Dec. 27th, the highest since August 2011. Sterling appreciated 0.4 percent to 83.35 pence per euro after advancing to 83.29 pence yesterday, the strongest level since Dec. 5th. The pound climbed for a fourth day against the dollar, approaching a two-year high, before reports this week that economists said will show house prices climbed and mortgage approvals increased.
Bonds
The 10-year UK gilt yield dropped one basis point, or 0.01 percentage point, to 3.03 percent. The 2.25 percent security due in September 2023 rose 0.06, or 60 pence per 1,000-pound face amount, to 93.53. U.K. gilts have lost 4.4 percent this year. German securities fell 2.1 percent and U.S. Treasuries have declined 3.2 percent.
The USA 10-year yield was little changed at 2.98 percent early in London. It climbed to 3.02 percent on Dec. 27th, the highest since July 2011. The price of the 2.75 percent security due in November 2023 was 98 2/32. Benchmark 10-year yields have climbed 23 basis points in December. Treasuries headed for a second monthly decline before a report forecast to show consumer confidence climbed, emphasizing the economy will be resilient to a trimming of Federal Reserve bond purchases.
« What are the lessons we should learn from the huge move in EUR/USD on Friday December 27th? The Eurozone invites Latvia to join the New Year party, hoping for no hangover or headache in 2014 »