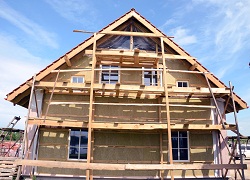 Early morning we received data suggesting that China's stellar growth has been reduced slightly over recent months, the monthly trade surplus for China came in at $25.64 billion, missing the expectation of $30 bn by some distance. In other early news Australia's economy delivered some positive news regarding house building, as new homes construction increased by 7.5% over the year to November 2012, this was the largest monthly increase since January 2010 and the fastest growth over 2.5 years.
In European news there was no surprise that Standard & Poor's have kept Germany's credit rating at triple A, AAA with a stable outlook. The ratings agency stating; "highly diversified and competitive economy" as well as the government's track record for "prudent fiscal policies."
France's manufacturing ticked up slightly, according to the latest data from the official France statistic body, rising by 0.2% in the month of November.
Swiss unemployment data came in at 3.5% as expected and at a rate that has remained fairly static for a number of months. When adjusted to take into seasonal factors the rate is 3.2%, roughly 25% that of the Eurozone.
From the UK we received data from the official body the ONS that UK construction has collapsed by circa 4%. There was an even worse 7.1% decline in new work. Moreover manufacturing and industrial activity missed expectations, coming in flat versus predictions of growth of 0.4% for both sectors.
November 2013, french manufacturing output increased slightly (+0.2%)
In November 2013, manufacturing output increased slightly (+0.2%, after +0.3% in October). Output increased strongly in industrial production as a whole (+1.3%, after –0.5% last month). During the last three months, manufacturing output was almost stable (+0.1%).
Swiss jobless rate at 3.5 pct in December
The Swiss unemployment rate rose to a non-seasonally adjusted 3.5 percent in December from 3.2 percent in the previous month, the State Secretariat for Economic Affairs said on Friday. When adjusted for seasonal factors, the unemployment rate stood at 3.2 percent, unchanged from the previous month.
UK output in the Construction Industry, November 2013
The seasonally adjusted estimate of construction output in November 2013 is estimated to have fallen by 4.0% (£395 million) when compared with October 2013. Both sub-sectors contributed to the monthly decline in growth with new work falling 3.9% (£240 million) and repair & maintenance by 4.2% (£155 million). The main contribution to the 3.9% month on month decline in new work was due to a 7.1% (£140 million) decrease in private commercial other new work. Within new work there was also a 3.2% (£50 million) fall in private new housing and a 4.8% (£55 million) decrease in infrastructure.
British manufacturing and broader industrial output were unchanged in November tempering hopes that the economic recovery was broadening, official data showed on Friday. Output for both manufacturing and industrial production was flat on the month and October's increases were revised down, the Office for National Statistics said. Economists in a Reuters poll had expected increases of 0.4 percent for both manufacturing and industrial output.
New Home Sales in Australia Posts a Strong November Result
New home sales posted healthy growth in November 2013 said the Housing Industry Association, the voice of Australia's residential building industry.
New home sales grew by 7.5 per cent in November last year, the fastest monthly growth rate since January 2010, to reach a two and a half year high.
commented HIA Chief Economist, Dr Harley Dale.
The upward momentum evident in new home sales since the closing stages of 2012 continued late last year – that is a good sign for residential construction activity in 2014.Both new home sales and private sector building approvals increased strongly.
Germany's AAA Rating Confirmed by S&P
Germany's AAA credit grade was confirmed by Standard & Poor's as ratings companies in Europe began a new regime designed to limit swings in their assessments. S&P maintained its outlook on Germany at stable, citing the nation's "highly diversified and competitive economy" as well as the government's track record for "prudent fiscal policies." The company expects a resolution of the "simmering debt crisis" in parts of the euro area, it said today in a statement.

China misses export targets whilst imports increase
Equity markets across Asia were mainly lower in the overnight/early morning trading session after Chinese trade figures confirmed that the region's largest economy slowed in December. Imports increased 8.3 percent, leaving a narrower-than-projected trade surplus of $25.64 billion.
China is the world's biggest trader in goods, overtaking the US for all of 2013 and finishing the year with record trade figures in December. The total value of China's imports and exports in 2013 was $4.16tn, a 7.6 per cent increase from a year earlier on a renminbi-adjusted basis, according to figures released by the Chinese government on Friday, that total trade missed the growth target of 8 per cent set by analysts.
Market snapshot at 10:00 am UK time
The ASX 200 closed down 0.23%, the CSI 300 closed down 0.78%, the Hang Seng closed up 0.26%, with the Nikkei up 0.20%. Euro STOXX is up 0.45%, CAC up 0.65%, DAX up 0.51%and the UK FTSE is up 0.46%.
Looking towards the New York open the DJIA equity index future is up 0.18%, the SPX is up 0.2% with the NASDAQ up 0.28%. NYMEX WTI oil is up 1.03% at $92.60 per ounce with NYMEX nat gas up 0.42% at $4.02 per therm. COMEX gold is up 0.46% at $1235.00 per ounce with silver on COMEX up 0.39% at $19.76 per ounce.
Forex focus
The Dollar Spot Index, tracking the U.S. currency versus 10 of its major counterparts, was little changed at 1,028.16 early in London's session after touching 1,030.42 yesterday, the highest since Sept. 9th. It's poised to rise 0.2 percent this week, set to complete a four-week advance that's the longest since March.
The greenback added 0.2 percent to 104.98 yen, and is up 0.1 percent for the week. The yen dropped 0.2 percent to 142.89 per euro, extending its slide to 0.3 percent since Jan. 3rd. Europe's shared currency was little changed at $1.3610, set for a 0.2 percent advance this week. The dollar was set to complete a gain versus most major peers this week before data that may show U.S. job gains, signaling the economy may be strong enough to weather reductions in Federal Reserve stimulus. The Dollar Spot Index touched a four-month high Thursday and was poised for a fourth weekly advance, the longest in 10 months.
Bonds
Benchmark USA 10-year yields were little changed at 2.97 percent early in London. The price of the 2.75 percent note due in November 2023 was 98 5/32. The yield is still less than the average over the past decade of 3.49 percent. Treasuries fell 2.7 percent in the past year.

« Should I stay with manual trading FX or move over to automation? Swing-trend analysis for the week beginning Sunday January 12th »