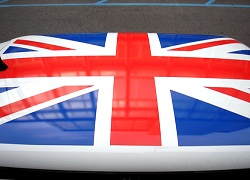 In a nomination widely tipped to go ahead without much resistance the US Senate on Monday finally approved Janet Yellen as head of the Federal Reserve to take over from Ben Bernanke, making her the first female chief of the US central bank. She was approved in a 56-26 vote, with some senators, who had threatened to vote against her, unable to get to Washington DC because of flight delays due to the cold snap the USA is experiencing.
In other news overnight we learned that Australia's trade balance had shrunk to a tiny deficit of $118 million in November, down from $358 million in October, due to imports falling by 1% and exports remaining flat.
In the UK data concerning car sales provided a cheer to the domestic economy, new car sales have reached a level not seen since 2007. Now many of these sales will be as a consequence of eye watering finance deals, that may have manufacturers taking a huge risk on the tail end of the deals, due to attaching very high residual values, but for now the UK press isn't going to look a gift-horse in the mouth.
In Germany there was good news from two distinct fronts this morning, firstly unemployment fell by over 15,000, when analysts were predicting a fall of only 1,000; secondly retail turnover is expected to have increased by 1.8% year on year. Whilst retail is not as important a sector in Germany as it us in other developed economies, such as the UK and USA, it offers a snapshot as to overall German confidence and levels of employment at a base level.
In other news the bank of Japan the BOJ published details on the amount of yen in circulation versus this time last year. December to December 2012-2013 the BOJ monetary base increased by $1.85 trillion from a year earlier. This is significantly more than the USA Fed 'created' over the same period and falls nearly into line with the fact that yen fell circa 15% versus the USD in 2013.
UK car sales hit highest level since 2007
2013 was the best year for UK car sales since 2007, as the recovery in consumer spending and affordable credit pushed up demand for new vehicles. The Society for Motor Manufacturers and Traders has announced that 2.26 million new cars were sold in 2013, a jump of over 10%, and beating its own forecasts for the year by around 10,000 new cars.
Mike Hawes, SMMT Chief Executive, has declared that the UK new car market has helped stimulate the country's economic recovery, adding:
While the European market is only now showing signs of improvement, the UK has consistently outperformed the rest of Europe with 22 consecutive months of growth. The 10.8% increase in 2013 reflects the attractive financial offers available as well as increased demand for more technologically advanced new cars. We expect new car registrations to remain stable in 2014 as customers return to a more regular replacement cycle.
Australia trade gap narrows as imports shrink
Australia's trade deficit narrowed more than expected in November, as imports fell while exports remained flat. The trade deficit reached a seasonally adjusted $118 million in November, falling from a revised $358 million gap in October. Economists were forecasting a deficit of $300 million. During the month, exports were flat, while imports were down 1 per cent. Exports rose by a seasonally adjusted $94 million to $27.4 billion. Imports fell by $146 million to $27.5 billion.
2013 increase in Germany's retail turnover expected to be about 0.4% in real terms
According to estimates of the Federal Statistical Office (Destatis), retail turnover 2013 in Germany is expected to be in nominal terms between 1.6% and 1.8% larger than in 2012. In real terms turnover is expected to increase by between 0.3% and 0.5%. This estimation is based on data for the first eleven months of 2013. In this period retail turnover was in nominal terms 1.7% and in real terms 0.3% larger than that in the corresponding period of the previous year. According to provisional data turnover in retail trade in November 2013 was in nominal terms 2.6% and in real terms 1.6% larger.
Germany Unemployment Declines as Recovery Strengthens
German unemployment declined for the first time in five months in December as companies' confidence in Europe's largest economy strengthens. The number of people out of work decreased by a seasonally-adjusted 15,000 to 2.965 million, after gaining a revised 9,000 in November, the Nuremberg-based Federal Labor Agency said today. Economists predicted a drop of 1,000.
Market snapshot at 10:00 am UK time
Asian equity markets were mainly in the red after US stocks fell for a third straight session as investors looked ahead to key events later in the week. In Japan, the Nikkei 225 average was 0.59% lower following a 2.4 per cent fall in its first trading day of the year on Monday. In China, the Shanghai Composite was down 0.4 per cent, a fourth straight decline that placed the index at a six-month low. The ASX 200 closed down 0.15%, the CSI 300 down 0.03%, the Hang Seng closed up 0.13%.
European bourses have opened with most registering an early loss; Euro STOXX is up 0.02%, CAC down 0.23%, DAX down 0.05%, with the UK FTSE down 0.06%. Looking towards the New York open the DJIA equity index future is up 0.13%, SPX up 0.14% and the NASDAQ future is up 0.14%.
Commodities have recovered some of the losses posted yesterday and over recent sessions; NYMEX WTI oil is up 0.32% at $93.73 per barrel, whilst NYMEX nat gas is up 0.74% at $4.34 per therm. COMEX gold is flat at $1237.10 per ounce with silver on COMEX down 0.09% at $20.08 per ounce.
Forex focus
The yen lost 0.2 percent to 104.46 per dollar early in London after rising 0.6 percent yesterday, the biggest one-day gain since Oct. 23rd. It declined 0.2 percent to 142.25 per euro. Europe's shared currency was little changed at $1.3618. The yen fell versus most major peers after Bank of Japan data showed progress in monetary stimulus and currency volatility fell by the most in 1 1/2 years. Japan's monetary base, which measures the supply of money by the central bank, soared 47 percent in December from a year earlier to a record 193.5 trillion yen ($1.85 trillion), a report today showed.
Bonds
Benchmark Treasury 10-year yields were little changed at 2.95 percent early London time. The price of the 2.75 percent note maturing in November 2023 was 98 10/32. Ten-year yields may draw demand at 3 percent. The rate has fallen from 3.05 percent on Jan. 2nd, which was the highest in more than two years. The extra yield Treasury investors demanded to hold 10-year notes instead of three-year debt was near the highest since 2011 before auctions of the securities this week.

« You think you're hopeless at trading, so what's wrong and how can you fix it simply and quickly? Part two. DJIA breaches 16,500 to the upside as Boston Fed president states that the unwind from QE3 will be very slow »