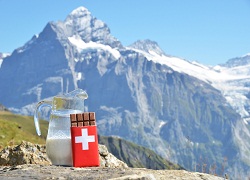 It's not often that we flag up the performance of the Swiss economy in our mind the gap column but we felt it justified special mention and focus this morning given the perfect economic microcosm and model the country projects. Not only have retail sales risen by circa 1.1% month on month and the country's inflation figure been under control for some time, it's export driven economy and its investment service led economy are firing on all cylinders.
Now we learn this morning that its unemployment rate is down to 3.3%. To put that into perspective that's half the unemployment rate of the USA and that's not the USA U6 unemployment rate which is at 12.3%.
That other 'model' economy, despite its soar away house price issue, Australia has also seen a muted reading early this morning. The NAB Monthly Business Survey – March 2014 saw sales falling slightly in March and employment, though better, still points to soft labour market conditions. Most industries saw some improvement in conditions, especially mining.
Wall Street's third consecutive sell off day weighed on certain Asia-Pacific markets, with Japanese bourses experiencing the worst of the fall. The S&P 500 lost 1.1 per cent to 1,845 on Monday, leaving it 2.7 per cent down from an intraday record high of 1,897 struck in early trade on Friday. The DJI average has now lost all of its 2014 gains. Tech stocks led the sell-off as valuation concerns grew. The tech-heavy Nasdaq suffered more than other US indices, falling 1.2 per cent to 4,079.8 on Monday.
The Bank of Japan stuck to its existing monetary stimulus on Tuesday, confident that it did not need further support measures to beat chronic deflation even as a sales tax hike clouds the outlook for the world's third-largest economy. Japan's current account is back in surplus. After a four month string of current account deficits, the nation produced a Y612.7bn surplus in February, in line with forecasts. A month earlier, the monthly deficit had been Y1.589tn – the largest gap on record going back to 1996.
Swiss unadjusted jobless rate down at 3.3 pct in March
The Swiss unemployment rate fell to a non-seasonally adjusted 3.3 percent in March from 3.5 percent in the previous month, the State Secretariat for Economic Affairs said on Tuesday. When adjusted for seasonal factors, the unemployment rate stood at 3.2 percent, unchanged from the previous month.
Swiss Retail Sales Recover In February
Switzerland's retail sales turnover recovered in February, provisional results from the Federal Statistical Office showed Tuesday. Retail sales real turnover grew 1 percent year-on-year in February, following a 0.1 percent drop in January. Excluding fuel, retail turnover advanced 1.1 percent after staying flat a month ago. Retail sales of food, drinks and tobacco registered an increase in real turnover of 0.3% and the non-food sector posted positive growth of 1.1 percent. Month-on-month, retail sales climbed 1 percent, partially offsetting the 2 percent decline in January.
NAB Monthly Business Survey – March 2014
Business conditions lifted slightly in March, but remained at relatively subdued levels, weighing on business optimism. Confidence still positive but softened to its lowest post-election level to be below long-run trend. Sales fell slightly in March and employment, though better, still points to soft labour market conditions. Most industries saw some improvement in conditions, especially mining, but transport and "bellwether" wholesale weakened significantly. Near-term outlook still soft according to forward indicators. Inflation outlook well contained due to limited upstream pressures, and retail prices fell.
Market snapshot at 9:30 am UK time
The ASX 200 closed down 0.06%, the CSI 300 closed up 2.37%, the Hang Seng up 0.96%, the Nikkei down 1.36%. Euro STOXX is down 0.02%, CAC up 0.10%, DAX down 0.12%, UK FTSE 100 down 0.19%. Looking towards the New York open the DJIA equity index future is up 0.11%, SPX future up 0.15%, NASDAQ up 0.14%.
NYMEX WTI oil is up 0.83% at $101.27 per barrel, NYMEX nat gas is up 0.54% at $4.50 per per therm. COMEX gold is up 0.41% at $1308.80 per ounce with silver up 0.65% at $20.08 per ounce.
Forex focus
The yen reached 102.75 per dollar, the strongest since March 28, and was at 102.88 early in London, up 0.2 percent from yesterday's close. It gained 0.8 percent in the prior two sessions. Japan's currency added 0.2 percent to 141.40 per euro. The euro was little changed at $1.3744 following yesterday's 0.3 percent gain. The yen rose for a third day and a measure of implied rate swings in currency markets fell to a seven-year low as the Bank of Japan refrained from adding extra stimulus at a policy meeting.
New Zealand's dollar rose 0.4 percent to 86.40 U.S. cents after a report showed first-quarter business confidence in the nation held near at a 20-year high.
Bonds briefing
U.S. 10-year yields were little changed at 2.71 percent early in London. The figure compares with the average over the past decade of 3.46 percent. The price of the 2.75 percent security due in February 2024 was 100 3/8.
Treasuries yielded 107 basis points more than Japanese bonds as of yesterday, based on the Bloomberg World Bond Indexes. The spread was 50 basis points a year ago.
Japan's 10-year yield rose one basis point to 0.62 percent today. Australia's fell one basis point to 4.08 percent. A basis point is 0.01 percentage point.
The extra yield Treasuries pay over Japanese bonds doubled from a year ago as the Bank of Japan said it's sticking to its plan to push down borrowing costs.

« Why new traders often find themselves on the wrong side of the market and how to prevent it UK growth to exceed other major economies in 2014 – IMF »