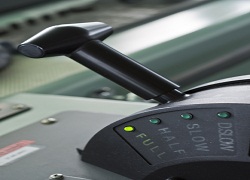 There was yet more promising data printed from the UK this morning with regards to the economic recovery of the country and unlike the data from sources such as Markit's sentiment indices, this is as close to 'fact' as the UK can deliver. Despite the trade balance for the month remaining down at circa £9.7bn, which would be far worse if the services surplus data wasn't included, the industrial production data revealed a year on year increase of 3.2% with the monthly figure being 0.4%. Although in line with expectations the data could prove that the UK is maintaining its modest recovery.
In the overnight/early morning trading session China published certain key data; retail sales increased by a very healthy 13.7% year on year, whilst industrial production increased in line with expectations by 10% year on year.
Federal Reserve Bank of St. Louis President James Bullard, a voter on Fed policy this year, has stated that the odds of tapering bond purchases have now risen along with gains in the labour market, and any reduction should be modest to account for low inflation.
Money managers in Japan bought a net ¥2.6 trillion ($25 billion) of foreign bonds in November, data from the Ministry of Finance showed Monday. During five consecutive months of net buying, they scooped up ¥9.1 trillion of bonds overseas, the largest buying spree since a ¥14 trillion binge in the nine months to January of this year.
EU finance ministers to debate single resolution mechanism in ECOFIN meetings
European finance ministers could take an important step towards closer banking union today in their monthly ECOFIN meeting in Brussels. The ministers, from across the EU, will be discussing the rules for winding up failing banks, known as the Single Resolution Mechanism (SRM). There are hopes of an agreement, which could bring Europe closer to full banking union.
Jeroen Dijsselbloem, who chairs the Eurogroup of Eurozone finance ministers, said last night that the SRM would be top of the agenda at the Ecofin meeting today.
There is a great sense of urgency among the colleagues to reach an agreement if possible tomorrow.
Progress has been hampered by the long-running dispute between Berlin and France. The two sides disagree over how bailed out banks should be funded (Germany favoured national funds; France a central pot), and how the SRM could be controlled (by national states, or the Commission).
French industrial production falls 0.3%
French industrial production is down according to data published this morning; In October 2013, manufacturing output increased slightly (+0.4%, after -0.5% in September). Output decreased in industrial production as a whole (–0.3%, after –0.3% last month).
Japan consumer confidence improves less than forecast
Japan's consumer confidence improved in November, latest data revealed Tuesday. The unadjusted consumer confidence index, excluding one-person households, moved up to 41.9 in November from 41.2 in October, the Cabinet Office said. Economists had forecast the index to rise to 44. The sub-index of overall livelihood advanced to 39.1 in November from 37.7 a month earlier. At the same time, the measures of households' views of their income growth rose to 39.1 from 38.1. Meanwhile, consumers' willingness to buy durable goods turned less positive.
UK Trade, October 2013
UK Trade shows the extent of import and export activity and is a key contributor to the overall economic growth in the UK. Seasonally adjusted, the UK's deficit on trade in goods and services was estimated to have been £2.6 billion in October 2013, unchanged from the revised September 2013 estimate. There was a deficit of £9.7 billion on goods, partly offset by an estimated surplus of £7.1 billion on services. In October 2013, exports of goods to countries within the EU decreased by £0.5 billion to £12.1 billion. Over the same period imports of goods from the EU decreased by £0.2 billion to £18.5.
UK Index of Production, October 2013
Production output increased by 3.2% between October 2012 and October 2013. This increase reflects rises of 2.7% in manufacturing (the largest component of production), 13.4% in mining & quarrying and 8.8% in water supply, sewerage & waste management sectors. The main manufacturing components contributing to the increase between October 2012 and October 2013 were the manufacture of transport equipment; other manufacturing & repair; and the manufacture of wood, paper products & printing. The largest upward contribution between October 2012 and October 2013 was, once again, from the manufacture of transport equipment, which rose by 16.8%. The majority of this strength came from the manufacture of motor vehicles, trailers & semi-trailers. Total production increased by 0.4% between September 2013 and October 2013. There were upward contributions from three of the four main sectors, the exception being mining & quarrying.
Forex focus
The euro rose 0.1 percent to $1.3754 early in London after reaching $1.3768, the most since Oct. 30th. The common currency was little changed at 141.75 yen after climbing to 142.17, the highest since October 2008. The dollar slipped 0.2 percent to 103.08 yen after rising to 103.39, the strongest since May 23rd. The pound rose 0.1 percent to $1.6453 early London time after climbing to $1.6466, the highest since August 2011. Sterling appreciated 0.1 percent to 83.56 pence per euro.
Bonds
The benchmark USA 10-year yield was little changed at 2.83 percent early in London. The price of the 2.75 percent note maturing in November 2023 was 99 9/32. The yield climbed to 2.93 percent on Dec. 6th, the highest since Sept. 13th.
Market snapshot at 10:00 am UK time
The ASX 200 closed down 0.02%, CSI 300 up 0.10%, Nikkei down 0.25%, Hang Seng down 0.28%. In Europe the STOXX index is up 0.14%, CAC up 0.01%, DAX up 0.13%, FTSE up 0.09%. Looking towards New York's open the DJIA equity index future is up 0.10%, SPX future up 0.10%, NASDAQ up 0.13%.
NYMEX WTI oil is up 0.40% at $97.73 per barrel, NYMEX nat gas is up 0.07% at $4.24 per therm. COMEX gold is up 0.90% at $1244.30 per ounce with silver on COMEX up 1.34% at $19.96 per ounce. Gold for February delivery rose 0.9 percent an ounce on the Comex in New York, climbing for a second day. Trading volume in gold was 27 percent above the average for the past 100 days at this time.
« Why bursting the bubble; discovering that there is no 'Holy Grail' of trading, finally leads to trader enlightenment 200% account growth annually trading forex, is it realistically possible? »