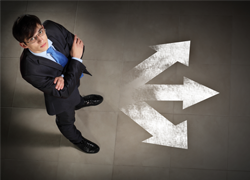 We've touched on the subject many times of how traders go through a form of 'trader metamorphosis' when they first discover trading. Once they've discovered the industry they'll experiment with many different strategies, whilst also experimenting with many different securities to trade. They'll win some lose some and generally be down, in terms of their account value, after several months of effort, unless they're incredibly lucky or extremely gifted. It's common for new traders to have 'blown up' several accounts, hopefully these accounts are small accounts primed with a relatively small amount of their capital in relation to their personal savings. During this time new traders will also experiment with various brokers…
Unfortunately new traders tend to swap and drop brokers dependent on their win/loss experiences. If they're winning with a certain broker that broker is considered good, if they're losing that broker is regarded as bad, sadly it really is that simplistic for the majority of inexperienced traders. In order to assist new traders to make a decision, and with absolutely no bias directed towards FXCC, we're going to create a short list that new traders can use as a check list in order to determine if your broker is adhering to the standards all brokers should aspire to.
One of the issues regarding the spectacular growth the FX industry has experienced during recent years, is that many brokers can look very slick and professional due to the quality of the websites they operate from. The cost of creating appealing websites and embedding the most popular platforms into them, is a fraction of the cost experienced ten years ago, therefore it's essential that traders aren't seduced by snappy adverts, slick promotions and convincing strap-lines.
Our brief list, of what to look for in your broker, compromises the following;
Spreads
Regulation
Scalping/hedging
Problem solving/Response
Funds transfer
Advanced Technology
Online reputation
Spreads.
For the major currency pairs such as; EUR/USD, GBP/USD, USD/JPY the headline spreads and indeed the typical spreads you experience should be less than a pip. Typically traders should be looking for quotes of no more than 1 pip on EUR/USD. Measured over a reasonable amount of trades executed this spread should remain in a fairly tight range. There's little point in receiving 1 pip spreads occasionally, but the average being 2 pips. The claims made by the brokers in their advertising banners, which are presumably one of the reasons that encouraged you to trade with the broker initially, should stand up to a fair and reasonable test.
Regulation
It's important that the broker has regulation in the countries it operates in. If the broker resides in the UK are they regulated by the UK's FSA? If based in Cyprus are they regulated by Cysec? If operating in both countries (and throughout Europe) do they have credible regulation covering both Europe and the UK?
If based in the USA is the broker regulated by the National Futures Association (NFA) and the Commodity Futures Trading Commission (CFTC)? If a broker has no recognised credible authority monitoring its activities, to which the broker has to furnish certain documentation to prove financial health, then traders should not consider for a moment trusting their hard earned funds and savings with such a broker.
For example, if you're based in the UK, then trading with a broker based in Africa (on the basis that their advertised spreads appear highly competitive) would be a reckless decision. Traders must ensure that their broker and their funds are safe.
Scalping and hedging
Traders can set simple to operate and straightforward to administer tests in order to ascertain their broker's efficiency. For example, during the course of their week's trading sessions traders may have the need to place market orders and take profit limit orders around the key areas of support and resistance. Witnessing these orders executed 'to the pip', on the chosen platform on offer through the broker, will instill faith that the broker is honest and is operating either an ECN or STP trading model, or a combination of both.
Similarly a broker should offer hedging facilities as the ability to hedge is a vital ingredient to many traders' trading methods. Taking the opposite side of a trade, for example in a period of increased market volatility, is a time proven method to hedge.
Problem solving and response times
What protocol your broker has in place, in order to handle queries and complaints, is a vital test of your broker's efficiency and probity. How quickly they handle your query, how it's resolved, and whether the outcome is to your satisfaction is an essential metric by which you can gauge their overall performance.
Brokers will not agree to all complaints and requests, for example a new trader may be asking why price just spiked at a given point on the charts and took out their stop when the NFP jobs report was just published? Or using the same high impact news event example inexperienced traders may wonder why their trade was filled some distance from the price witnessed on their chart. The important issue is how the problem was handled and were you left with a sense of satisfaction, even if you didn't obtain the result you had hoped for?
Funds transfer
It's your money, not the brokers, you have a right for it to be transferred back to your account in a speedy fashion. The transfer policy of the broker should be highlighted in their terms and conditions. If they state 3 working days then that should be honoured, although before raising a complaint traders should be aware that their own bank may be the lagging party and not the broker. However, all things considered your first transfer of funds back to your account should be straightforward and painless, many of the leading brokers recognise the importance of this measurement and as a consequence have ensured that their transfer policy is executed to the letter.
Advanced technology
Your broker will have their own proprietary platform, they should also be offering the latest platforms. Their mobile technology applications should be first class, their computer tablet software likewise. Their proprietary platform should be easy to navigate and execute orders seamlessly without lag and (as mentioned previously) should fill orders either exactly, or very close to your order and the market price when measured over a statistically relevant amount of trades.
Online reputation
There are many forums on the internet that specifically set out to judge FX brokers' performance, often by using many of the metrics already suggested in this article. Before committing to using a broker, or if experiencing problems with a specific broker, traders would be advised to check in on various trading forums to see if their broker has a good reputation in the market place.
A good rule of thumb is that if there is very little in the form of compliant regarding the broker the better. However, traders have to use their common sense when searching as other firms, (masquerading as traders), can often plant false reviews of brokers, or the inexperienced trader may immediately 'sound off' on a forum before being sure of their complaint.
Using the analogy we've used throughout this article it's not uncommon for an inexperienced trader to complain of having a poor fill and experience slippage some 20 pips from their expected price as they're trying to get into the market as the latest poor NFP figures have just been released. Their loss on the trade may be less than €20, but they pursue it with energy as "it's the principle not the principal".
Naturally the largest and most capitalised brokers and FX firms receive the greatest amount of invective and critique on trading forums. One or two may have an online ambassador to attempt to smooth out any problems as they arise. For the small to medium sized brokers the complaints on forums tend to be scarce, but its worth using the various forums and the forum sections to see if the broker you're considering trading with has a good online reputation in all the areas we've mentioned in this article.
Using some of these key metrics should go some of the way to assisting traders in their choice of brokers. We'd welcome your input if you have any other criteria by which you'd recommend a particular broker.
« Pending home sales in the USA fall 5.6% month on month to reach a three year low. Is it a sign of a deeper malaise? Japanese data improves markedly as investors ponder if the BOJ's monetary stimulus package is now working »