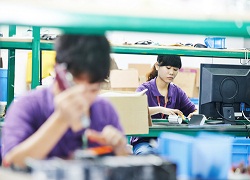 In a relatively slow day for news events that could affect market sentiment European retail data for December has been published this morning. The print came in at 47.7, down from the 48 in November. The fall would had been steeper had Italy's retail PMI not reached a 33 month high.

WTI oil has once again breached the critical $100 a barrel psyche level in this morning's trading session where undoubtedly many buy, sell and take profit orders are clustered. The rise reflects seasonal activity; the USA is experiencing a very cold weather snap currently and also reflects the storage data which has been consistently low over recent weeks. More notably the 'poor' storage data has been evident in the data for nat gas whose price is up significantly in this morning's trade, by approx. 1.44%. USA ten year treasuries have risen this morning to climb just over the 3% level, a level not seen since June 2011.
Nikkei makes biggest annual gain since 1972

Japan's Nikkei closed up 0.69% at 16,291.31 on Monday, the final day of trading in 2013. The index has risen 57% over the year as a whole, the strongest gain since 1972, following the massive economic stimulus pumped into the system by Prime Minister Shinzo Abe. The Nikkei's performance on Monday marked the longest winning streak since July 2009. The Nikkei could be in for further gains in 2014 according to some analysts. It is worth noting the Nikkei is still, by some margin lower, than its all-time high of just below 39,000, reached on 29th December 1989.

Eurozone retail sales continue to decline in December

Markit's final batch of Eurozone retail PMI data for 2013 signalled an overall decline in sales for the fourth month running. The rate of decline remained modest but accelerated slightly, reflecting a sharper contraction in France and slower growth in Germany. The overall decline would have been stronger were it not for a marked easing the rate of contraction in Italy, where the retail PMI hit a 33-month high. The Markit Eurozone Retail PMI, which tracks month-on-month changes in the value of retail sales, fell back to 47.7 in December, from 48.0 in November.

Market snapshot
The ASX 200 closed up 0.61%, the CSI 300 down 0.17%, the Hang Seng closed up 0.01%, whilst the Nikkei 225 closed up 0.69%. In European trade the STOXX index is at the time of writing (9am UK time) up 0.07%, the CAC up 0.20%, the DAX up 0.02% and the UK FTSE up 0.18%. The DJIA equity index future is up 0.02%, the SPX future is flat with the NASDAQ  future up 0.06%.
NYMEX WTI oil is up 0.04% at $100.36 per barrel, NYMEX nat gas is up 1.44% at $4.43 per therm, COMEX gold is down 0.76% at $1204.80 per ounce, with silver on COMEX down 1.82% at $19.68 per ounce. The MSCI Asia Pacific Index of shares advanced 0.3 percent today, extending this year's gain to 8.8 percent. The STOXX Europe 600 Index has gained about 17 percent in 2013.
Forex focus
The dollar climbed 0.2 percent to 105.35 yen early in London's trading session after rising to 105.41, the strongest level seen since October 2008. The euro was little changed at $1.3739 after gaining 0.4 percent on Dec. 27th. The common currency appreciated 0.1 percent to 144.78 yen.
The Dollar Spot Index, which tracks the greenback versus 10 major counterparts, has risen 3.7 percent this year, the most since an 8.9 percent advance in 2008. The dollar rose to a five-year high versus yen and headed for an annual gain versus major peers amid optimism a sustained U.S. economic recovery will enable the Federal Reserve to cease bond purchases by the end of 2014.
The dollar has risen 4 percent this year versus nine other developed-nation currencies tracked by Bloomberg's Correlation-Weighted Indices. The euro has advanced 8.8 percent, the biggest gain within the gauge. The yen is the worst performer, having fallen 16 percent.
Sterling traded at $1.6495 early London time after climbing to $1.6578 on Dec. 27th, the highest since August 2011. The U.K. currency was at 83.38 pence per euro after appreciating to 82.53 pence on Dec. 2nd, the strongest level since Jan. 11th.
Australia's dollar fell 0.3 percent to 88.43 U.S. cents in Sydney from Dec. 27th, when it reached a 10th consecutive weekly decline, the longest losing streak since exchange controls were abolished in 1983. The Aussie has fallen 15 percent this year, the sharpest drop since 2008. It slid 0.1 percent to NZ$1.0862 and 93.11 yen today. The kiwi has lost 0.1 percent to 81.40 U.S. cents from last week, down 0.7 percent since Dec. 20th. New Zealand's currency has lost 1.8 percent this year. It bought 85.73 yen.
Bonds
The benchmark 10-year yield rose less than one basis point, or 0.01 percentage point, to 3.01 percent in London's trading session after climbing to 3.02 percent on Dec. 27th, the highest level since July 2011. The 2.75 percent note due November 2023 fell 1/32, or 31 cents per $1,000 face amount, to 97 27/32. The yield has climbed 1.25 percentage points this year. Treasury 10-year yields approached their highest level in two years as an improving U.S. economy bolstered speculation the Federal Reserve will end its bond purchases in 2014.
U.K. gilts have lost 4.8 percent this year, according to Bloomberg World Bond Indexes. German securities have fallen 2.3 percent and U.S. Treasuries have declined 3.3 percent.
« Trend analysis week beginning December 29th Greece will leave bailout scheme in 2014, according to Prime Minister Samaras »