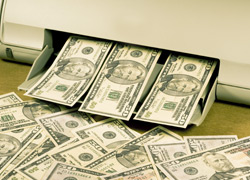 The US and Russia traded accusations over Ukraine at the UN on Sunday after clashes between Ukrainian forces and pro-Russian separatists occurred. Russia called an emergency meeting of the UN Security Council on Sunday evening after another day of rising tension in eastern Ukraine with Kiev sending in the army to try and secure control of government buildings in a number of cities.
An ECB policy maker offered up suggestions as to how the Eurozone's could embark on a QE programme to stave off low inflation. Benoît Cœuré, a member of the ECB's executive board indicated at the IMF meetings in Washington that the central bank could buy a broad range of assets with maturities of up to 10 years. While the ECB has used the US meetings to signal that Eurozone policy makers would cut interest rates before resorting to QE, further falls in inflation could force the central bank to buy bonds outright.
Asian markets came under pressure on Monday in the face of renewed tension in Ukraine and after the S&P 500 dropped to a two-month low on Friday. However, trading action was moderate as investors waited for key Asian data later in the week, such as China GDP figures on Wednesday. The US earnings season also picks up speed, with approx. 10 per cent of S&P 500 companies set to report this week.
London ripple pushes all southern regions to new price records
7.3% annual rate of increase in asking prices – highest since October 2007 and takes us back to pre-credit-crunch level. New seller asking prices hit record highs in all four southern regions contributing to a new national average all-time high of £262,594 – up 2.6% on last month By contrast, northern regions still an average of 6% behind October 2007 benchmark. The number of properties coming to market so far in 2014 up 13% on last year but supply shortages are still fuelling prices in many areas in the south.
Industrial production up by 0.2% in euro area
In February 2014 compared with January, seasonally adjusted industrial production1 rose by 0.2% in the euro area (EA18) and by 0.4% in the EU28, according to estimates from Eurostat, the statistical office of the European Union. In January industrial production remained stable in the euro area and increased by 0.2% in the EU28. In February 2014 compared with February 20134, industrial production grew by 1.7% in the euro area and by 2.1% in the EU28. The increase of 0.2% in industrial production in the euro area in February 2014, compared with January 2014, is due to production of intermediate goods rising by 0.6% and non-durable.
Market snapshot at 10:00am UK time
The ASX 200 closed down 1.28%, the CSI 300 down 0.09%, the Hang Seng was up 0.09% and the Nikkei closed down 0.36%. Euro STOXX is down 0.63%, CAC down 0.60%, DAX down 0.79% and the UK FTSE 100 is down 0.61%. Looking towards the New York open the DJIA equity index future is up 0.16%. SPX future is up 0.14% and the NASDAQ future is down 0.25%.
NYMEX WTI oil is up 0.66% at $104.42 per barrel, NYMEX nat gas is up 0.04% at $4.62 per therm. COMEX gold is up 0.64% at $1327.50 per ounce, with silver up 0.42% at $20.03.
Forex focus
The euro fell 0.2 percent to $1.3852 early in London after climbing 1.3 percent last week, the biggest advance since the period ended Sept. 20th. It lost 0.3 percent to 140.73 yen. The dollar was little changed at 101.60 yen.
The euro weakened versus most of its 16 major peers after European Central Bank President Mario Draghi said its strength "requires further monetary stimulus."
The offshore Yuan slipped 0.03 percent to 6.2124 per dollar early in Hong Kong after touching 6.2170 earlier, the weakest since April 4th. The Yuan traded in Hong Kong fell to a one-week low on concern growth in the world's second-largest economy is faltering.
Bonds briefing
Benchmark 10-year yields fell two basis points, or 0.02 percentage point, to 2.61 percent as of 7 a.m. in London. The price of the 2.75 percent security due in February 2024 advanced 1/8, or $1.25 cents per $1,000 face amount, to 101 7/32. The yield was as low as 2.60 percent, a level not seen since March 3rd.
The Standard & Poor's 500 Index slid 2.7 percent last week, the biggest loss since 2012. Treasury yields were near a six-week low as U.S. stock losses bolstered speculation the Federal Reserve will hold interest rates down and with unrest in Ukraine spurring demand for safety.

« Swing/trend analysis for the week beginning Sunday April 13th Strong retail sales data for the USA causes USA and European bourses to rise »