European car sales crash.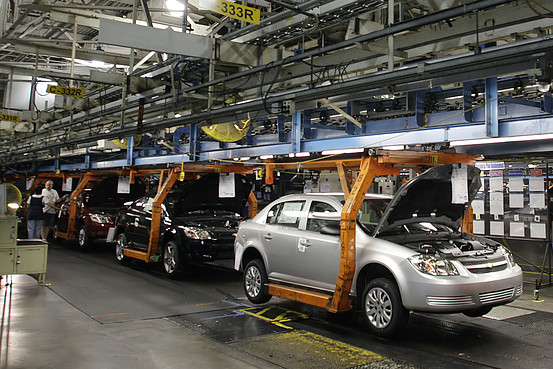 Athens has been brought to a standstill this morning as Greek civil servants experience solidarity from many other workers during the one day general strike. As a grim reminder of how fragile Eurozone growth is, particularly in the manufacturing sector, we learned this morning that Europe's car sales have fallen to their lowest level since 1996. It would appear that the forms of austerity engineered and practiced by: Eurozone governments, the ECB and their apparatus (or in Greece's instance the troika) are failing to stimulate 'pull through demand' and as a consequence any sustainable growth in Europe remains out of reach.
The European Automobile Manufacturers Association reported a 5.6% slump in new vehicle registrations across Europe in June and a 6.6% fall for the first six months of 2013. The industry has sold circa 400,000 fewer cars than a year ago during 2013, at a time when manufacturers are trying to cut capacity and improve competitiveness.
Core eurozone countries are now also suffering; German sales are down -4.7% whilst France dropped by -8.4%. There was also a baffling 71% year-on-year plunge in sales in Ireland. Just 1,673 new vehicles were registered in the Republic in June, down from 6,352 in June 2012.
Fiat suffered a -12.6% drop in sales, GM were down 9.9%, Peugeot-Citroen fell 10.8%, BMW dropped 7.9% and VW Group's sales were down 3.6%. Ford gained +8.1%, and Jaguar Land Rover were up 1.6%.
Discover Your Potential With a FREE Practice Account & No Risk
Click To Claim Your Account Now!
UK inflation figures
Inflation is up in the UK, with the consumer prices index jumping to 2.9% in June, from 2.7% in May. The rising cost of living in the UK last month was driven by increased prices of fuel, clothing and footwear. At 2.9%, CPI has come in below City expectations. The new BoE governor Mark Carney will not have to write a letter to the UK chancellor explaining why the Bank of England failed to keep inflation within one percentage point of 2%. The Retail Prices Index (RPI), the inflation measured used for wage negotiations, also came in slightly lower than forecast at 3.3%.
Eurozone posts encouraging trade numbers
Despite the grim news with regards to car manufacturing the Euro area trade in goods surplus grew to 15.2 bn euro according to the latest figures published by Eurostat. The first estimate for the euro area (EA17) trade in goods balance with the rest of the world in May 2013 gave a 15.2 billion euro surplus, compared with +6.6 bn in May 2012. The April 20132 balance was +14.1 bn, compared with +3.3 bn in April 2012. In May 2013 compared with April 2013, seasonally adjusted exports fell by 2.3% and imports by 2.2%. The first estimate for the May 2013 extra-EU27 trade balance was a 15.8 bn euro surplus, compared with -4.9 bn in May 2012. In April 20132 the balance was +8.8 bn, compared with -13.4 bn in April 2012. In May 2013 compared with April 2013, seasonally adjusted exports fell by 1.5% and imports by 2.1%.
Market overview
The Nikkei index closed up 0.64%, the Hang Seng closed up 0.04% whilst the CSI 300 closed up 0.46%. The ASX 200 closed up 0.10%.
At the time of writing (10:15 UK time) The UK FTSE is currently flat, the CAC is down 0.48%, the DAX is down 0.38%, whilst the STOXX is down 0.53%. The IBEX is the worst performer on the day down 0.97% in the morning session. The DJIA equity index future is currently flat, whilst the NASDAQ future is up marginally by 0.05%.
Open a FREE Forex Demo Account Now To Practice
Forex Trading In A Real-live Trading & No-risk Environment!
Gold is heading for the first annual drop in 13 years after investors have lost faith in the metal as a store of value. Gold's slide into a bear market pushed prices into the longest run below their 200-day moving average since the 12-year bull market began in 2001. Bullion has settled below the 200-day measure for five months since Feb. 11th. That's the most since the eight months to March 2001, the year gold began the longest run of annual gains in at least nine decades.
Spot gold is down 0.03%, silver spot is down 0.73%, WTI crude is up 0.06% at 106.38 per barrel with Brent crude at 109.27 dollars per barrel. Nymex gas is down 0.05% at $3.67 per therm.
Focus on FX
JPMorgan Chase & Co.'s Global FX Volatility Index, a measure of currency fluctuations, is near a one-month low. The gauge was at 10.57 percent, after dropping to 10.47 percent on July 9, the lowest since June 18.
The Australian currency rose 0.9 percent to 91.82 U.S. in Sydney from yesterday after falling as low as 89.99 cents on July 12th. It gained 0.5 percent to 91.34 yen. New Zealand's dollar gained 0.3 percent to 78.29 U.S. cents and advanced 0.3 percent to 78.22 yen.
The dollar has declined 0.3 percent to 99.61 yen at 9:40 a.m. London time. The U.S. currency was little changed at $1.3069 per euro. The 17-member euro dropped 0.2 percent to 130.17 yen.
« Mind The Gap; Morning Roll Call Before The New York Open Mind The Gap; Mid Morning London Session Update Pre New York Open »