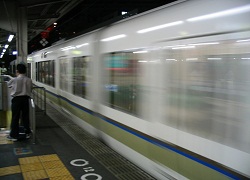 Momentum from Wall Street on Friday and signs of credit growth in China caused Asian bourses to be in a bullish mood. This rise was despite the underwhelming gross domestic product data printed out of Japan, whose economic recovery failed to regain momentum as expected in the last three months of 2013, government data showed on Monday.
Spending by households and businesses was offset by deteriorating terms of trade. Gross domestic product increased by 0.3 per cent in the October-December quarter, or 1.0 per cent in annualised terms, according to a preliminary estimate by the Cabinet Office. That matched the pace of growth in the period between July and September but fell well short of forecasts by analysts, who had been looking for growth of around 0.7 per cent.
In Australia new car sales fell by 3.5% in January and circa 3% on an annualised basis. No particular reason was delivered for the fall by the analyst community, other than the overwhelming belief that the Australian economy may have reached a high water mark, a theory borne out by the unexpected rise in AUS unemployment last week.
Looking towards the New Zealand economy retail prices rose by 1.2% in the quarter leading up to December 2013, following a 0.2% increase in the previous quarter.
In the UK Rightmove's asking prices, on the leading property sales website, have risen by 3.3% over the past month, a quite substantial rise taking the annualised rate to 6.9%. The huge growth has led Mark Carney to actually come out and once again comment on the over heating nature of the housing market in the UK.
Australian new car sales fall 3.5pc for January
SALES of new motor vehicles in Australia retreated in January, according to data from the Australian Bureau of Statistics. According to the figures, new cars sales fell a seasonally adjusted 3.5 per cent in the month to 93,232. The figure compares with an initially reported 97,014 new vehicle sales in December, seasonally adjusted. Total sales are now a seasonally adjusted 3 per cent lower than in the corresponding period last year. New car sales fell in every state and territory in the month. Western Australia led the fall, with new vehicle sales declining 7.9 per cent, seasonally adjusted in January.
Japan Q4 GDP +0.3 pct, fourth straight q/q growth
Japan's economy grew 0.3 percent in October-December from the previous quarter, posting the fourth straight quarter of expansion, government data showed on Monday, reflecting firm private consumption and a pickup in capital spending. The preliminary estimate of gross domestic product compared with 0.7 percent growth expected by analysts in a Reuters poll. It followed a revised 0.3 percent gain in July-September, the Cabinet Office data showed. The fourth-quarter GDP figure translated into an annualised expansion of 1.0 percent, compared with economists' median forecast of 2.8 percent, and 3.2 percent annualised growth.
UK House Price Index
In response to strong buyer demand, agents are keen to win additional stock and get the best prices for their sellers, helping push new seller average asking prices up by 3.3% (+£8,103) this month to £251,964. This increase leaves new seller asking prices 6.9% (+£16,223) higher than a year ago, the highest annual rate of growth since November 2007. A substantial jump in the number of properties coming to market means there are also tentative signs that the market recovery and increasing prices are persuading more people to sell.
NZ Retail Trade Survey: December 2013 quarter
Retail spending has continued to rise in the December 2013 quarter, Statistics New Zealand said today. After adjusting for seasonal effects, the volume of total retail trade sales rose 1.2 percent in the December 2013 quarter. This follows a 0.2 percent rise in the previous quarter. "Nine of the 15 retail industries had higher sales volumes in this latest quarter," industry and labour statistics manager Blair Cardno said. The industries with the largest increases in December were: fuel retailing, up 5.7 percent clothing, footwear, and accessories retailing, up 9.9 percent recreational goods retailing, up 8.6 percent.
Market snapshot at 10:00 am UK time
In the overnight-early morning trading session the ASX 200 responded well to the positive data from China by rising 0.50%. The CSI 300 rose 0.70%, the Hang Seng rose by 1.01% and the Nikkei by 0.56%. Looking at the European open the euro STOXX equity index is up 0.03%, DAX up 0.01%, CAC down 0.07% and the FTSE up 0.71%.
NYMEX WTI oil is up 0.51% at $100.81 per barrel with NYMEX nat gas up 4.58% at $5.45 per therm. COMEX gold is up 0.58% at $1326.10 per ounce, with silver at $21.78 per ounce up 1.70%.
Forex focus
The dollar dropped 0.3 percent to $1.6792 per pound early in London from Feb. 14th after reaching $1.6823. It fell 0.2 percent to 101.60 yen, and declined 0.2 percent to $1.3716 per euro. The yen was little changed at 139.35 against the single currency.
The Aussie gained 0.2 percent to 90.52 U.S. cents, after touching 90.69 U.S. cents, the most since Jan. 13th. New Zealand's kiwi added 0.1 percent to 83.68 U.S. cents.
Australia's currency rose after the People's Bank of China said in a Feb. 15th statement that aggregate financing, the broadest measure of credit, increased to an unprecedented 2.58 trillion yuan ($425.5 billion) in January.
The dollar fell against most of its major counterparts as traders weighed whether weaker U.S. economic data will spur the Federal Reserve to consider a slower pace in tapering stimulus.
The British pound reached the highest since November 2009 after a report showed U.K. house prices rose the most since October 2012 by 3.3%. The yen gained after Japan's economic growth unexpectedly slowed.
Bonds briefing
Italy's 10-year yield fell four basis points, or 0.04 percentage points, to 3.64 percent at 7:55 a.m. London time after dropping to 3.63, the lowest since Feb. 23, 2006. The price of the 4.5 percent bond due in March 2024 climbed 0.375 or 3.75 euros per 1,000-euro ($1,370) face amount, to 107.425.
Spain's 10-year yield declined three basis points to 3.56 percent, after touching 3.54 percent, also the lowest since 2006. The rate on similar-maturity Portuguese debt dropped two basis points to 4.92 percent and reached 4.91 percent, the lowest since June 2010.
Italian government bonds advanced, with 10-year yields falling to the lowest in almost eight years, as Matteo Renzi prepared to meet President Giorgio Napolitano in a signal that he may be designated as prime minister.
The German 10-year yield was little changed at 1.69 percent, leaving the spread with Italian securities at 196 basis points. The yield gap touched 195 basis points, the least since Jan. 9. It has dropped from a 2014 high of 229 basis points on Jan. 24.
« Swing/trend trading analysis for the week beginning February 16th Is the Eurogroup actually calling the end of the Eurozone crisis? »