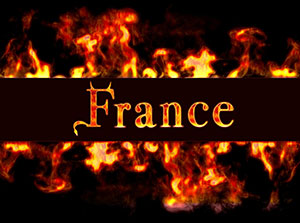 During his visit to Japan over the weekend the French President Francois Hollande told the assorted dignitaries, luminaries and hunting press pack during a press conference that the Eurozone had overcome its biggest test and was now on the way to recovery;
"What you need to understand here in Japan is that the crisis in Europe is over and that we can work together, France and Japan, to open new doors for economic progress." Europe needs to put more emphasis on taking steps to promote growth and competitiveness, "so that we can have a better presence in the world", he added.
Analysts, speculators and investors, from professional down to individual, could be forgiven for taking his word as fact, but does his assertion actually hold up to close scrutiny?
If Mr. Hollande was holding his breath for some statistical evidence to support his claims, then the data released this morning, illustrating that France's manufacturing rose 2.3% in April, couldn't have been more opportune. However, it would be premature for Mr. Hollande to celebrate as the rest of the figures might not stand up to closer scrutiny, particularly given the boost the manufacture of coke and other refined petroleum based products gave to the numbers. But all things considered this data set should be considered bullish for France as growth in the second largest economy in the Eurozone (and wider Europe) can only help heal the wounds in an economically ravaged continent still in the tentative stages of recovery.
Discover Your Potential With a FREE Practice Account & No Risk
Click To Claim Your Account Now!
France Insee Bullet Points
· During the last three months, manufacturing output increased (+0.8%)
· Manufacturing output fell by 2.3% (y-o-y)
· In April 2013, manufacturing output increased (+2.6%), as well as industrial production as a whole (+2.2%).
· In the manufacture of transport equipment (+5.7%)
· In the manufacture of food products and beverages (+2.3%)…
· Output increased sharply in the manufacture of other transport equipment (+7.0% in April)
· In the manufacture of motor vehicles, trailers and semi-trailers (+4.6%).
Further bullish data for Europe arrived with the publication of the Swiss retail data. Switzerland's retail sales grew by an impressive 3.3 percent in April from the prior year, the Federal Statistical Office reported this morning. The annual growth follows a 0.8 percent drop in March. Likewise, excluding sales of fuel, retail turnover surged 3.5 percent annually, reversing last month's 0.9 percent decrease in March. Month-on-month, retail sales gained 1.4 percent in April after staying flat in March, the report showed. Sales of food, beverages and tobacco slipped 1.1 percent, while non-food sales grew 3.1 percent.
The effect of these two publications on the strength of the euro or Swiss franc versus their major peers has (so far) been benign in the morning session. Having spent the overnight session below the daily pivot of 13232 the euro has failed to recover, but has since approx. 8:20 am (UK time) recovered from the daily low printed shortly before the publication of the French and Swiss data which registered as medium impact news on most economic calendars.
Looking towards the New York afternoon session there is little in the way of fundamental news, or policy decisions set for release, that could impact trends dramatically given that there are no high impact events scheduled. However, FOMC member Bullard speaks in the afternoon and should this speech contain any clues as to how, when and why the USA Fed intends to taper off their Q.E. programmewe could see some action on the USD particularly the major currency pairs.
Forex movements in the overnight session.
The Aussie had a mostly positive session; up 0.33% versus yen, up 0.18% versus USD and up 0.26% versus sterling. It is down 0.21% versus the Kiwi.
The loonie continued the commodity currency improvement, the Canadian dollar up 0.16% versus the USD and up 0.41% versus yen.
Sterling is down 0.45% versus the Kiwi, up 0.13% versus yen, down 0.15% versus USD, flat versus Swissie and down 0.11% versus euro.
The greenback (USD) is up 0.11% versus the Swissie, up 0.21% versus yen.
« Is France Stoking The Fires of a Manufacturing Led Recovery? Between The Lines, Central Banks Are Not Singing From The Same Hymn Sheets »