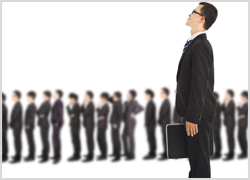 The USA non farm payroll (NFP) print will take centre stage in terms of high impact news events this afternoon. The expectation is for a print of circa 121K for the month of October. Various talking heads in the mainstream financial press will look to place the 'blame' for the poor print (if it does come in around that figure) on the temporary govt. shutdown experienced in October, however, that excuse may be wearing thin as other data has not fallen sharply in correlation. A figure below the psychological barrier of 200K has always been considered poor, there appears to have been a level of investor amnesia were the NFP number is concerned as collectively many analysts accept a figure of around 175K upwards as positive, when in reality a figure in the mid 200's is needed every month in order for the USA jobs market to indicate growth in a healthy economy.
France's credit rating is hit as manufacturing takes a hit
With uncanny timing Standard & Poor's have cut France's credit rating as a poor manufacturing print is published. S&P said France's slower growth will constrain the government's ability to improve public finances and played down the impact of President Francois Hollande's reforms. The nation's long-term foreign and local-currency grade was lowered one step to AA from AA+, S&P said in a statement. France lost the top rating at S&P in January 2012.
In September 2013 French manufacturing output went down 0.7%
In September 2013, manufacturing output went down (–0.7%, after +0.9% in August). Output decreased as well in industrial production as a whole (–0.5%, after +0.7% last month). During the last quarter, manufacturing output decreased (–1.1%. During the last quarter (q-o-q), output declined in the manufacturing sector (–1.1%), as well as in industry as a whole (–1.4%). Output decreased in other manufacturing (–0.8%), in the manufacture of transport equipment (–2.0%), and in the manufacture of electrical and electronic equipment; machine equipment (–0.9%). Moreover, it slumped by 10.6% in the coke and other refined petroleum products sector.
German exports in September 2013: +3.6% on September 2012
Other European countries, such as the UK who are a 'heavy' net importer in an unbalanced economy, can only look on with envy at the latest German export versus import figures. Germany exported goods to the value of 94.7 billion euros and imported goods to the value of 74.3 billion euros in September 2013. Based on provisional data, the Federal Statistical Office (Destatis) also reports that German exports increased by 3.6% and imports decreased by 0.3% in September 2013 on September 2012. The month-on-month comparison, too, showed opposite developments of exports and imports upon calendar and seasonal adjustment. While exports increased by 1.7% on August 2013, imports decreased by 1.9%. The foreign trade balance showed a record surplus of 20.4 billion euros in September 2013.
China's Oct. Export Growth Tops Estimates as Imports Gain 7.6%
China's exports rose 5.6 percent in October from a year earlier while imports advanced 7.6 percent, resulting in a $31.1 billion trade surplus, the General Administration of Customs said early today in Beijing. Shipments abroad compared with the median estimate for a 1.7 percent increase unexpectedly suffered a 0.3 percent drop. Forecasts ranged from a decline of 2.2 percent to growth of 8 percent. The increase in imports compares with the median estimate for a 7.4 percent gain and a 7.4 percent increase in September.
Market snapshot at 9:45 am UK time
Asian markets declined, reacting to better than expected US gross domestic product data that increased speculation that the US Federal Reserve will taper its monetary stimulus before March 2014. Data released on Thursday showed that the US economy grew 2.8 per cent in the third quarter, against expectations of 2 per cent. The CSI 300 closed down 1.39%, the Hang Seng down 0.60% and the Nikkei down 1.00%.
Currently European bourses are mainly in the red; STOXX down 0.69%, CAC down 0.79%, DAX down 0.69%, with the FTSE down o.45%. NYMEX WTI oil is up 0.06% at $94.26 per barrel, NYMEX Nat gas is up 0.31% at $3.53 per therm. Looking towards the USA open the DJIA equity index future is up 0.09% with the SPX up 0.23%.
Forex focus
The euro was little changed at $1.3406 early London time after falling to $1.3296 yesterday, the weakest level since Sept. 16th. The 17 nation common currency has dropped 2.9 percent over the past two weeks, the biggest such slide since July 2012. It was little changed at 131.61 yen and is down 1.1 percent since Nov. 1st. The greenback traded at 98.16 yen, poised for a 0.5 percent decline this week. The U.S. Dollar Index, which monitors the currency versus 10 major counterparts, was at 1,017.37, after touching 1,022.30 yesterday, the highest level since Sept. 13th.
Bonds
Germany's 10-year bunds yielded 1.69 percent early in London time after sliding to 1.65 percent on Oct. 31st, the lowest since Aug. 8th. The price of the 2 percent bund maturing in August 2023 was 102.79. The rate on two-year notes was 0.09 percent after falling to 0.05 percent yesterday, the least since May 31st. The yield has dropped three basis points, or 0.03 percentage points, this week.
« What aspects of trading do we find the hardest and why? Trend analysis for the week beginning November 10th »