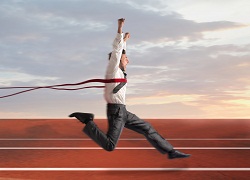 There's a strange phenomenon taking place in the UK's premiership title race at the moment and its relevance to our trading world will become apparent as we expand this article. The current champions of the league, Manchester United, are lying seventh in the league having been humiliated by one of their fiercest rivals Liverpool over the last weekend. Liverpool could even afford the luxury of an extra missed penalty (out of the three they were awarded) and still ran out easy 3 – 0 winners. Talk amongst Manchester United fans is that it was one of the most spineless and inept performances they've delivered in years, whereas the talk amongst Liverpool fans is that this could be their year, they're dreaming of winning the championship for the first time in 24 years.
It's not just the spectacular fall from grace of the champions that has been alarming for their supporters, the body language and overall attitude of their players appears to be suspect. Their forward line has gone from being one of world football's finest last season, to looking like also rans in what feels like a blink of an eye, their confidence looks shot and their self-belief non-existent. How this transformation has taken place so quickly is one of football's mysteries. Yes the previous manager retired, but the players who won the league by some distance in the previous season are the same players in the squad now with the addition of an extra two players who cost of €85 million in transfer fees. So what has gone wrong and where is the relevance to trading? Have they changed their overall strategy, have they changed their overall method, has the mind-set changed?
In looking at our famed 3 Ms of trading we can't really answer the money management issue in relation to football, similarly the method isn't that relevant to the points we want to concentrate on although a losing method can irreparably harm a set of players' confidence. But what is highly relevant is the mind-set and it's on this particular aspect that we want to focus on.
It's worth noting that the manager and head coach of Liverpool is a practitioner of NLP. For those in our community who aren't familiar with NLP* we'll offer up a very brief annotation at the foot of the article. The manager also recruited the services of a famous motivational coach and sports psychologist in order to get his squad's "heads in the right place". And it seems to have worked as Liverpool have been transformed from finishing 6-7th in the domestic league to becoming genuine title contenders.
Now as individual traders we can't afford to employ the services of a famous sports psyche to get us in the right frame of mind to win at trading, whilst becoming an NLP practitioner would be equally time consuming and expensive, so what can we learn with regards to one team's demise and ultimately one team's rise and apply it to trading?
Successful players do not lose their ability overnight. Assuming they're fit and still in a window of athletic prowess that ensures they are in top shape and can apply the game at the highest level, by perhaps not being over the age of 34, then world class players don't suddenly lose their ability. As is often said in sports circles – "form is temporary class is permanent". Therefore these players should get their form back. They may have to alter their method, work harder at certain drills on the training field, but it's more than likely that their mentality needs changing above all else.
The players need reminding, not only of their recent glories, but how their winners' mind-set was fixed at the time of their successes and how important this is to results. How they and their coaching staff had created a form of siege mentality in order for the team to flourish. The best players in the game cannot survive on skill alone, the world's greats such as Lionel Messi and Christiano Ronaldo work incredibly hard in trading and in each match.
A lack of form and results on the field of play could be compared to us enduring a drawdown of funds after a losing streak. We could then look towards our technique, perhaps on our version of a training ground – a demo account, in order to work through any issues we may have. Our lack of overall confidence could then perhaps be addressed.
Similarly we could go back to basics and really examine if we're sticking to our trading plan. We could also look at our trade ledger to see where we had success and look for clues as to why that was. Did the market range, was it trending, did we enjoy gains at the point where critical fundamental policy was altered. If our confidence feels really fragile then when we come back  to our field of play, rather than apply ourselves the full ninety minutes of the game, why not limit our time on the field to that of a substitute until our mind-set is repaired?
Just like professionals athletes as professional traders not every day is a winning day. Not every strategy is a winning strategy, but if we've experienced success before we should know exactly how to re set our minds in order to take on trading again. In fact another old sports adage may be relevant; "what doesn't kill you makes you stronger". If we've suffered a drawdown and a temporary loss of form when we recover from both our trader mind-set will be that much stronger for it.
NLP – Neuro-linguistic programming (NLP) is an approach to communication, personal development, and psychotherapy created by Richard Bandler and John Grinder in California, United States in the 1970s. Its creators claim a connection between the neurological processes ("neuro"), language ("linguistic") and behavioral patterns learned through experience ("programming") and that these can be changed to achieve specific goals in life. Bandler and Grinder claim that the skills of exceptional people can be "modeled" using NLP methodology, then those skills can be acquired by anyone. Bandler and Grinder also claim that NLP can treat problems such as phobias, depression, habit disorder, psychosomatic illnesses, myopia, allergy, common cold and learning disorders, often in a single session. NLP has been adopted by some hypnotherapists and in seminars marketed to business and government.

« FOMC tapers quantitative easing stimulus and hints at rate rises in 2015 Swiss central bank leaves both its base rate unchanged and its exchange rate with the euro, as New Zealand's GDP grows 0.9% »