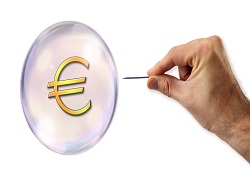 Germany's inflation appears under control based on the value of consumer prices which have risen by 1.3% year on year to February according to the latest stats published this morning by Germany's official stats agency.
The UK's official stats agency the ONS also published some key data this morning regarding the trade balance of the UK. The monthly trade deficit came in worse than expected at £9.8 billion, once again pointing to the criticisms that the UK's economy and its supposed recovery may be slightly unbalanced.
Despite the Nikkei falling hard and the yen acting as a safe haven, with a sales tax hike imminent the BOJ issued their latest policy statement that was remarkably upbeat declaring that the BOJ was sticking to more of the same and would hold the course steady.
Asian markets fell hard in the final session of the week, Japanese stocks falling into double-digit percentage losses for the year. The MSCI Asia Pacific Index of shares sank 2 percent, extending its weekly drop to 3.8 percent, the most since the five-days ended May 18th, 2012.
Iron ore, the main commodity used in steelmaking, continued to rise from Monday's 18-month low as buyers returned to the market. But investors shunned copper, which suffered further losses.
At least two protesters were killed late on Thursday in violent clashes between pro-Russia and pro-Ukrainian demonstrators in the eastern Ukrainian city of Donetsk. The deaths will stoke up tensions in a country concerned by Russia's military incursions into the republic of Crimea and as the Moscow-backed referendum on the peninsula's independence approaches.
German Consumer prices in February 2014: +1.2% on February 2013
Consumer prices in Germany rose by 1.2% in February 2014 compared with February 2013. In January 2014, the inflation rate as measured by the consumer price index had stood at +1.3% and in December 2013 at +1.4%. The rise in prices thus remained low in February 2014. Compared with January 2014, the consumer price index was up by 0.5% in February 2014. The Federal Statistical Office (Destatis) thus confirms its provisional overall results of 27 February 2014. The comparably low inflation rate in February 2014 was again mainly due to the downward price trend for mineral oil products (−6.8% on February 2013).
Japan Monetary Policy Meetings
Japan's economy has continued to recover moderately, and a front-loaded increase in demand prior to the consumption tax hike has recently been observed. Overseas economies — mainly advanced economies — are starting to recover, although a lackluster performance is still seen in part. Exports have recently levelled off more or less. The pick-up in business fixed investment has become increasingly evident as corporate profits have improved. Public investment has continued to increase. With improvement in the employment and income situation, housing investment has continued to increase and private consumption has remained resilient.
Swiss Producer & Import Prices Fall 0.8% In February
Switzerland's producer and import prices decreased in February from last year, data published by the Federal Statistical Office revealed Friday. The producer and import price index fell 0.8 percent year-on-year in February. The producer price index recorded a 0.4 percent fall, and the producer price index logged a 1.7 percent decrease. On a monthly basis, the headline index dropped 0.4 percent during February. The producer price index and the import price index declined 0.3 percent and 0.8 percent respectively compared to January.
UK Trade, January 2014
Seasonally adjusted, the UK's deficit on trade in goods and services was estimated to have been £2.6 billion in January 2014, compared with a deficit of £0.7 billion in December 2013. There was a deficit of £9.8 billion on goods, partly offset by an estimated surplus of £7.2 billion on services. Export of goods to both EU (European Union) and non-EU countries fell by 3.7% and 4.3% respectively between December 2013 and January 2014. Imports of goods from EU countries remained unchanged, whereas imports of goods from countries outside the EU increased 7.5%. The falls in exports reflect trade in commodities, which can be volatile.
UK Output in the Construction Industry, January 2014
The seasonally adjusted estimate of construction output in January 2014 has risen by 1.8% (£170 million) when compared with December 2013. There was a slight rise of 0.8% (£50 million) in new work and a larger increase of 3.5% (£120 million) in repair and maintenance. The longer term comparisons show an improved picture of construction output. All work in January 2014 has increased 5.4% (£490 million) when compared with January 2013. A similar story is apparent across the different types of work, where new work has increased by 5.9% (£330 million) and repair and maintenance by 4.5% (£160 million) over the same period.
Market snapshot at 10:00 am UK time
The ASX 200 closed down 1.54%, the CSI down 0.82%, Hang Seng down 1.00% and the Nikkei down 3.30%. Euro STOXX is down 0.46%, CAC down 0.40%, DAX down 0.72%, FTSE down 0.36%. The DJIA equity index future is up 0.02%, SPX up 0.17% and the NASDAQ up 0.12%.
NYMEX WTI oil is down 0.01% at $98.19 per barrel, NYMEX nat gas is down 0.66% at $4.36 per therm. COMEX gold is up 0.14% at $1372.40 per ounce with silver up 0.46% at $21.28 per ounce.
Forex focus
The yen rose 0.2 percent to 101.65 per dollar early in London. It's set for a 1.6 percent weekly gain, the biggest since the five days through Jan. 24th. It advanced 0.3 percent to 140.89 per euro and has climbed 1.7 percent since March 7th. Europe's shared currency lost 0.1 percent to $1.3860 from yesterday, when it touched $1.3967, the highest since October 2011. The yen headed for its biggest five-day gain versus the dollar in seven weeks as investors sought haven assets amid persisting tension ahead of a referendum that may lead to Crimea's secession from Ukraine.
The New Zealand dollar slid 0.1 percent to 85.35 U.S. cents from yesterday, when it reached the highest since April 12 at 86.06. The Australian dollar lost 0.2 percent to 90.10 U.S. cents, set for a 0.6 percent weekly decline. The Australian dollar headed for a weekly drop versus currencies of the U.S. and Japan on concern China's economy is slowing and before Crimea votes this weekend on whether to leave Ukraine to join Russia. The Aussie has risen 0.4 percent this year, according to Bloomberg Correlation-Weighted Indexes that track 10 developed currencies. The yen has gained 3.2 percent, while the euro has added 0.2 percent. The dollar has lost 0.7 percent.
Bonds briefing
Australian government bonds rose, with the 10-year yield dropping 13 basis points, or 0.13 percentage point, to 4.04 percent. It reached 4.25 percent yesterday, the highest since Feb. 13th.

« What currency pairs should we trade and why we're 'programmed' to see chart patterns where they don't actually exist Trend analysis for the week beginning Sunday 16th March »