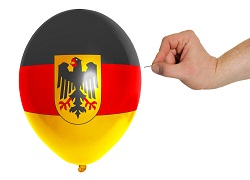 After being locked out of the debt markets for several years Greece made a successful return this week raising €3 bn euros and confidence has tentatively returned to many of the PIIGS debt markets over recent weeks. Now Fitch ratings has seen fit to raise Portugal's credit rating to BB+ and positive.
In Germany the spectre of deflation will once again be raised as consumer prices rise by only 1% and wholesale prices fall by 1.7% year on year. As to whether both these readings simply represent a more efficient German economic machine, paying less for goods and passing on savings, or if it's a sign of a deeper deflationary malaise only time will tell.
Japanese stocks were scheduled for their worst week of declines since 2011, leading a broader Asia-Pacific sell-off. A drop in US biotech and technology shares on NASDAQ hit sentiment, with the S&P 500 closing down by 2.1 per cent in its worst session since early February. The tech-heavy Nasdaq Composite tumbled 3.1 per cent for its worst day since November 2011. The negative sentiment spread to Asia, Japanese stocks fell following the release of minutes from the Bank of Japan's March 10-11 meeting, which depicted a central bank that sees little reason to unleash further stimulus.
Falling prices in China reinforced fears of the slowdown in the world's second-largest economy, highlighting sluggish consumer demand and over-extended factories. Consumer prices fell 0.5 per cent in March from the previous month, producer prices remained in deflationary territory for a 25th-consecutive month, according to figures published by the national bureau of statistics on Friday.
German Wholesale prices in March 2014: –1.7% on March 2013
As reported by the Federal Statistical Office (Destatis), the selling prices in wholesale trade decreased by 1.7% in March 2014 from the corresponding month of the preceding year. In February 2014 and in January 2014 the annual rates of change were –1.8% and –1.7%, respectively. From February 2014 to March 2014 the index did not change.
German Consumer prices in March 2014: +1.0% on March 2013
Consumer prices in Germany rose by 1.0% in March 2014 compared with March 2013. In February 2014, the inflation rate as measured by the consumer price index had stood at +1.2% and in January 2014 at +1.3%. The slowdown in inflation thus continued. The last time an inflation rate of +1.0% was observed was in August 2010. Compared with February 2014, the consumer price index rose by 0.3% in March 2014. The Federal Statistical Office (Destatis) thus confirms its provisional results of 28 March 2014. As in the previous months, the low inflation rate was due to falling mineral oil product prices -4.2%, of which heating oil.
Fitch Revises Outlook on Portugal to Positive; Affirms at 'BB+'
Fitch Ratings has revised the Outlook on Portugal's Long-term foreign and local currency Issuer Default Rating (IDRs) to Positive from Negative and affirmed the IDRs at 'BB+'. The agency has also affirmed Portugal's Short-term foreign-currency IDR at 'B' and Country Ceiling at 'A+'. KEY RATING DRIVERS The revision of the Outlook on Portugal's IDRs to Positive reflects the following key rating drivers and their relative weights: High Portugal is making good progress in reducing its budget deficit. The 2013 fiscal performance exceeded Fitch's expectations and outperformed the IMF-EU programme targets, even excluding one-off factors.
Market overview at 9:00 am UK time
The ASX 200 closed down 0.95%, the CSI 300 down 0.14%, the Hang Seng down 0.65% and the Nikkei was down 2.38%. In Europe, at the time of writing, the euro STOXX is down 0.65%, the CAC is down 0.78%, the DAX down 0.77% and the UK FTSE is down 0.73%. Looking towards the New York open the DJIA equity index future is up 0.18%, the SPX future is up 0.20% and the NASDAQ  future is up 0.22%.
NYMEX WTI oil is down by 0.15% at $103.25 per barrel, NYMEX nat gas is up 0.28% at $4.67 per therm. COMEX gold is down 0.24% at $1317.30 per ounce with silver on COMEX down 0.65% at $19.96 per ounce.
Forex focus
The greenback traded at $1.3892 per euro from $1.3886 yesterday, having slid 1.4 percent this week. The yen weakened 0.1 percent to 141.18 per euro and lost 0.1 percent to 101.62 per dollar. Japan's currency has gained 0.3 percent versus the euro this week and strengthened 1.6 percent against the dollar. The dollar was set for the biggest weekly slide in eight months against a basket of its major peers as the Federal Reserve's meeting minutes damped speculation that U.S. interest rates will rise.
The Aussie declined 0.4 percent to 93.74 U.S. cents, trimming a weekly advance to 0.9 percent. New Zealand's kiwi dollar fell 0.3 percent to 86.57 cents, still 0.7 percent higher than a week earlier. The MSCI Asia Pacific Index of shares retreated 1 percent, following a 2.1 percent drop in the Standard & Poor's 500 Index in New York.
Bonds briefing
Benchmark 10-year notes yielded 2.65 percent early in London. The price of the 2.75 percent security due in February 2024 was 100 7/8. The yield has declined seven basis points this week, the most since the period ended March 14th. Japan's 10-year yield was little changed at 0.60 percent. Australia's fell for a third day to 4.01 percent. Treasuries headed for the biggest weekly gain in a month after the Federal Reserve damped speculation policy makers are preparing to raise interest rates.

« Brick by brick; figuring out the simplicity and purity of the Renko price indicator Swing/trend analysis for the week beginning Sunday April 13th »