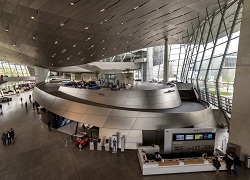 No sooner did a member of the UK's monetary policy committee state yesterday that; a rising pound could choke of the UK recovery and any attempt to move to a more rebalanced economy based on increasing exports, then Germany this morning provides the perfect example of what a coveted exporting powerhouse should resemble. Exports are up by 2.9% year on year. Not only that but the trade surplus rose to €15 billion in the month of January and this despite imports increasing by 1.5% in the same period. However, the UK's MPC may be encouraged by the latest data, published by the UK's ONS, in which the UK manufacturing data shows an increase of 0.4%, versus an overall industrial production output of 0.1%.
The Aussie and Kiwi rose in the early morning trading session due to speculation that the RBNZ will raise its base rate to 2.75% at its next meeting scheduled for Wednesday morning (GMT). However, Australia's lack of business confidence appears to be an issue of late with many analysts thinking that the economy may just have 'topped out' particularly given its huge reliance on Chinese consumption, whose latest dismal export figures sent shivers through the global economy. The NAB cited in their report that business conditions had fallen to zero from five.
Despite the lack of momentum from Wall Street on Monday and the absence of developments regarding Ukraine, Asian markets rebounded on Tuesday morning. Japan's Nikkei 225 index was the lead performer on Tuesday, rising 0.7 per cent after slumping by circa 1 per cent on Monday. The rebound came just ahead of the Bank of Japan's monthly monetary policy meeting at which subsequently the BOJ published narrative suggesting that it was "more of the same" regarding its current management of the economy.
China's central bank chief has suggested the government could loosen its grip on the bank deposit rates that are kept low to bolster lenders' profits. The PBoC plans to liberalise deposit rates within one to two years, central bank governor Zhou Xiaochuan said at a briefing in Beijing, at the National People's Congress annual gathering.  China's benchmark money-market rate slid to the lowest level since May 2012 on speculation the central bank's yuan sales aimed at curbing exchange-rate gains have increased cash in the financial system.
UK Index of Production, January 2014
Production output increased by 2.9% between January 2013 and January 2014. This increase reflects rises of 3.3% in manufacturing (the largest component of production) and 12.6% in water supply, sewerage & waste management output. The main manufacturing components contributing to the increase between January 2013 and January 2014 were the manufacture of rubber, plastic products & other non-metallic mineral products; the manufacture of machinery and equipment not elsewhere classified; and the manufacture of transport equipment. Total production increased by 0.1% between December 2013 and January 2014.
German exports in January 2014: +2.9% on January 2013
Germany exported goods to the value of 90.7 billion euros and imported goods to the value of 75.7 billion euros in January 2014. Based on provisional data, the Federal Statistical Office (Destatis) also reports that German exports increased by 2.9% and imports by 1.5% in January 2014 on January 2013. After calendar and seasonal adjustment, exports increased by 2.2% and imports by 4.1% compared with December 2013. The foreign trade balance showed a surplus of 15.0 billion euros in January 2014. In January 2013, the surplus amounted to 13.6 billion euros.
Australian business conditions deteriorate sharply
Business confidence in Australia eased from 9 to 7 in February, while business conditions dropped sharply from the near 3 year highs, posting a 5 points decline from 5 to 0 in February. According to Alan Oster, Chief Economist at NAB;
Recent recovery short lived. Business conditions back-pedalled sharply in February reversing around half post-election gains. Confidence softened but still remains marginally above trend. Sales and employment fell markedly during the month, with the latter pointing to very weak labour market conditions (nearly all post-election gains reversed) – and a jobless recovery.
BOJ; Kuroda sees no need to adjust current monetary policy
The economy will continue to exceed potential growth rate. Japanese economy on steady track towards 2% price goal, core CPI likely to hit 2% around early 2015. Japanese economy to grow above potential rate as trend in fiscal year 2014 and 2015. Will not hesitate to adjust policy if obstacles emerge to meeting inflation target, temporary factors are behind weakness in imports, positive economic cycle intact due to firm domestic demand, yen weakening was a large factor at first in price gains.
Market snapshot at 10:00 am UK time
The ASX 200 closed up 0.04% on the day. The CSI 300 up 0.52%, the Hang Seng up 0.02%, with the Nikkei up 0.69%. Euro STOXX is up 0.04%, CAC down 0.13%, DAX up 0.18%, FTSE down 0.24%. The DJIA equity index future is down 0.09%, SPX down 0.13%, NASDAQ down 0.07%.
NYMEX WTI oil is up 0.32% at $101.44 per barrel, NYMEX nat gas up 0.04% at $4.65 per therm, COMEX gold is up 0.37% at $1346.40 per ounce, with COMEX silver up 0.50% at $21.20 per ounce.
Forex focus
The yen was little changed at 103.22 per dollar after depreciating to 103.76 on March 7th, the weakest since Jan. 23rd. Japan's currency rose 0.1 percent to 143.10 per euro. The euro fell 0.1 percent to $1.3864. The franc dropped 0.1 percent to 87.84 centimes per dollar after climbing to 87.57 centimes on March 7th, the strongest since October 2011.
New Zealand's dollar rose 0.3 percent to 84.98 U.S. cents after climbing to 85.23 yesterday, the highest since Oct. 22. The Australian dollar gained 0.3 percent to 90.46 U.S. cents after declining 0.8 percent over the previous two days. The Aussie strengthened 0.2 percent to 93.38 yen.
The Swiss franc weakened from near the strongest in more than two years versus the dollar as Ukraine's prime minister prepared to meet U.S. President Barack Obama and western nations threatened further repercussions if Russia failed to defuse tensions. The yen was little changed after the Bank of Japan reiterated it will maintain monetary stimulus to stoke inflation. New Zealand's dollar advanced as economists predict the central bank will raise interest rates this week.
Bonds briefing
U.S. 10-year yields were little changed at 2.78 percent early in London. The 2.75 percent security, due February 2024, traded at 99 23/32. Treasury market volatility declined to a 10-month low as investors tried to discern how much winter weather is responsible for slowing the USA economy.
The three-year USA debt notes scheduled for sale today yielded 0.81 percent in pre-sale trading. The yield hasn't been so high at the monthly auctions since September. At the last offering Feb. 11th, investors placed bids for 3.42 times the amount of debt available. The average for the past 10 sales including last month's is 3.29. Indirect bidders, the investor class that includes central banks outside the U.S., purchased 42 percent of the securities. It was the most since August 2011.
Japan's 10-year yield was 0.625 percent for a third day. It last climbed to this level on Feb. 7th. Australia's fell three basis points to 4.18 percent, snapping a five-day advance.

« What lessons are we still struggling with in our FX trading? What do we still have to learn and what haven't we learned after perhaps years of trying? USA indices fall for a second day without an obvious catalyst for the fall whilst yen acts as a safe haven »