The headline Ifo reached 109.3 in November, its highest level since April 2012, rising from 107.4 in October. Both current assessment and expectations improved, with the latter at its highest level since April 2011.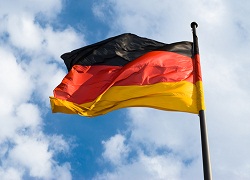 Hans-Werner Sinn, president of the Ifo Institute, said:
After falling in October, the Ifo Business Climate Indicator for the German service sector returned to September's level. Service providers are slightly more satisfied with their current business situation. They are much more optimistic about future business developments and plan to recruit additional staff.
The Ifo Business Climate Index for industry and trade in Germany rose significantly. Assessments of the current business situation improved. Firms' expectations regarding business developments rose to their highest level since spring 2011. The German economy looks ahead to the winter months with confidence.
The business climate indicator in manufacturing rose considerably. Assessments of the current business situation were more positive than last month. Manufacturers' business expectations were clearly more optimistic and they expect stronger impulses from exports.
The business climate improved at both levels of trade. Retailers were far more optimistic about their future business developments, while assessments of the current business situation remained largely unchanged. In wholesaling firms were more satisfied with their current business situation. They also expressed far greater confidence in future business developments.
After seven consecutive decreases, the business climate index in construction rose considerably. Although assessments of the current business situation are somewhat less positive, contractors are far more optimistic about their future business outlook than last month.

German economy moves ahead with GDP up 0.3%
The German economy continues to grow. As the Federal Statistical Office (Destatis) already reported in its first release of 14 November 2013, the gross domestic product (GDP) increased by 0.3% – upon price, seasonal and calendar adjustment – in the third quarter of 2013 compared with the previous quarter. In the second quarter of 2013, the GDP had increased much more (+0.7%), after stagnation at the beginning of the year.
WTO negotiations
Negotiators are poised to seal the first global trade deal for more than a decade, in a rare victory for the WTO, whose struggle to secure an international pact has increasingly threatened its relevance. The US and powerful developing-nation players have overcome differences in agriculture.
Dublin has a 50/50 chance of missing its budget deficit targets in 2015 after it decided to ease planned austerity measures next year, Ireland's budget watchdog is warning. The Irish Fiscal Advisory Council questioned Dublin's decision not to negotiate a precautionary credit line from its international lenders.
Italian retail trade
Italian retail trade fell In September 2013, the seasonally adjusted retail trade index decreased by 0.3% with respect to August 2013 (-0.2% for food goods and -0.3% for not food goods). The average of the last three months compared to the previous three months decreased by 0.4%. The unadjusted index decreased by 2.8%.
Market snapshot

The majority of Asian equity markets recovered from Thursday's poor performance after the Dow Jones Industrial Average in the US closed above 16,000 for the first time. The yen fell after Bank of Japan governor Haruhiko Kuroda stated after the closing bell on Thursday that he wouldn't hesitate to adjust overall economic policy if risks to the economy materialise.
The ASX 200 closed up 0.90% in overnight trade, the CSI closed done 0.50%, the Nikkei up 0.10%, with the Hang Seng up 0.49%. The DJIA equity index future is up 0.10%, the SPX up 0.04%, NASDAQ equity index future up 0.-5%.
NYMEX WTI oil is down 0.29% at $95.16 per ounce, NYMEX natural gas is up 0.62%. COMEX gold is up 0.02% at $1243.80 per ounce. STOXX is up 0.39% in early trade, CAC is up 0.43%, DAX is up 0.20%, UK FTSE up 0.35%.
Forex focus
The yen was little changed at 101.03 per dollar in London after depreciating to 101.35, the weakest level since July 8th. It has declined 0.8 percent this week. Japan's currency was also little changed at 136.32 per euro after sliding to 136.55, the least since October 2009. The euro gained 0.1 percent to $1.3482. The yen declined to a four-month low versus the dollar after Bank of Japan Governor Haruhiko Kuroda said he will do his utmost to restrict an increase in long-term yields.
The Aussie fell 0.5 percent to 91.88 U.S. cents after sliding to 91.68 cents, the weakest since Sept. 9th. New Zealand's currency rose 0.2 percent to 82.18 U.S. cents. The Aussie headed for a fifth weekly decline versus the greenback due to speculation the Reserve Bank of Australia will take steps to curb any further major strength in the currency. New Zealand's dollar strengthened versus all except one of its 16 major counterparts even after Reserve Bank of New Zealand Assistant Governor John McDermott said it was overvalued.
« Trading with basic moving averages Trend trading analysis for the week beginning Sunday November 24th »