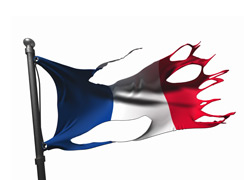 France served up two disappointing sets of data and information this morning; a government minister admitted that the 2013 deficit will miss its target, whilst industrial production missed the expectations of the economists polled in a recent survey. Once again this survey and comments suggests that certain European countries, such as France, have some way to travel before being on a definitive trend line of sustained growth.
France's finance minister, Pierre Moscovici, warned investors this morning that France  will fail to hit its target budget deficit of 3.7% of GDP for 2013. Moscovici stated in interviews this morning that the public deficit will be higher than expected. Up to two-thirds of the adjustments in the 2014 budget will come from savings on government spending rather than tax rises. 3.7% deficit is above the EC's target of 3%, Paris was granted two years to get its deficit borrowing under the EU targets.
French Industrial production index – July 2013
In July 2013, compared to June, manufacturing output decreased (-0.7%) and industrial production as a whole (-0.6%). During the last three months, manufacturing output was almost stable (-0.1 %). During the last three months (q-o-q), output was almost stable in the manufacturing sector (-0.1%), and decreased slightly in industry as a whole (-0.3%). Output decreased in other manufacturing (-0.5%). It dropped by 4.2% in the manufacture of coke and refined petroleum products.
China August Industrial Output Rises 10.4%, Exceeding Estimates
China's industrial output continues to grow at an electrifying pace. Exports have recently risen by 7.7% and early this morning we learned that China's industrial output rose by 10.4 percent in August from a year earlier, whilst retail sales gained 13.4 percent,  China's National Bureau of Statistics revealed today. Fixed-asset investment excluding rural households in the first eight months of the year also increased 20.3 percent, the Beijing-based agency said. The advance in industrial production compared with the median estimate for 9.9 percent growth in a Bloomberg News survey of 45 economists and a 9.7 percent increase in July. Retail sales compared with the median projection for a 13.3 percent advance and a 13.2 percent gain the previous month.
Market snapshot at 10:15 am UK time.
Asian markets reacted positively to the Chinese data, the Hang Seng closed up 0.99%, the Nikkei closed up 1.54% and the CSI closed up 1.40%. The positive data also helped lift the Australian ASX 200 by 0.38%.
European indices have risen in the morning session, the STOXX index is up 1.14%, the UK FTSE is up 0.81%, the CAC up 1.13%, DAX up 1.44%. The Athens exchange is up 1.17% and the Istanbul exchange up 1.47%.
Looking towards the New York open the DJIA equity index future is up 0.49%, SPX up 0.46% whilst the NASDAQ future is up 0.54%.
ICE WTI oil is down by 0.84% due to the imminent threat of attack on Syria by the USA receding, oil is down 0.44% at $113.17 per barrel. NYMEX natural is up 0.14% at $3.61 per therm. COMEX gold is down 0.84% at $1375.00 per ounce, whilst silver is down 1.94% at $23.26 per ounce.
Forex focus
The yen dropped by 0.4 percent to 132.51 per euro early in the London session after sliding by circa one percent yesterday. Japan's currency fell 0.4 percent to 99.99 per dollar. The euro was little changed at $1.3256. Yen weakened for a second day versus the euro amid speculation that a Russian offer to get Syria to surrender its chemical weapons will avert a U.S. military strike, damping demand for safe haven assets.
China's factory production increased 10.4 percent last month from a year earlier, compared with a 9.7 percent gain in July, the National Bureau of Statistics said in Beijing. Retail sales advanced 13.4 percent after July's 13.2 percent increase. As a result Australia's dollar rose 0.2 percent to 92.49 U.S. cents after appreciating to 92.90, the highest  seen since July 26th.
« WTO cuts growth forecasts as UK chancellor remains bullish regarding the UK Global Equities Rise For The Seventh Day, The Longest In Over Two Years.. »