2013-05-22 07:00 GMT
Bernanke testimony, FOMC minutes, & European data to heighten EUR/USD volatility
The EUR/USD finished the day moderately higher, closing up 25 pips at 1.2905 ahead of what is sure to be a volatile session with Fed Chairman Bernanke set to testify in front of congress at 14:00GMT. Furthermore, we will also see the release of the most recent FOMC minutes at 18:00GMT. According to Sean callow of Westpac,"The US calendar is dominated by Fed chairman Bernanke's testimony on "The Economic Outlook" to the Joint Economic Committee of Congress (10am NY time). He will deliver a prepared text then take numerous questions from both friendly and hostile lawmakers. Volatility over the course of his appearance seems assured, as markets try to quickly decide whether Bernanke is trying to dampen talk of reducing QE some time soon, is affirming such a view or remaining non-committal. USD should gain in the latter two scenarios but we still expect the first outcome – Bernanke arguing that it is too soon to be confident that the economy is recovering sustainably."
Other analysts are pointing towards European economic data as the additional catalysts for the EUR/USD which may help to break the recent range bound activity. Market participants should be aware that later in the week will see a number of European PMI figured which could also heighten volatility. – FXstreet.com
2013-05-22 12:30 GMT
Canada.Retail Sales (MoM) (Mar)
2013-05-22 14:00 GMT
USA.Existing Home Sales (MoM) (Apr)
2013-05-22 14:00 GMT
USA.Fed's Bernanke testifies
2013-05-22 18:00 GMT
USA.FOMC Minutes
2013-05-22 03:26 GMT
USD/JPY steady near 102.50 after BoJ Monetary Policy release
2013-05-22 02:43 GMT
AUD/USD still around 0.98 despite worsening consumer confidence in Australia
2013-05-22 02:41 GMT
GBP/JPY – Will buyers have enough force to take out 156.80 resistance?
2013-05-22 00:22 GMT
EUR/USD working its way higher thru 1.2920/40 supply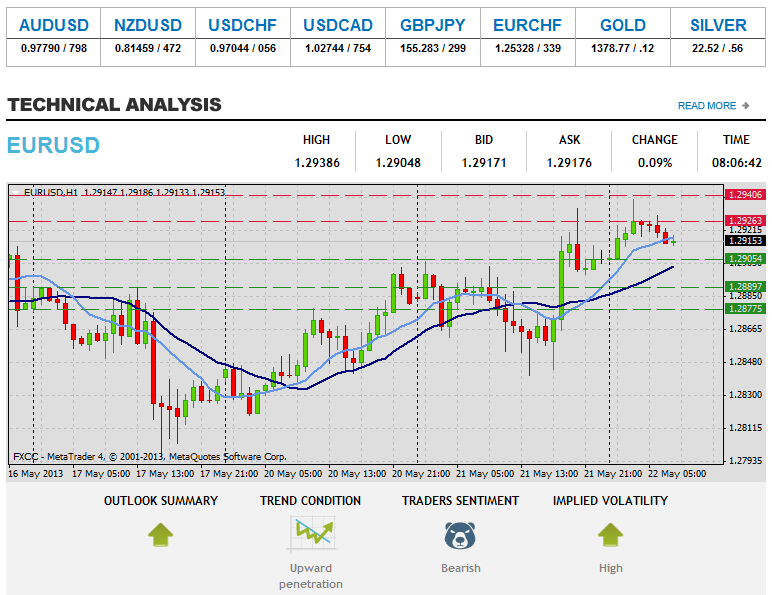 MARKET ANALYSIS – Intraday Analysis

Upwards scenario: Instrument stabilized after the gains provided yesterday. Penetration above the resistive structure at 1.2926 (R1) might encourage protective orders execution and drive market price towards to the next resistive means at 1.2940 (R2) and 1.2955 (R3). Downwards scenario: Measures of support might be activating when the pair approaches the 1.2905 (S1). If it continues to extend its weakening below it we expect next targets to be exposed at 1.2889 (S2) and 1.2877 (S3) later on.
Resistance Levels: 1.2926, 1.2940, 1.2955
Support Levels: 1.2905, 1.2889, 1.2877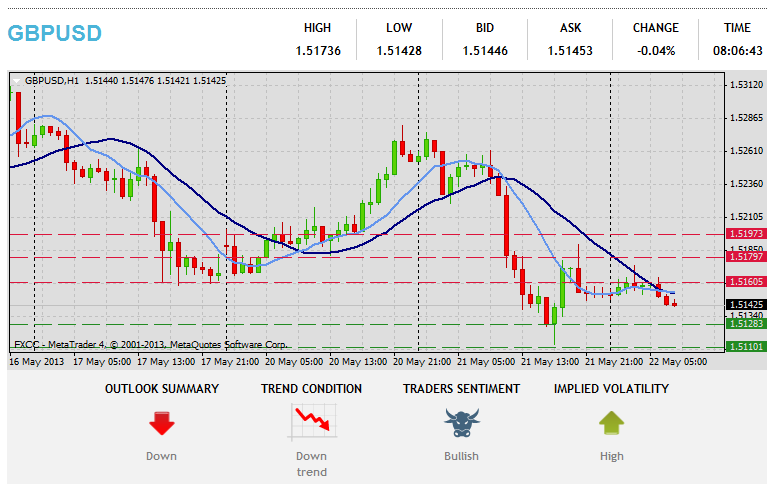 Upwards scenario: Next actual resistance level is seen at 1.5160 (R1). If the market manages to surge higher, our focus would returned to the next target at 1.5179 (R2) and further recovery action could be exhausted at 1.5197 (R3) intraday. Downwards scenario: Price regress below the support level at 1.5128 (S1) would increase likelihood of failing towards to our key supportive barrier at 1.5110 (S2) and any further market decline would then be targeting final support for today at 1.5092 (S3).
Resistance Levels: 1.5160, 1.5179, 1.5197
Support Levels: 1.5128, 1.5110, 1.5092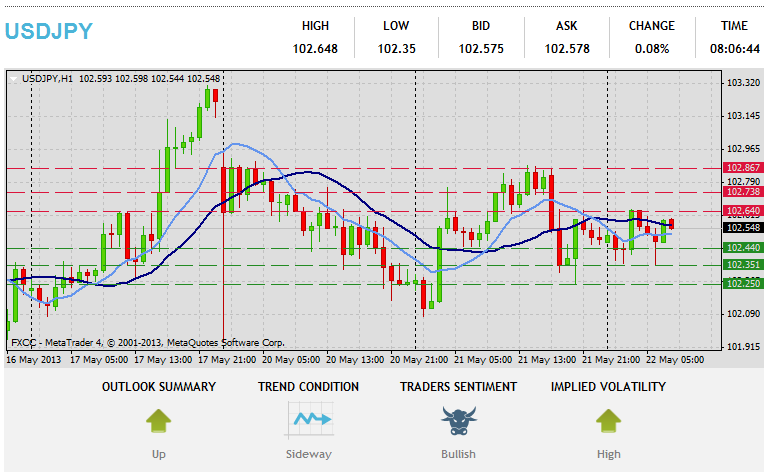 Upwards scenario: Any upside actions looks limited to resistance level at 102.64 (R1). Surpassing of this level might enable next target at 102.73 (R2) and any further gains would then be targeting final mark at 102.86 (R3) in potential. Downwards scenario: Our next support level at 102.44 (S1) limits possible recovery attempts for now. Break here is required to establish negative market sentiment and enable lower target at 102.35 (S2) en route to final target at 102.25 (S3).
Resistance Levels: 102.64, 102.73, 102.86
Support Levels: 102.44, 102.35, 102.25
« Flash: We still think an RBA cut in June remains unlikely – NAB Attributes of Successful Forex Traders »