2013-03-06 06:18 GMT
Keep an eye on the oil market after Chavez's death
Following the breaking news of Venezuela's president Hugo Chavez death, which has no direct impact on the currency market, traders should, nevertheless, keep an eye on the Oil market, as it may produce some volatility. Venezuelan Vice President Mr. Maduro is expected to win the elections and become Chavez's successor. There was some incendiary comments from Maduro after the announcement of Chavez's death, which Reuters reports: "We have no doubt that commander Chavez was attacked with this illness," Maduro said, repeating a charge first made by Chavez himself that the cancer was an attack by "imperialist" foes in the United States in league with domestic enemies.
"This report should be bullish for oil" says Eamonn Sheridan, editor at Forexlive. At the time of writing, US Oil futures are quoted at 90.83 after sharp fall off a double top from early February in the 98.00 vicinity. Venezuela enjoys the world's largest oil reserves and the oil-related bonds being traded are of enormous size, suggesting that the oil community may go through a phase of hyper-sensitivity on any indications of political unrest in the country. As Valeria Bednarik, chief analyst at FXstreet.com notes: "Although the news has little to do right now with the forex market, Venezuela is an oil producer, and therefore, we may see some wild action in oil and that could affect forex market." She tips to keep an eye on this and its correlation with oil, "particularly at the European and the US opening" she said. – FXstreet.com (Barcelona)
2013-03-06 09:45 GMT
United Kingdom. BoE's Governor King Speech
2013-03-06 10:00 GMT
E.M.U. Gross Domestic Product s.a. (YoY) (Q4)
2013-03-06 15:00 GMT
Canada. BoC Interest Rate Decision (Mar 6)
2013-03-06 19:00 GMT
United States. Fed's Beige Book
2013-03-06 01:18 GMT
USD/JPY pressing against 93.00
2013-03-06 00:45 GMT
AUD/USD above 1.0280 after Aus GDP
2013-03-06 00:19 GMT
EUR/JPY still capped below 122.00
2013-03-05 22:50 GMT
AUD/JPY pushing against 6-day highs ahead of Aus GDP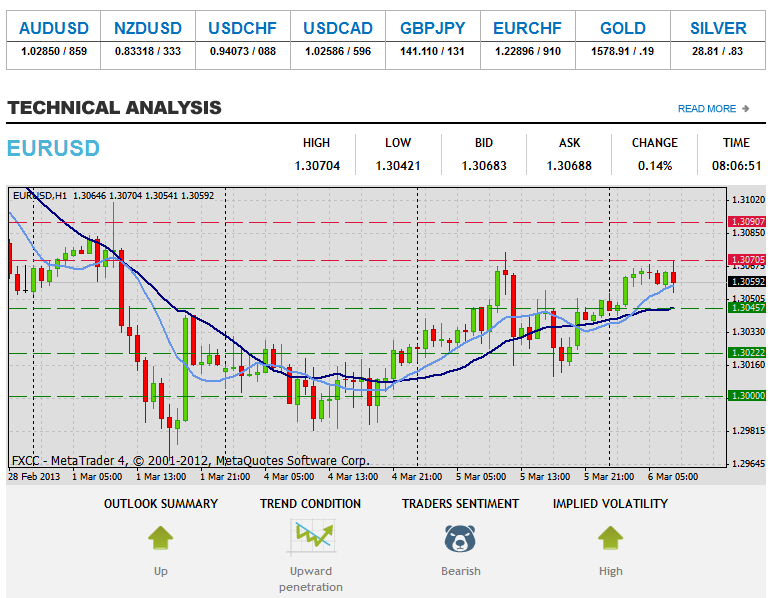 MARKET ANALYSIS – Intraday Analysis
Upwards scenario: Local high, formed today at 1.3070 (R1) is the key point for further uptrend formation on the medium-term perspective. Break here is required to validate next upcoming targets at 1.3090 (R2) and 1.3113 (R3). Downwards scenario: Immediate risk of further market decline is seen below the key support level at 1.3045 (S1). Loss here might downgrade currency rate towards to the next supportive means at 1.3022 (S2) and 1.3000 (S3) in potential.
Resistance Levels: 1.3070, 1.3090, 1.3113
Support Levels: 1.3045, 1.3022, 1.3000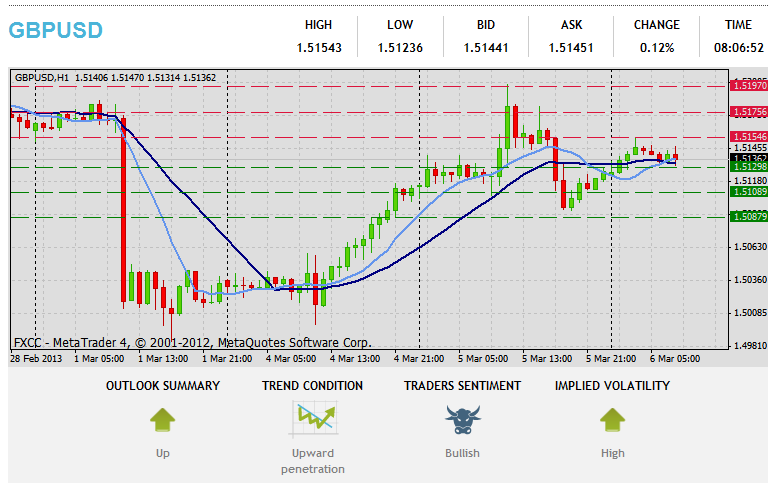 Upwards scenario: Market sentiment is slightly improved during the Asian session however further appreciation needs to clear barrier at 1.5154 (R1) to enable our interim target at 1.5175 (R2) and then further gains would be limited to resistance at 1.5197 (R3). Downwards scenario: The downside formation might face next supportive barrier at 1.5129 (S1). Clearance here is required to open the way towards to our initial support at 1.5108 (S2) and any further price regress would then be limited to final support and 1.5087 (S3).
Resistance Levels: 1.5154, 1.5175, 1.5197
Support Levels: 1.5129, 1.5108, 1.5087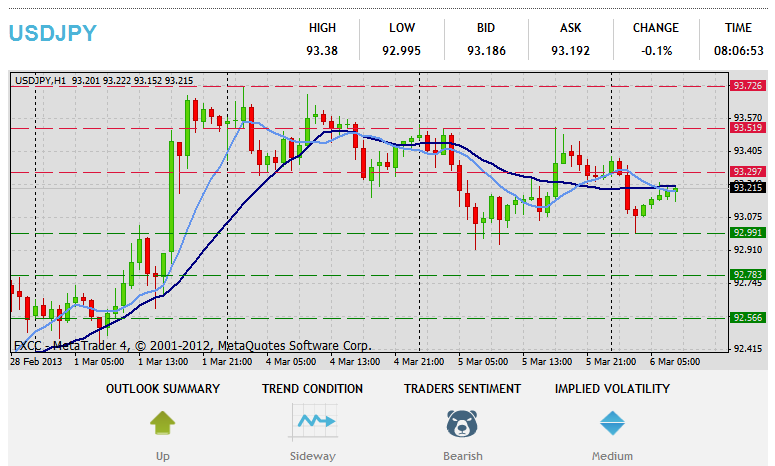 Upwards scenario: Instrument stabilized below the next resistance level at 93.29 (R1). Penetration above it might encourage orders execution and drive market price towards to the next resistive means at 93.51 (R2) and 93.72 (R3). Downwards scenario: An important technical level is seen at 92.99 (S1). Market decline below this level might initiate bearish pressure and drive market price towards to our initial targets at 92.78 (S2) and 92.56 (S3).
Resistance Levels: 93.29, 93.51, 93.72
Support Levels: 92.99, 92.78, 92.56
« Forex Technical & Market Analysis: June 03 2013 European equities drop Monday »