2013-04-29 07:00 GMT
EUR/USD – The week we've all been waiting for? ECB and Fed meetings on tap
EUR/USD has started the week off on a strong note, benefiting from the headlines that Enrico Letta has been elected as the new Italian Prime Minister. At one point earlier in the session, the pair had traded as high as 1.3068, but is now back to consolidating near the opening print of 1.3050. According to analysts at FXStreet.com, "After two months of an irreconcilable political deadlock, Enrico Letta, 46, and member of the centre-left Democratic Party (PD), was sworn in as new Italian Prime Minister on Sunday. Letta, who has managed to pull together a 21-member Cabinet, while becoming the third youngest Prime Minister since World War II, nominated an unprecedented seven women to his Cabinet. Fabrizio Saccomanni was appointed finance minister, taking on the responsibility to overlook and bring forward much needed economic reforms to the economy."
The main event later this week will be the upcoming ECB Monetary Policy meeting on May 2nd at 11:45 GMT. Analysts have been pointing to the weak economic data from Germany, and continued dovish comments from ECB officials as a good reason to expect an adjustment to current policy. – FXstreet.com
2013-04-29 12:00 GMT
DE. Consumer Price Index (YoY) (Apr)Preliminar
2013-04-29 12:00 GMT
DE. Consumer Price Index (MoM) (Apr)Preliminar
2013-04-29 12:00 GMT
DE. Harmonised Index of Consumer Prices (MoM) (Apr)Preliminar
2013-04-29 12:00 GMT
DE. Harmonised Index of Consumer Prices (YoY) (Apr)Preliminar
2013-04-29 04:14 GMT
EUR/USD – The week we've all been waiting for? ECB and Fed meetings on tap
2013-04-29 03:58 GMT
AUD/USD to stay near 1.05 next few quarters
2013-04-29 03:04 GMT
USD/JPY continues to trade lower, breaks through initial support of 97.55
2013-04-29 00:31 GMT
GPB/USD adds to gains during Asia session



MARKET ANALYSIS – Intraday Analysis
Upwards scenario: We are not expecting significant volatility increase today however upside risk aversion is seen above the next resistance level at 1.3076 (R1). Price evaluation above this level would suggest next targets at 1.3094 (R2) and 1.3111 (R3). Downwards scenario: Price regress below the support level at 1.3037 (S1) would increase likelihood of failing towards to our key supportive barrier at 1.3026 (S2) and any further market decline would then be targeting final support for today at 1.3014 (S3).
Resistance Levels: 1.3076, 1.3094, 1.3111
Support Levels: 1.3037, 1.3026, 1.3014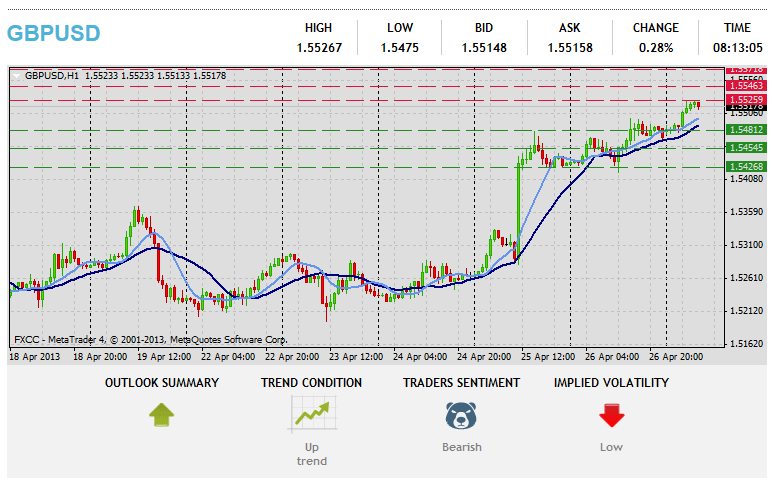 Upwards scenario: On the upside potential is seen for a break above the resistance at 1.5525 (R1). In such case we would suggest next target at 1.5546 (R2) and any further rise would then be limited to final resistance at 1.5571 (R3). Downwards scenario: Further correction development is limited now to 1.5481 (S1). If the price manages to surpass it we would suggest next intraday targets at 1.5454 (S2) and 1.5426 (S3).
Resistance Levels: 1.5525, 1.5546, 1.5571
Support Levels: 1.5481, 1.5454, 1.5426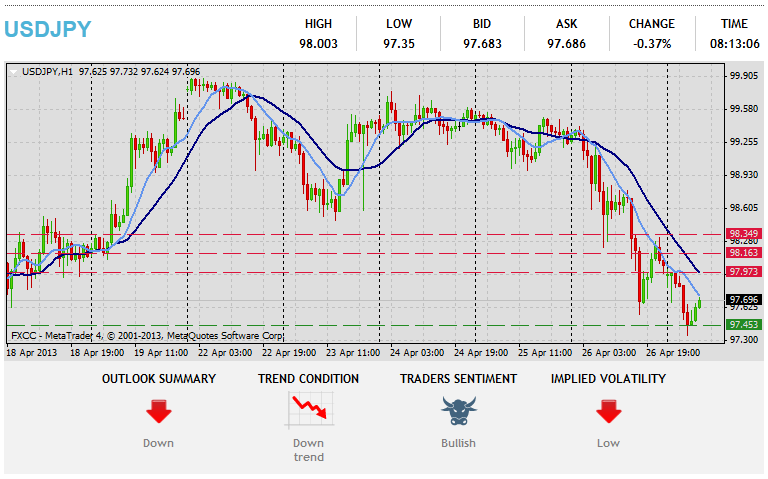 Upwards scenario: Market comfortably moves in descending channel formation on the hourly chart. If pair gains momentum on the upside and overcome our next resistance at 97.97 (R1), we would suggest next resistances at 98.16 (R2) and 98.34 (R3) as intraday targets. Downwards scenario: On the other hand, successful retest of our next support level at 97.45 (S1) might provide sufficient momentum for the price acceleration towards to interim target at 97.27 (S2). Final aim for today locates at 97.08 (S3).
Resistance Levels: 97.97, 98.16, 98.34
Support Levels: 97.45, 97.27, 97.08
« Forex Technical & Market Analysis: April 25 2013 Forex Technical & Market Analysis: April 30 2013 »