2012-04-09 07:00 GMT
EUR/USD lower in Asia, holds above 1.3050
EUR/USD is currently recovering at 1.3061 from fresh 3-week lows at 1.3034, reached ahead of a better than expected CPI figures in China year to date, showing an increase of +3.6% vs +3.3% expected. Risk off sentiment is present in Asia with Australian markets closed and practically all European ones closed as well for holiday, with Nikkei index printing lows near the 9500 points mark, now recovering from session lows losing some -0.93% after lunch break.The session ahead in London shows a blank agenda as most European countries will be closed for holidays, and then the US still in the Eastern weekend on holidays though markets seem to open.
EUR/JPY has fallen to fresh 5-week lows this Monday in Asia, reaching as far as 106.15 from 106.72 at the end of trading in NY Friday as the market extends its bearish reversal.The Australian Dollar is under growing pressure in Asia, with the antithesis being a much firmer US Dollar across the board, only challenged by the Japanese Yen, which also resumes bullish momentum. The Aussie is currently trying to avoid being pushed lower as it levitates near day lows following a higher-than-expected Chinese CPI y/y data, which came at 3.6% in March as opposed to a 3.4% expected by analysts; the production price index y/y stood at -0.3% vs -0.2% estimate in the March reading.
2012-04-09 07:00 GMT
Romania Trade Balance (Feb)
2012-04-09 09:00 GMT
Greece Consumer Price Index (YoY) (Mar)
2012-04-09 09:00 GMT
Greece Industrial Production (YoY) (Feb)
2012-04-09 10:00 GMT
Portugal Global Trade Balance (Dec)
2012-04-09 05:07 GMT
Japan Eco Watchers Survey: Outlook down to 49.7 in Mar
2012-04-09 04:23 GMT
EUR/USD lower in Asia, holds above 1.3050
2012-04-09 01:45 GMT
AUD/USD sees no change on soft tone after China CPI
2012-04-09 01:30 GMT
China Consumer Price Index (YoY) rises to 3.6% in Mar from 3.2%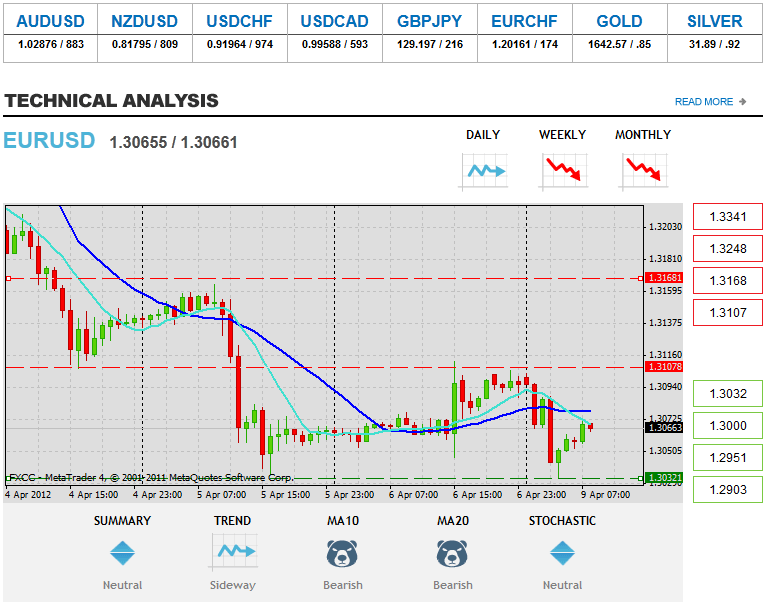 MARKET ANALYSIS – Intraday Analysis

EURUSD fell and broke below our first resistance 1.3107 forming a new low at 1.3032 (S1). After that the price rise and is now moving in a consolidation mode. By the time that the price retested our support level 3 times without succeeding to break below that this will keep as flat for today not risking a break below 1.3032 level or 1.3000 as both of these levels are significant technical and psychological important for the bulls. Our recommendation for today's trading session is no position until we see which of the bulls of the bear will win the battle.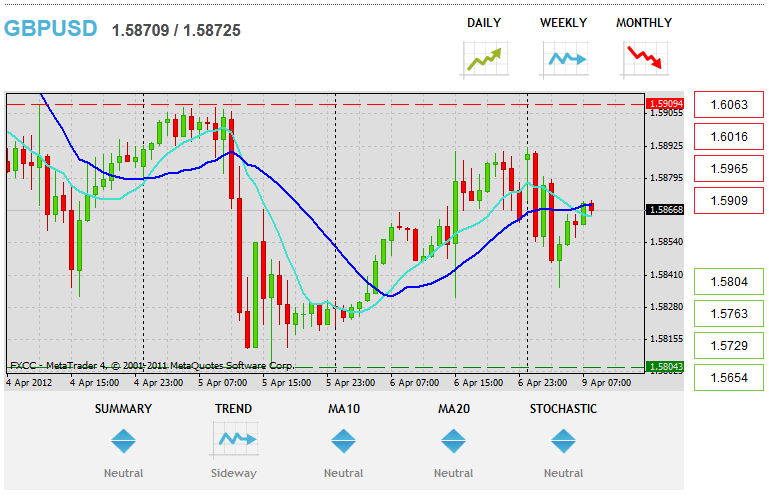 MARKET ANALYSIS – Intraday Analysis

The GBPUSD didn't make any significant moves in Friday's trading session as it moved between the first support and resistance. A break in either direction will determine the trading bias in today`s session. A break below 1.5804 will confirm our short positions targeting 1.5763 (S2) and a further fall will be limited to 1.5729 (S3). On the other hand, if the pair breaks above the first resistance level of 1.5909 (R1), we would expect the price to retest 1.5965 (R2) and a further rise will then focus at 1.6016 (R3).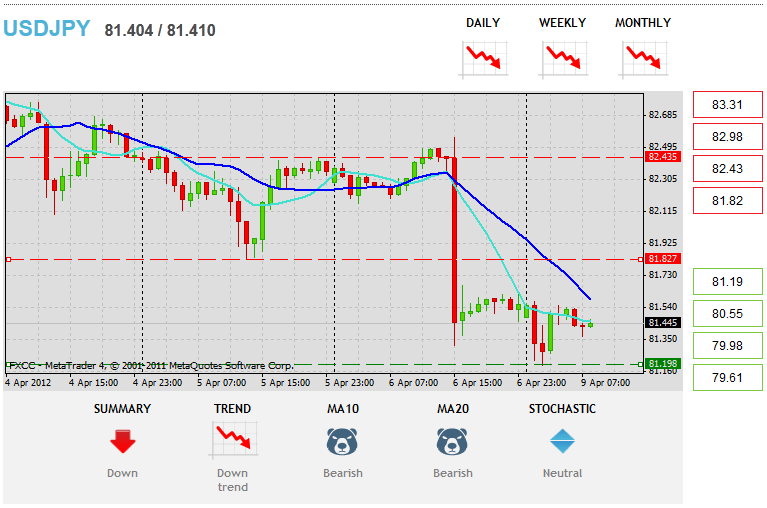 MARKET ANALYSIS – Intraday Analysis

The USDJPY fell and broke below our Friday's resistance level forming a new low at 81.19 (S1) and it seems that it will continue its downward movement. Both of our Moving Averages are bearish creating a strong resistance to the price. Look for short positions around 81.82 targeting 81.19 (S1). A stop loss should be placed at 82.43 (R2).
« Best ECN Forex Broker: Key "Qualities" to Keep in Mind Moody's maintains a negative outlook on Spanish rating »