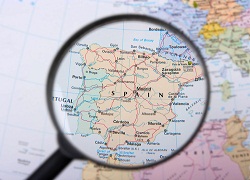 There has been a raft of PMIs printed this morning beginning with the HSBC sponsored Markit Economic data which held at its expansion level of 51.4. The EZ modest recovery looks to be continuing with the manufacturing PMI up a few ticks from October's reading. Spain and France didn't fair too we'll with Spain's manufacturing index falling below the 50 media line at 48.6.
France is already on the verge of slipping back into recession and the French manufacturing sector shrank for the 21st successive month in November according to Markit's PMI. Specifically, the index fell to 48.4 from 49.1 in October, the lowest level seen since June. Production and new orders were down, with weak demand both domestically and overseas, and job cuts accelerated in the sector.
Overnight we learned that Australia's housing market continues to be buoyant with dwellings approved being up 1.9% on the month. As a consequence the Aussie dollar rallied versus its major peers.
Cable has reached its highest level since August 2011 in early trading in London, whilst at the time of writing (9:45 am UK time) the majority of major European market indices are down. Institutional speculators have raised their bets on a decline of yen according to the COT (commitment of traders) report published on Friday.
Euro-zone manufacturing recovery continues in November
The recovery in the Eurozone manufacturing sector accelerated again in November. Although the pace of expansion remained modest overall, the real positives were that growth extended into a fifth successive month with the rate of increase hitting a near two-and-half year high. The seasonally adjusted Markit Eurozone Manufacturing PMI posted 51.6 in November, up from 51.3 in October and the earlier flash estimate of 51.5. The headline PMI is currently at its highest level since June 2011.
Spain New orders fall for first time in six months
The Spanish manufacturing sector dipped back into contraction territory in November as output and new orders both fell during the month. As a result, purchasing activity was cut at a solid pace and marked job shedding continued. Cost inflation remained only marginal, while firms reduced their output prices following a modest rise in October. The seasonally adjusted Markit Purchasing Managers' Index (PMI), a composite indicator designed to measure the performance of the manufacturing economy, fell back below the 50.0 no change mark in November, posting 48.6.
Australia Building Approvals
The trend estimate for total dwellings approved rose 1.9% in October and has risen for 22 months. The seasonally adjusted estimate for total dwellings approved fell 1.8% in October following a rise of 16.9% in the previous month. The trend estimate for private sector houses approved rose 0.2% in October and has risen for 11 months. The seasonally adjusted estimate for private sector houses fell 0.3% in October following a rise of 1.3% in the previous month. The trend estimate for private sector dwellings excluding houses rose 4.5% in October and has risen for six months.
China's manufacturing PMI holds steady
The manufacturing Purchasing Managers Index for China, the world's second-biggest economy, held at 51.4 last month, beating analyst estimates, according to government data yesterday.  The figures released early this morning by HSBC Holdings Plc and Markit Economics indicated that a reading above the 50 level divides expansion from contraction.
Leveraged funds increased their net-short yen positions (those betting on a decline in the Japanese currency) to 76,878 in week ended Nov. 19th, the largest position since the week ended March 12th, according to the Commodity Futures Trading Commission data.
Market overview
In the overnight/early morning session the ASX 200 closed down 0.76%, the CSI down 0.83%, the HANG SENG up 0.66%, the Nikkei down 0.04%. In early European trade the markets are mainly down; STOXX down 0.36%, CAC down 0.34%, DAX down 0.12%, FTSE down 0.45%.
Looking towards the USA markets opening the DJIA equity index future is up 0.08%, the SPX future down 0.04%, the NASDAQ future up 0.06%. NYMEX WTI oil is up 0.42% at $93.12 per barrel, NYMEX nat gas down 0.63% at $3.93 per therm. COMEX gold is down 0.54% at $1243.80 per ounce with silver down 1.26% at $-9.78 per ounce.
Forex focus
The greenback was little changed at 102.43 yen and fell 0.1 percent to $1.3603 per euro. The 17-nation currency added 0.1 percent to 139.33 yen after rising 4.2 percent in November. The pound climbed 0.3 percent to $1.6414 and earlier reached $1.6443, the strongest since August 2011.
The U.S. Dollar Index, tracking the currency versus 10 major counterparts, fell 0.1 percent to 1,019.51 early in London after climbing 0.9 percent last month, the most since May. The U.S. Dollar Index weakened after a November advance that was the biggest in six months, as demand for the safety of the U.S. currency waned before reports that may signal a global manufacturing pickup.
The Australian dollar rose 0.6 percent to 91.60 U.S. cents early in Sydney after falling as low as 90.56 on Nov. 29th, the least since Sept. 4th. It gained 0.6 percent to 93.86 yen. New Zealand's currency climbed 1 percent to 82.07 U.S. cents and 1 percent to 84.08 yen. It advanced 0.5 percent to NZ$1.1159 per Aussie.
Australia's dollar rallied from its near weakest level in three months and New Zealand's currency rose for a second day, after two reports showed China's manufacturing expansion was stronger than estimated.
Bonds
Benchmark 10-year bund yields were about five basis points from the lowest level since August. The Netherlands is scheduled to sell as much as 4 billion euros ($5.44 billion) of three- and six-month securities after the nation was stripped of its top rating at Standard & Poor's last week. France plans to auction up to 6.5 billion euros of bills.
Germany's 10-year bund yield was at 1.70 percent early London time. The price of the 2 percent bond due in August 2023 was 102.64. The yield fell to 1.65 percent on Oct. 31st, the lowest level since Aug. 8th.
« Trend trading analysis week beginning December 1st Markit economics suggest that UK manufacturing reached a 19 year high in November, as the USA PMI jumps to the highest level since January »