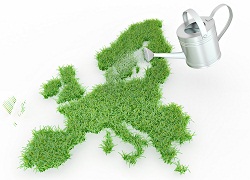 There have been several services PMIs published overnight and this morning with perhaps the stand out print being the HSBC – Markit Economics composite print for China showing growth falling to a reading of 49.8, from the previous 50.8 previously. Output declined at goods producers for the first time since July 2013, while service providers saw a further increase of business activity.
China is targeting economic growth of 7.5 per cent this year, a goal that could force the government to stimulate the economy in the coming months as growth threatens to slip below the target. The target, announced by Premier Li Keqiang at the start of China's annual meeting of the National People's Congress, is identical to that set in the past two years.
For Spain and Italy the services PMI were mixed, Italy is showing a reading for services growth of 52.9, above the 49.4 previously and signalling the strongest growth for close to three years. Spain's services PMI fell slightly; the reading was at 53.7, falling from the previous month's figure of 54.9. However, the European composite PMI reading was very bullish and now, at 53.3, the eighth consecutive improvement in series.
Australia's gross domestic product expanded 0.8 percent in the three months ended December from the previous quarter, according to a Bureau of Statistics report released in Sydney today. That exceeded the 0.7 percent growth estimated by economists.
The Nikkei climbed as Chinese bourses fell, joining global stocks in a relief rally as tension between western powers and Russia over the Crimean peninsula "dissipated" in the words of Vladimir Putin.
Eurozone economic growth accelerates to 32-month record
Final February PMI data signalled an acceleration in the rate of expansion of the Eurozone economy to a 32-month high, an improvement on the mild deceleration indicated by the flash estimate. The final Markit Eurozone PMI Composite Output Index came in at 53.3, up from 52.9 in January and the earlier flash posting of 52.7. The economic recovery in the euro area has now stretched to eight consecutive months, the strongest run of growth since the first half of 2011. Manufacturers continued to lead the upturn. Production rose at a solid clip, despite an easing in growth from January's high.
Italian Services PMI: February PMI shows fastest rise in business activity for almost three years
Italy's service sector returned to growth in February, posting a solid increase in business activity that was the fastest for almost three years. New orders increased at an accelerated rate, but net job losses were more marked than during the opening month of the year. Elsewhere, there remained a divergence between input and output prices, though cost inflation eased to a five-month low and charges fell at a slower rate than in January. The headline Markit/ADACI Business Activity Index – which is based on a single question asking survey respondents to report on the actual change in business activity at their companies compared to the situation one month ago – registered at 52.9 in February, up from 49.4 in January and above the 50.0 no-change mark for the first time in four months.
Spanish Services PMI: Fourth successive monthly rise in activity
Business activity continued to rise at Spanish service providers in February, helped by a further solid increase in new business. Although backlogs of work stabilised during the month, companies lowered their staffing levels following a fractional increase at the start of the year. The rate of cost inflation remained relatively muted, while further reductions in output prices were recorded amid at tempts to boost new business. The headline seasonally adjusted Business Activity Index dipped to 53.7 in February, from 54.9 in January to signal a slower but still solid increase in services activity in Spain.
HSBC China Services PMI
HSBC China Composite PMI data (which covers both manufacturing and services) signalled a contraction of private sector output in China, following a six-month sequence of growth. That said, the rate of reduction was fractional overall, as signalled by the HSBC Composite Output Index posting at 49.8 in February, down from 50.8 in January. Latest data signalled divergent trends across China's manufacturing and service sectors. Output declined at goods producers for the first time since July 2013, while service providers saw a further increase of business activity.
Australia's GDP figures beat expectations
Consumers spending more and saving less have helped the Australian economy grow by a stronger than expected rate in the last three months of the year. The economy grew at a seasonally adjusted 0.8 per cent in the December quarter, taking the annual growth rate to 2.8 per cent. The quarterly figures were up from a 0.6 per cent expansion in the three months to September. The Australian dollar jumped nearly half a cent on the back of the stronger-than-expected figures to trade as high as US89.97 cents. The fourth-quarter growth was driven by a 0.6 per cent boost from net exports and a 0.5 per cent contribution from consumption.
Market snapshot at 10:00 am UK time
The ASX 200 closed up 0.85%, the CSI 300 down 0.93%, the Hang Seng down 0.34%, with the Nikkei up 1.20%. Euro STOXX is down 0.04%, CAC down 0.16%, DAX down 0.05%, FTSE down 0.25%. Looking towards the New York open the DJIA equity index future is flat%, the SPX future Dow 0.03% and the NASDAQ future up 0.03%.
NYMEX WTI oil is flat at $103.33 per barrel, NYMEX nat gas is up 0.86% at $4.71 per therm. COMEX gold is down 1.11% at $1335.30 per ounce with silver down 0.06% at $21.22 per ounce.
Forex focus
Australia's dollar advanced 0.1 percent to 89.56 U.S. cents early in London after gaining 0.3 percent in the prior two days. The euro lost 0.1 percent to 140.32 yen and slipped 0.1 percent to $1.3729. The yen was unchanged at 102.21 per dollar after dropping 0.7 percent yesterday, the most since Jan. 14th.
Australia's dollar climbed against all major developed peers after its economy strengthened while the euro fell versus the yen before the European Central Bank decides on policy tomorrow. The franc declined 0.5 percent to 1.21940 per euro, after reaching 1.21044 yesterday, the strongest level since Jan. 10, 2013.
WTI for April delivery was at $103.30 a barrel in electronic trading on the New York Mercantile Exchange, down 3 cents, mid-afternoon Singapore time. The contract dropped $1.59 to $103.33 yesterday. The volume of all futures traded was about 8 percent above the 100-day average. West Texas Intermediate traded near $103 a barrel after falling the most in two months while Brent was steady in London. Crude stockpiles increased in the U.S., the world's biggest oil consumer.
Bonds briefing
Germany's 10-year yield rose five basis points, or 0.05 percentage point, to 1.60 percent late afternoon London time yesterday after dropping to 1.55 percent on Feb. 27th, the lowest since July 24th. The 1.75 percent bund due in February 2024 fell 0.435, or 3.45 euros per 1,000-euro ($1,374) face amount, to 101.385. Germany's bonds declined, with 10-year yields rising from near the lowest in seven months, as tensions over Crimea eased after President Vladimir Putin said there was no immediate need to send Russian troops to Ukraine.
The U.S. 10-year yield was little changed at 2.69 percent early in London from yesterday, when it rose 0.1 percentage point. The 2.75 percent note due February 2024 traded at 100 17/32. The yield on benchmark 10-year Treasuries maintained the biggest gain since November amid speculation the crisis in Ukraine will ease, and before U.S. data this week forecast to show employers stepped up hiring.

« Is your mind set preventing you from being a profitable FX trader? Jobs number disappoints from ADP in the USA as the non-manufacturing business report also comes up short »