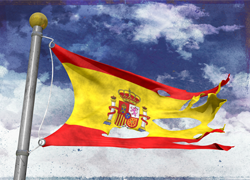 Despite the optimistic forecasts for improved service and manufacturing PMIs across the Euro area many of the prints published in the early part of the trading session have disappointed. However, this hasn't deterred the European markets from rallying. Looking towards the USA market open, equity index futures are currently positive, suggesting that the DJIA, SPX and NASDAQ will all open up by an average of 0.30%. Markit economics will print their USA manufacturing PMI for October, suggested to come in at 52.8 with unemployment claims to come in at 343K.
"The Markit Eurozone PMI Composite Output Index fell from September's 27-month high, according to the October flash estimate, but remained above the 50.0 no-change level for a fourth successive month. At 51.5, down from 52.2 in September, the flash PMI signalled an ongoing modest upturn in business conditions at the start of the fourth quarter, at a rate broadly similar to the trend shown over the third quarter. The third quarter had seen the highest average PMI reading since the second quarter of 2011. The expansion was broad-based across the region, though there were signs of moderation."
German private sector output continues to rise in October, but at slowest pace for three months
"Adjusted for seasonal influences, the Markit Flash Germany Composite Output Index registered 52.6 during October, down from 53.2 in September but still above the 50.0 value that separates expansion from contraction. The latest reading pointed to a moderate increase in private sector output, with the overall rate of growth the least marked since July. Slower overall growth of private sector output largely reflected a weaker expansion of services business activity. While service sector output growth eased to a three month low."
Strong new orders lifts China's HSBC flash PMI to a 7-month high in October.
Strong new orders drove the fastest expansion in China's manufacturing sector in over seven months in October, providing more evidence that the Chinese economy is stabilizing. The flash PMI figure offers up some positive news after disappointing export figures and September's manufacturing PMI, which had shown weak domestic demand. The flash Markit/HSBC Purchasing Managers Index (PMI) stood at 50.9 in October, above September's final reading of 50.2 and marking a seven-month high.
Spain's unemployment falls after country exits recession
Spain's unemployment rate fell for a second quarter in the three months through September as the economy emerged from a recession lasting more than two years. The jobless rate declined to 26 percent from 26.3 percent in the second quarter, the National Statistics Institute in Madrid said in its statement today.
Market snapshot at 10:15 am UK time
The Nikkei closed up 0.42% in the overnight trading session, the Hang Seng down 0.79% and the CSI down 0.74%. European indices are positive in the morning session;  STOXX index up 0.55%, FTSE up 0.36%, CAC up 0.42%, DAX up 0.62%.
Forex focus
The euro gained 0.1 percent to $1.3785 early in the London session after climbing to $1.3822, the strongest since November 2011. The 17 nation shared currency rose 0.1 percent to 134.34 yen. The dollar was little changed at 97.46 yen after depreciating to 97.16 yesterday, the weakest level since Oct. 9th. The euro strengthened to a two-year high versus the dollar before reports that economists said will show the region's manufacturing and service industries expanded this month, adding to signs of recovery.
The Australian currency rose 0.1 percent to 96.32 U.S. cents after tumbling 0.9 percent yesterday, the biggest decline since Aug. 21st. The Australian dollar rose following its biggest one-day loss in two months after HSBC Holdings Plc and Markit Economics said preliminary data showed a gauge of Chinese manufacturing climbed to 50.9 this month from 50.2 in September.
Commodities
WTI for December delivery climbed 77 cents to $97.63 a barrel in electronic trading on the New York Mercantile Exchange and was at $97.61. Oil slid 1.5 percent yesterday to $96.86, the lowest close since June 28th. The volume of all futures traded was about 28 percent less than the 100-day average. Prices are up 6.3 percent this year. West Texas Intermediate crude rose for the first time in four days as a measure of China's economic recovery topped forecasts, signaling increased demand from the world's second-biggest oil consumer. Gold on COMEX is up 0.21%, silver is up 0.49% on COMEX.
Bonds
Benchmark 10-year yields were little changed at 2.50 percent early in London. The price of the 2.5 percent note due in August 2023 was 100. Ten-year yields dropped to 2.469 percent yesterday, the lowest since July 22nd.
« How quickly new traders can eradicate their bad mistakes and up their 'game'. More Americans than forecast filed for unemployment benefit whilst USA manufacturing flash PMI missed expectation printing a twelve month low… »