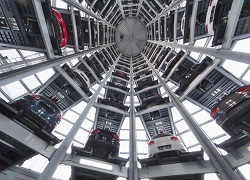 In Japan machinery orders have hit a 5-year high, the news could bolster the country's expansion. Orders of new machinery by businesses, considered a leading indicator of overall capital investment in Japan, rose to a five-year high in November 2013, rising 9.3 per cent to Y882.6bn. The year-on-year increase was the second in two months and the fifth biggest on record.
In Australia there was a surprise print in relation to the jobs numbers, which came in worse than expected, jobs decreased by 22,600 last month, following November's revised 15,400 gain, the statistics bureau said earlier today. That compares with a 10,000 increase predicted by economists. The unemployment rate held at 5.8 percent, the highest in four years.
ACEA, the industry body for selling cars in Europe, has reported that December showed the biggest jump in car sales since 2009, before the Eurozone debt crisis took hold. Sales were 13% higher than a year earlier, making December the fourth month in a row where car sales rose on an annual basis. However, today's figures show that car sales fell by 1.7% through 2013 across Europe, the sixth consecutive year of decline. A total of 11,850, 905 new cars were sold during the year, which ACEA says is "the worst ever" since it began counting in 2003.
December's figures do give some cause for optimism. All the major EU markets posted growth; sales were up +1.4% in Italy, +5.4% in Germany, +9.4% in France, +18.2% in Spain and +23.8% in the UK.
Britain outperformed the rest of Europe with sales in the whole of last year, with sales jumping over 10% partly due to easy credit. Other markets struggled; Spain posted a +3.3% rise in sales (due to scrap schemes), but they fell by 4.2% in Germany, 5.7% in France, and 7.1% in Italy.
Euro area annual inflation down to 0.8%
Euro area annual inflation was 0.8% in December 20132, down from 0.9% in November. A year earlier the rate was 2.2%. Monthly inflation was 0.3% in December 2013. European Union annual inflation was 1.0% in December 2013, stable compared with November. A year earlier the rate was 2.3%. Monthly inflation was 0.3% in December 2013. In December 2013, the lowest annual rates were observed in Greece (-1.8%), Cyprus (-1.3%), Bulgaria (-0.9%) and Latvia (-0.4%), and the highest in Estonia, Austria and the United Kingdom (all 2.0%) and Finland (1.9%).
German Consumer prices in 2013: +1.5% on 2012
Consumer prices in Germany rose by 1.5% on an annual average in 2013 compared with 2012.The Federal Statistical Office (Destatis) reports that the year-on-year rate of price increase thus was markedly lower than in the previous two years (2012: +2.0%; 2011: +2.1%). A lower annual average rate of price increase was last observed in 2010 (+1.1% on 2009). Towards the end of 2013, the inflation rate increased slightly. In December, the inflation rate as measured by the consumer price index amounted to +1.4% (November 2013: +1.3%).
ECB Monthly Bulletin
Based on its regular economic and monetary analyses, the Governing Council decided at its meeting on 9 January 2014 to keep the key ECB interest rates unchanged. Incoming information and analysis have continued to confirm the Governing Council's previous assessment. Underlying price pressures in the euro area are expected to remain subdued over the medium term. In keeping with this picture, monetary and credit dynamics remain subdued. At the same time, inflation expectations for the euro area over the medium to long term are firmly anchored in line with the Governing Council's aim.
Market snapshot at 10:00 am UK time
In early trading Euro STOXX is down 0.40%, CAC down 0.26%, DAX down 0.07% and the UK FTSE is flat. The ASX 200 closed up 1.21%, despite the poor Australian jobs number print, the CSI 300 closed up 0.13%, the Hang Seng up 0.37% and the Nikkei down 0.39%.
Looking towards the New York open the DJIA equity index future is down 0.15%, the SPX future is down 0.15% and the NASDAQ future is flat.
NYMEX WTI oil is down 0.30% at $93.89 per barrel, with NYMEX nat gas up 1.20%, at $4.38 per therm. COMEX gold is down 0.10% at $1237.00 per ounce with silver down 0.57% at 67.60 per ounce.
Forex focus
The dollar gained 0.2 percent to 104.72 yen early in London from yesterday, after having risen 1.5 percent in the previous two sessions. It weakened 0.1 percent to $1.3624 per euro. The 18-nation currency rose 0.3 percent to 142.66 yen. The Dollar Spot Index, which measures the currency's value against 10 major counterparts, rose 0.1 percent to 1,030.62, set for the highest close since Sept. 6th.
The dollar rose for a third day versus the yen, its longest advance this month, on speculation that the U.S. economic recovery is strong enough to withstand further reductions in monetary stimulus by the Federal Reserve.
Australia's dollar slid 1.2 percent to 88.07 U.S. cents, after earlier touching 87.96, the weakest since August 2010. The Aussie dropped 1 percent to NZ$1.0578, after trading at the lowest since December 2005 at NZ$1.0574.
Bonds briefing
The USA 10-year debt yield was little changed at 2.89 percent at 9:00 am in London. The price of the 2.75 percent note due in November 2023 was 98 27/32. The yield has climbed from last year's low of 1.61 percent on May 1st, although it is still less than its average of 3.49 percent for the past decade. China's holdings of U.S. Treasuries increased $12.2 billion to a record $1.317 trillion in November, data released on the Treasury Department's website showed.

« Is technical analysis a fallacy, do we see what we want to see? USA industrial production is expected in at 0.4% month on month. Retail sales for the UK are expected to come in at 0.5% »