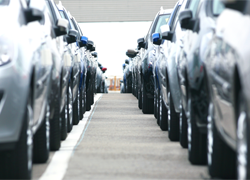 There was good news from the European car sector in this mornings financial news, European sales have improved by 5.5%. However, that news needs tempering with the realisation that the numbers bounced up from an incredibly low point reached during the summer months.  Sales rose 5.5% during September compared to a year ago, making it just the third month out of the last 24 to actually post a rise. ACEA's figures do provide cause for optimism after sales slumped to 20-year lows this summer. Sales were 10% higher in Greece and up 28% in Spain. In the UK easy credit terms helped drive demand up this year, sales rising by 12.1%. Despite September's rise, sales in the EU this year are still 3.9% lower than at this stage in 2012, therefore another annual drop in sales is still likely. In the Netherlands sales slumped by 29.4% this year as the public grapple with recession and austerity, at 1.19 million vehicles, last month was still the second-weakest September during the last decade.
European Central Bank has rebuffed a proposal from Greece to address its funding shortfall
News originating from one of the more popular and reliable newspapers in Greece is suggesting that the ECB will reject the newest proposals from the Greek government with regards to its sovereign debt management issues, if true this can only have one result; the implication of added austerity measures for Greece. Greece's Kathimerini newspaper states that Athens' suggestion to roll over €4.5bn of bonds maturing next year has been rejected by the ECB. These bonds were issued to Greek banks to recapitalise them during the height of the crisis are repayable next year. The ECB is refusing to accept the offer on the basis that it would leave the banks dangerously under-capitalised.
UK Labour Market Statistics, October 2013, claimant count falls 18,000
The unemployment rate was 7.7% of the economically active population, down 0.1 percentage points from March to May 2013 and down 0.2 percentage points from a year earlier. There were 2.49 million unemployed people aged 16 and over, down 18,000 from March to May 2013 and down 40,000 from a year earlier.
The employment rate for those aged from 16 to 64 was 71.7%, up 0.3 percentage points from March to May 2013 and up 0.4 from a year earlier. There were 29.87 million people in employment aged 16 and over, up 155,000 from March to May 2013 and up 279,000 from a year earlier.
The inactivity rate for those aged from 16 to 64 was 22.2%, down 0.2 percentage points from March to May 2013 and down 0.3 percentage points from a year earlier. There were 8.95 million economically inactive people aged from 16 to 64, down 83,000 from March to May 2013 and down 88,000 from a year earlier.
Market snapshot at 10:00 am UK time
The Nikkei closed down 0.16%, the Hang Seng down 0.46% and the CSI 300 down 1.87%. The ASX 200 closed up marginally by 0.07%. European markets are mainly in the red in the first part of the morning session, the STOXX index is down 0.31%, the FTSE down 0.42%, the CAC down 0.74%. The DAX is down 0.13%. The MIB is up 0.43% with the Athens exchange down 0.07% from being up! presumably a reaction to the news/rumour that the ECB will not permit the Greek govt to roll over a proportion of its debt in line with the austerity agreements in place.
Commodities have experienced mixed fortunes in the morning trading session, ICE WTI oil is up 0.03% at $101.24 per barrel, NYMEX natural up 1.32% at $3.84 per therm, whilst COMEX gold is up 0.42% at $1278.60 per ounce. Silver on COMEX is up 0.18% at $21.22 per ounce.
Looking towards the New York open the DJIA equity index future is correctly up 0.40%, SPX up 0.45% and the NASDAQ up 0.20%, suggesting that the USA markets may open up in the afternoon trading session due to optimism being high regarding the debt ceiling impasse.
Forex focus
The dollar rose 0.3 percent to 98.48 yen early in the London session after a 0.4 percent slide during the previous two days. It's advanced 0.1 percent to $1.3515 per euro after climbing 0.3 percent yesterday. The euro gained 0.3 percent to 133.09 yen. The U.S. Dollar Index, tracking the performance of the greenback versus 10 major peers, was little changed at 1,012.8 after a 0.1 percent advance yesterday.
Sterling was little changed versus the dollar and euro before the report economists showing U.K. unemployment dropped but remains above the Bank of England's threshold for reconsidering its interest-rate policy. The pound traded at $1.5989 early in London after sliding to $1.5914 on Oct. 10th, the lowest since Sept. 18th. The U.K. currency was at 84.55 pence per euro after depreciating to 85.10 pence on Oct. 11th, the weakest level since Sept. 2nd.
« How to recover from taking a heavy loss Debt ceiling resolution sees DJIA rise by 1.3%.. »