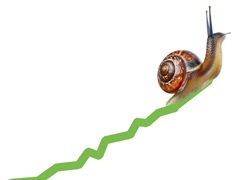 At 51.5, down from 51.9 in October, the flash estimate of the Markit Eurozone PMI Composite Output Index remained above the 50.0 no-change level for a fifth successive month in November, but signaled a modest easing in the rate of expansion for the second month running. Output growth in manufacturing stabilized at a robust rate and remained stronger than service sector expansion, which eased to the weakest since August.
German Manufacturing PMI hits highest level for almost two-and-a-half years
Germany's manufacturing PMI rose to a 29 month high of 52.5 in November, from 51.7 in October, while the equivalent survey for the services sector rose to 54.5 from 52.9 – a nine month high.
November data signaled a further improvement in the German private sector economy, with output growth accelerating since the previous month at both manufacturing and services companies, adjusted for seasonal influences, the headline Markit Flash Germany Composite Output Index posted 54.3, up from 53.2 in October and the highest reading since January 2013.
Tim Moore, senior economist at Markit:
"There are also signs that solid growth momentum should be sustained over the months ahead, as new business received by private sector firms increased at the steepest pace for almost two-and-a-half years. Backlogs of work were accumulated across the German economy to the greatest degree since mid 2011, providing encouragement that improvements in investment spending and job creation will follow in the wake of the upturn in business conditions."
Weak French PMIs raise concerns of return to recession
The flash French PMIs from Markit printed weaker than expected, indicating the private sector in Europe's second largest economy shrank for the first time in three months in November. The manufacturing PMI fell to a six-month low of 47.8 from 49.1, where anything below 50 points to contraction. The market had predicted a slight increase to 49.5. The services PMI dropped to a four-month low of 48.8 in November from 50.9 last month, this went against economists' expectations of a slight rise to 51.
Jack Kennedy, senior economist at Markit:
"November's Flash France PMI data highlight a disappointing slide in activity following two months of marginal growth. Renewed weakness was evident across both services and manufacturing, and the poor set of figures underline the fragility of the economy in the face of a persistently anemic demand environment. Although remaining above the levels seen in the first half of the year, PMI data highlight the risk of a return to recession for France in Q4 following the -0.1% fall in GDP during Q3."
China's manufacturing PMI moderates
Commenting on the Flash China Manufacturing PMI survey, Hongbin Qu, Chief Economist, China & Co- Head of Asian Economic Research at HSBC said:
"China's growth momentum softened a little in November, as the HSBC Flash China Manufacturing PMI moderated due to the weak new export orders and slowing pace of restocking activities. That said, this is still the second-highest PMI reading in seven months. The muted inflationary pressures should enable Beijing to keep policy relatively accommodative to support growth."
Japan re-commits to monetary easing
Japan's central bank kept its pledge to expand the monetary base by as much as 70 trillion yen a year at today's meeting. Nineteen of 37 economists surveyed by Bloomberg said the BOJ will add stimulus in the second quarter of next year after a planned increase in the nation's sales tax, with seven saying it will ease in the July-September period.
Fed taper still high on the agenda
Fed minutes; the central bank offered no new hints on when it could "taper", stating that it was still expecting such a move "in coming months", but the discussion of alternatives at the rate-setting Federal Open Market Committee suggests it is keen to slow its buying. After the minutes from the US Federal Reserve suggested a scaling back of its stimulus programme was likely in the "coming months", most Asian indices fell back, although Japanese stocks rose to a six-month high.
Market snapshot at 10:00 am UK time
The Nikkei index closed up 1.92%, the CSI 300 down 0.61%, the Hang Seng down 0.51% and the ASX 200 down 0.36%. Europe's indices are mostly red; STOXX down 0.90%, CAC down 0.98%, DAX dos. 0.75% and FTSE down 0.51%.
The DJIA future is down 0.09%, SPX down 0.12% and the NASDAQ down 0.13%. NYMEX WTI oil is down 0.22% at $93.64 per barrel, NYMEX nat gas is down 0.19% at $3.67 per therm.
Forex focus
The yen fell 0.8 percent to 100.79 per dollar early in London after depreciating to 100.85, the weakest level since July 19th. Japan's currency slid 0.5 percent to 135.09 per euro after declining to 135.95 yesterday, the least since October 2009. The euro dropped 0.3 percent to $1.3405.
The pound traded at $1.6097 early London time after rising to $1.6178 yesterday, the highest level since Oct. 28th. The U.K. currency was at 83.43 pence per euro after appreciating to 83.01 on Nov. 7th, the strongest since January. The pound was little changed versus the dollar and euro before a government report that economists believe will show Britain's budget deficit narrowed in October from a year earlier.
Bonds
Ten-year yields were little changed at 2.79 percent early in London. The 2.75 percent security due in November 2023 was at 99 21/32. U.S. yields climbed to the highest level in more than three years versus those of the Group of Seven after Federal Reserve officials said they may reduce bond purchases as the economy improves.
« Successful news trading, how it's possible. Dow closes above 16,000 for first time as dollar yen rises above 101 »