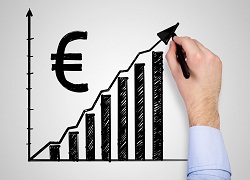 In the euro area growth has increased according to the Markit Economics latest composite index which is at a reading of 54.0 in April. The latest reading was the highest since May 2011 and supports the theory that the region may be beginning to finally exit the deep and long recession the area has endured over recent years. The German reading for the Markit Flash Germany Composite Output Index rose from 54.3 in March to 56.3.
Asian equities opened higher following a positive session in the USA, but gains were reduced after the latest signs of a slowdown in China. HSBC's preliminary purchasing managers index for China's manufacturing sector hit 48.3, signalling that activity contracted for a fourth month in April.
The Australian dollar dropped by the most in a week, falling by as much as 0.9 per cent against its US counterpart to US$0.9302, after consumer price inflation for the first quarter trailed economists' expectations, lessening the chances of an interest rate hike.
Euro-zone business activity expansion nears three-year peak
Growth of business activity in the euro area economy accelerated to its fastest for just under three years in April, leading to a return to job creation across the region. The Markit Eurozone PMI® Composite Output Index rose from 53.1 in March to 54.0 in April, according to the flash estimate, which is based on around 85% of total survey replies. The latest reading was the highest since May 2011. The PMI has now been above the 50.0 no-change level for ten consecutive months, signalling a continuous expansion of business activity since last July. With new orders also growing in April at the fastest rate seen since May 2011.
Economic upturn in Germany's private sector accelerates in April
German private sector companies reported solid activity growth at the start of the second quarter, as highlighted by the Markit Flash Germany Composite Output Index rising from 54.3 in March to 56.3. The latest reading was the second-highest in nearly three years and stretched the current period of growth to 12 months. Survey participants commented that an improved economic environment and increased order intakes were the main contributors to the latest expansion. The acceleration in output growth was broad-based by sector with both manufacturers and service providers signalling sharper expansions.
HSBC Flash China Manufacturing PMI
Key points Flash China Manufacturing PMI. at 48.3 in April (48.0 in March). Two-month high.  Flash China Manufacturing Output Index at 48.0 in April (47.2 in March). Two-month high. Commenting on the Flash China Manufacturing PMI survey, Hongbin Qu, Chief Economist, China & Co- Head of Asian Economic Research at HSBC said:
The HSBC Flash China Manufacturing PMI stabilised at 48.3 in April, up from 48.0 in March. Domestic demand showed mild improvement and deflationary pressures eased, but downside risks to growth are still evident as both new export orders and employment contracted.
Australia Consumer Price Index
MARCH KEY POINTS THE ALL GROUPS CPI rose 0.6% in the March quarter 2014, compared with a rise of 0.8% in the December quarter 2013. Rose 2.9% through the year to the March quarter 2014, compared with a rise of 2.7% through the year to the December quarter 2013. OVERVIEW OF CPI MOVEMENTS the most significant price rises this quarter were for tobacco (+6.7%), automotive fuel (+4.1%), secondary education (+6.0%), tertiary education (+4.3%), medical and hospital services (+1.9%) and pharmaceutical products (+6.1%). These rises were partially offset by falls in furniture (-4.3%), maintenance and repair of motor vehicles (-3.3%).
Market snapshot at 10:00 am UK time
The ASX 200 closed up 0.70%, the CSI 300 down 0.10%, the Hang Seng closed down 0.85% and the Nikkei closed up 1.09%. Euro STOXX is down 0.18%, CAC down 0.35%, DAX down 0.12% and the UK FTSE is up 0.09%.
Looking towards the New York open the DJIA equity index future is up 0.05%, the SPX future is down 0.01% and the NASDAQ future is up 0.04%. NYMEX WTI oil is down 0.20% at $101.55 per barrel with NYMEX nat gas down 0.21% at $4.73 per therm.
Forex focus
Australia's dollar declined 0.9 percent to 92.84 U.S. cents early in London from yesterday, after touching 92.73, the weakest since April 8th. It sank 0.9 percent to 95.27 yen. The yuan was little changed at 6.2403 per dollar, after earlier touching 6.2466, the weakest level since December 2012.
The U.S. dollar was little changed at 102.61 yen from yesterday, when it touched 102.73, the highest since April 8th. It bought $1.3833 per euro from $1.3805. The shared currency traded at 141.95 yen from 141.66, having risen 0.6 percent over the previous six sessions. The Bloomberg Dollar Spot Index, which tracks the U.S. currency against 10 major peers, was little changed at 1,011.45 from yesterday.
Australia's dollar fell against all of its 16 major peers after data today showed the nation's consumer prices increased less than economists forecast.
Bonds briefing
Five-year notes yielded 1.76 percent in pre-sale trading early in London. If the yield is the same at the auction, it would be the highest for the monthly offerings since May 2011. Benchmark 10-year yields were little changed at 2.71 percent. The price of the 2.75 percent note due in February 2024 was 100 3/8. Treasury five-year debt was the worst performer among U.S. government notes and bonds over the past month before a $35 billion sale of the securities today.
The U.S. sold $32 billion of two-year notes yesterday at a higher-than-forecast yield, leaving the primary dealers with their biggest share of the auction in almost a year. The notes yielded 0.447 percent, versus the average forecast of seven of the 22 primary dealers in a Bloomberg poll for 0.442 percent. Primary dealers bought 57.7 percent of the securities, the most since May.
Japan's 10-year yield was little changed at 0.61 percent. Australia's slid five basis points to 3.95 percent. A basis point is 0.01 percentage point.
« I'm going to try FX trading once more what should I do differently this time? New home sales in the USA unexpectedly crash by 14.5% in March as US production rises at fastest pace for just over three years in April »