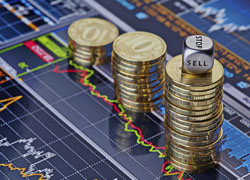 In an effort to boost returns some of the biggest investors in leveraged-buyout funds are using unique levels of debt to boost returns.
It was quoted by a professor at a French business school "Leverage is a double-edged sword," and further said "It can boost the performance on the upside and rapidly eat into capital on the downside. The more leverage you apply, the more extreme the outcome will be for the investor."
Some big names including the likes of Blackstone Group LP (BX) and Coller Capital Ltd. were quick to buy stakes in private-equities funded by firms such as Bank of America Corp. (BAC) and Lloyds (LLOY). Banking Group Plc snapped up as much as half the purchase price it was said by people in the inside. It was stated by Evercore Partners Inc. (EVR), that investors were on the verge to buy $30 billion of fund stakes this year doubling that amount set in 2007.
Instead of waiting for assets in a fund to be sold, borrowing was a good alternative letting them get cash upfront from their holdings. This too could help fund new investors without having to ask backers for immediate money. On the other hand, for banks, the loans could get some returns in relation to loans to companies in a similar credit quality bracket it was said by a managing director at an advisory firm.
It has been noted that the number of banks ready to give funding has tripled in the last few years. Bank of America were one of the big names to have joined smaller lenders it was said by 4 bankers who wish to remain anonymous.
« Scope of BOE Probe certain to surprise FX Traders Barclays accused of hiding traders role »