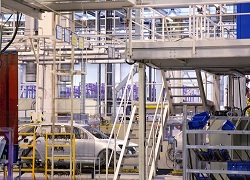 Most traders' eyes will turn to the USA jobs number this afternoon. Given that the other jobs metrics this week have come in very positive the number does have to opportunity to surprise, particularly as the economists polled will have been asked for their predictions and opinions prior to this week's impressive numbers from ADP, Challenger Grey and the DOL – who yesterday printed the latest unemployment weekly claims in the USA as under 300K for the first time in several months.
In other news this morning German GDP has ticked up a point to 0.5% year on year. The Bundesbank has now revised its prediction for next year to 1.5%. The French trade gap has closed slightly; down to €4.69 bn for the month due to less imports. The Aussie trade balance has worsened slightly in October, at $529 million, versus expectations of $325 million.
German economy picks up momentum
The Bundesbank has raised its growth forecast for Germany this morning, confirming that Europe's largest economy continues to pull away from the rest of the Eurozone nations. Germany is expected to grow 0.5% this year and 1.7% next year, up from the Bundesbank's previous forecasts of 0.3% for 2013 and 1.5% for 2014.
Jens Weidmann, president of the Bundesbank, said:
The German economy is in good shape; the unemployment rate is low, employment is rising, and wage growth is returning to normal. These factors are supporting private consumption and driving housing construction. With the cyclical situation continuing to become brighter in the industrial countries and the emerging improvement in the euro area, there should, however, also be a pick-up in exports and, in their wake, an upturn in corporate investment and imports.



French Trade Gap Narrows In October

The French trade deficit narrowed to EUR 4.69 billion in October due to a decline in imports, customs office reported Friday. Economists were expecting the shortfall too narrow to EUR 5.5 billion from September's revised EUR 5.64 billion deficit. Exports decreased slightly to EUR 36.53 billion from EUR 36.64 billion in September. At the same time, imports declined to EUR 41.22 billion in October from EUR 42.27 billion.

Aussie trade deficit widens in October
A widening in Australia's trade deficit during October as exports flat lined won't have long term implications, an economists says. Australia's trade balance stayed in the red in October, with a deficit of $529 million, which was wider than market forecasts of $325 million. But JP Morgan economist Tom Kennedy says demand for Australian commodities from China and Japan isn't fading. "A fairly mediocre result but it's certainly not disastrous and it certainly doesn't change our longer term view in that exports will continue to increase and the demand for imports should continue to slide.
Australian housing construction expands again after years of contraction
The construction sector has expanded for the second straight month, after three years of contraction. The Australian Industry Group/Housing Industry Association Australian Performance of Construction Index (PCI) rose 0.8 points to 55.2 in November, on the back of an improvement in new orders and deliveries. It was the highest reading since November 2010. All the major sub-sectors grew for the month, although house building and apartments lost some ground, AiG said. Housing building lifted to 62 points, apartments to 57.9 points, commercial construction by 52.9 points.
Market overview
Asian equities and currencies were mostly on hold as markets looked to Friday's looming release of US jobs data. Economists expect the US unemployment rate to have fallen from 7.3 per cent in October to 7.2 per cent for November. Non-farm payrolls data are forecast to show the world's biggest economy added 185,000 jobs in November.
The ASX 200 closed down 0.22% in the overnight session, the CSI closed down 0.64%, the Hang Seng closed up 0.13%, the Nikkei closed up 0.81%. European indices have made healthy gains in the morning session, STOXX up 0.47%, CAC up 0.34%, DAX up 0.49%, UK FTSE up 0.31%.
Looking towards the New York open the DJIA equity index future is up 0.23%, SPX up 0.29%, NASDAQ up 0.19%.
NYMEX WTI oil is down 0.11% at $97.27 per barrel, NYMEX nat gas down 0.17% at $4.12 per therm. COMEX gold is down 0.39% at $1227.10 per ounce with silver on COMEX down 0.82% at $19.43 per ounce.
Forex focus
The yen weakened 0.4 percent to 102.18 per dollar early in London from yesterday, trimming its gain since Nov. 29th to 0.3 percent. It touched 103.38 on Dec. 3rd, the least since May 23rd. Japan's currency dropped 0.3 percent to 139.54 per euro, and has fallen 0.2 percent from last week. The dollar was little changed at $1.3656 per euro, headed for a 0.5 percent weekly decline.
The U.S. Dollar Index, which tracks the currency against 10 major counterparts, rose 0.2 percent to 1,019.17. The yen fell against all its major peers after the head of an advisory panel called on Japan's Government Pension Investment Fund to start cutting domestic debt holdings right away.
Australia's currency fell 0.1 percent to 90.50 U.S. cents, poised for a 0.6 percent five-day drop. This will be its seventh straight weekly decline, matching the longest stretch of losses since March 1985.
Bonds
The benchmark 10-year note yield was little changed at 2.87 percent early in London after touching 2.88 percent, the highest since Sept. 18th. Its risen 12 basis points this week, or 0.12 percentage points, poised for the biggest advance since the period ended Nov. 8th. The price of the 2.75 percent security due in November 2023 was 98 31/32. Treasuries were set for their biggest weekly drop in a month with volatility climbing to the highest since October ahead of data today that economists say will signal improvement in the U.S. job market.
« Do we 'think' too much when trading? Trend trading analysis beginning Sunday December 8th »