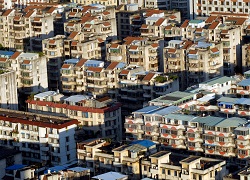 The average new home prices in China's 70 major cities rose 7.7 percent in March from a year earlier, easing from the previous month's 8.7 percent rise. In month-on-month terms, prices rose 0.2 percent in March, slowing from February's rise of 0.3 percent. The National Bureau of Statistics said new home prices in Beijing rose 10.3 percent in March from a year earlier, compared with February's increase of 12.2 percent. Shanghai's home prices were up 13.1 percent in March from a year ago, versus 15.7 percent growth in February.
Forex focus
The dollar was little changed at $1.3817 per euro early in London from yesterday, set for a 0.5 percent weekly advance. It was unchanged at 102.39 yen after touching 102.57, the strongest level since April 8th, and is set for a 0.8 percent advance since April 11th. The euro traded at 141.46 yen from 141.44, and has strengthened 0.2 percent this week.
The Bloomberg Dollar Spot Index, which tracks the U.S. currency against 10 major peers, was little changed at 1,010.39, after ending yesterday at 1,010.68, the highest closing level since April 7th.
The Aussie was at 93.36 U.S. cents from 93.30 cents, set for a 0.7 percent decline this week, the most since the five days to Jan. 24th. It touched 94.61 on April 10th, the highest since Nov. 8th.
The dollar headed for weekly gains against the euro and the yen as improving economic data backed speculation the Federal Reserve will remove stimulus this year.
Deutsche Bank AG's Currency Volatility Index, based on three-month implied volatility on nine major currency pairs, closed at 6.52 percent yesterday, the lowest since July 2007.
The Dollar Index, which Intercontinental Exchange Inc. uses to track the greenback against the currencies of six major U.S. trading partners, was little changed at 79.847, poised for a 0.5 percent gain this week.
Bonds briefing
Italy's 10-year yield dropped nine basis points, or 0.09 percentage point, this week to 3.12 percent early evening London time yesterday, when it fell to 3.068 percent, the lowest since 1993. The 4.5 percent bond due in March 2024 climbed 0.765, or 7.65 euros per 1,000-euro ($1,383) face amount, to 111.83. Ireland's 10-year yield fell to 2.83 percent yesterday, the least since 1991. The rate on similar-maturity Spanish bonds dropped to as low as 3.04 percent. Germany's 10-year bund yield was little changed on the week at 1.52 percent.
European government bonds advanced, with Italian and Irish yields falling to the lowest on record, as prospects of further European Central Bank stimulus fueled demand for the region's debt securities.
« Is the losing period I'm currently experiencing down to my strategy, or just bad luck through 'outlier' events? Swing/trend analysis for the week beginning Sunday April 20th »